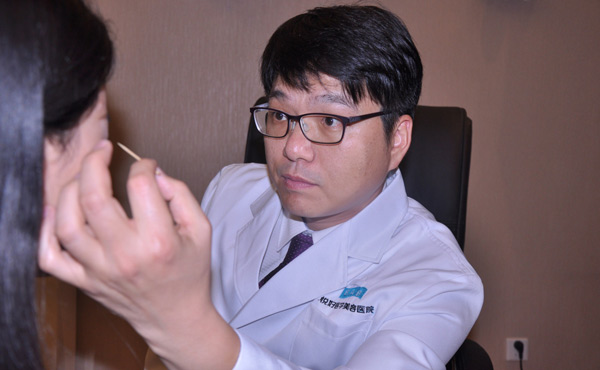 A South Korean doctor checks a beauty seeker's facial condition for a possible cosmetic surgery in Chengdu, capital of Sichuan province. [Photo/China Daily]
Medical and cosmetic surgery services from South Korea are expected to become more widely available in China as a result of the bilateral free trade agreement or FTA that took effect on Sunday.
Under the agreement, doctors who are licensed in South Korea, including plastic surgeons, can work in China for six months to a year. This could mean Chinese customers may be able to get door-to-door cosmetic surgery services from South Korean doctors.
In the past five years, the number of Chinese tourists visiting South Korea for medical tours surged twentyfold, with about 25,000 people traveling annually. Nearly 70 percent went to South Korea for cosmetic surgeries, according to South Korean statistics.
Currently, most visiting Chinese customers choose Korean hospitals for cosmetic surgeries based on the recommendations of Chinese agencies. They not only afford expensive surgery costs but lack legal protection in the event of medical malpractices.
The FTA will bring more Korean doctors to China, which will help Chinese customers to significantly save on costs like transportation, accommodation and intermediary fees.
The cosmetic surgery market in South Korea is nearly saturated. By working in China, Korean surgeons will be able to get out of the competitive domestic market, and seize opportunities in the huge Chinese market.
Some cities in Northeast and East China that are near South Korea will be able to obtain advanced Korean medical techniques, drugs and equipment, and establish international health centers. The cities include Yanbian in Jilin province, Dalian in Liaoning province, and Yantai and Qingdao in Shandong province.
He Dongliang is a well-known nasal plastic surgeon in Dalian who set up his own hospital. He studied in South Korea for a year. There are plenty of plastic surgery hospitals in South Korea, and the quality of their work is uneven, but it is generally better than in China, he said.
"Plastic surgeons in South Korea follow strict procedures and pay careful attention to detail. In China, the cost of some surgeries, like making double eyelids, can be unreasonably high," he said.
Many South Korean hospitals, however, charge less than those in China, and they will be very competitive and affect business of their Chinese peers, he said. "The competition will stimulate the growth of the market and help transform the Chinese perception of plastic surgery."
His wife Kim Ji-young of South Korean origins has been in China for nearly 10 years. She is a skin expert who works at her husband's hospital. "Many years ago, some friends didn't understand why we didn't go to the United States to work there. Now, they think it was a very wise decision for us to stay on in China."