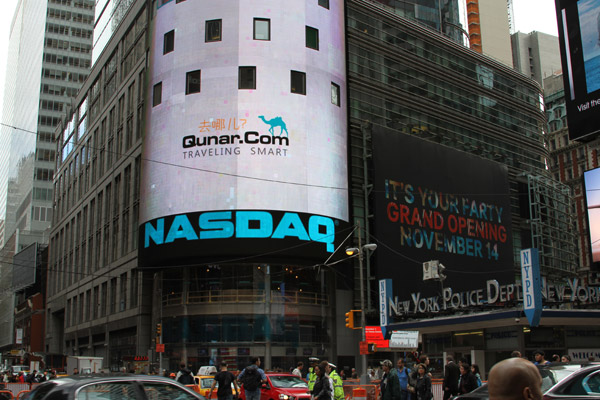 Chinese firm Qunar listed on Nasdaq in New York in November 2013. [Photo/China Daily USA]
China Eastern Airlines Corp Ltd and Air China Ltd have restarted doing business with online travel agency Qunar Cayman Islands Ltd after months of closure.
An informal alliance to boycott Qunar was formed at the start of the year, after China Southern Airlines Co Ltd announced in December it was shutting down its online links with Qunar because of many complaints it received from customers who bought tickets through the booking platform.
That move was followed several days later by another eight carriers, including Air China and China Eastern. They issued similar statements suspending their business with Qunar and advising passengers to buy tickets via their official website or authorized agents.
Analysts said on Friday the business relaunch of Air China and China Eastern had broken the ice between major airlines and the country's second-largest online travel agency.
Analyst Yu Nan at Haitong Securities Co said the move could be seen as a friendly gesture by the carriers, which are seeking stricter market regulation and better cooperation with online travel agents.
Online travel agencies experienced turbulence after the troubles with Qunar and especially after the Civil Aviation Administration of China announced its new policy on service charges on Feb 4.
According to the new policy, service fees will be charged at a fixed rate instead of according to the ticket sales prices, and agents are now not allowed to charge customers any kind of extra service fees.
This change is expected to deal a heavy blow to less-competitive agencies that cannot make ends meet with only fixed-price service fees, said an industry insider who asked to be unnamed.
He estimated that there are more than 6,000 travel agents in China.
The new regulation is also seen paving the way for airlines and online travel agents to form a more regulated and fair way of doing business.
In 2015, the State-owned Assets Supervision and Administration Commission of the State Council requested China's three major airlines to have half of their air tickets sold by the airlines directly in three years, but direct sales by China's top four airlines were between 20 to 30 percent as of the end of last year, according to Securities Daily.