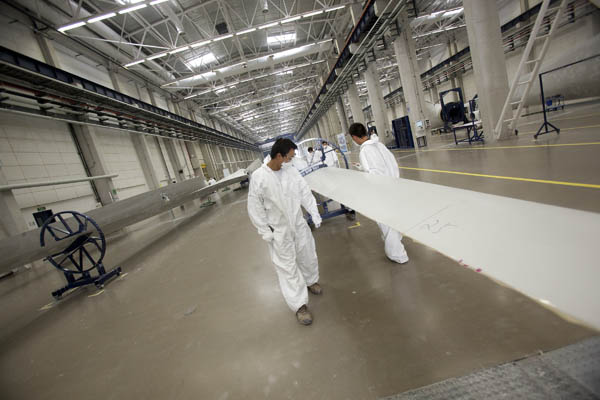 Technicians inspect the blade of a Vestas Wind Systems A/S turbine at the company's factory in Tianjin. [Photo/VCG]
Danish turbine maker sees opportunities in global consolidation trend including China
Danish wind turbine maker Vestas Wind Systems A/S, the biggest player of its sector in the Chinese market, said it would be open to various business opportunities, as it adapts to changes in the world's wind power sector.
"As the world leader in wind energy turbines and solutions, we must be aware of the global consolidation trend including China. If and when appropriate, Vestas will consider participating for a proper strategic consideration," said Chris Beaufait, president of Asia Pacific and China at Vestas.
Beaufait gave his views during the launch of a 3-megawatt wind turbine platform in Tianjin, where the company's largest manufacturing base is located.
As a glut of wind turbines globally has driven down prices and trimmed margins of many wind companies, the industry expects an ongoing shake-up, which began a few years ago to cut about two-thirds of wind turbine producers in the coming years.
Anders Runevad, Vestas' chief executive officer, said that the innovation of his company's 3-mW platform will increase energy output and lower the cost of energy for customers.
"It will also add flexibility to the product line and supply chain," he said, adding that the Danish company plans to ship three mW turbines from China to other markets in Europe, the United States and Asia.
Vestas, which has been in China for three decades, became the biggest player in terms of installed capacity. But the rise of domestic wind turbine producers poses a huge challenge to foreign turbine makers, said experts.
"The fierce competition has left major wind companies with no choice but to develop the most advanced technology to stay afloat in the marketplace," said Lu Jinyong, a professor at the University of International Business and Economics in Beijing.
"But good news is that the market is rebounding and getting more mature."
China installed about 30 gigawatts of wind power in 2015, almost half of the global total installed capacity.
Despite a slowing economy, Vestas still puts China at the top of its agenda, with more effort being made in the offshore wind market, Beaufait said.
The offshore wind market will grow from 10 gW of installation to 30 gW in the long term, he said.
Vestas produced and shipped 3,330 wind turbines last year with a total capacity of 7,948 mW, 30 percent higher than that of 2014.
It made a net profit of 685 million euros ($772 million) in 2015, up 75 percent from the 2014 figure.