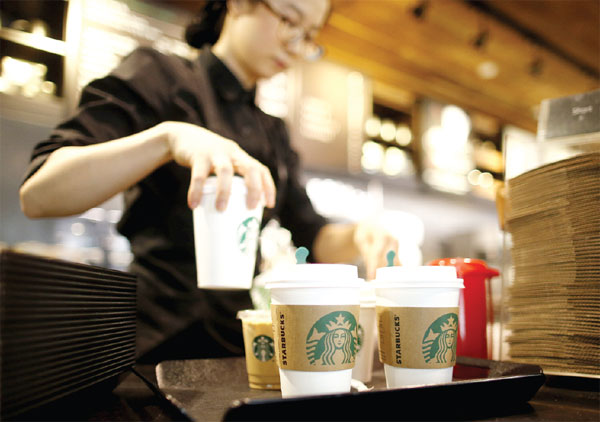 A staff member serves beverages at a Starbucks coffee shop in Seoul, South Korea. Reuters
Rising costs have contributed to the price surge of some Starbucks drinks on the Chinese mainland. According to the Seattle-based coffee chain, Starbucks stores on the Chinese mainland will adjust their pricing of selected beverages by one or two yuan beginning June 16, 2016. This price adjustment does not involve food, whole bean coffee, merchandise, or Starbucks reward cards.
"We have always taken a long-term approach to pricing by carefully monitoring and evaluating our local market operating costs, including occupancy expenses, distribution, infrastructure, labor, innovations and other operating costs," according to the Starbucks statement.
"Over the past few years, we have increasingly strengthened our investments in coffee, food, store design, employee development, customer experience and digital innovations, in order to enhance the experience and provide maximum value to our partners and customers throughout China."
This is the first rise since 2012. Ben Cavender, principal of China Market Research Group, said the price change had to happen after such a long time. "Despite the low inflation, there are increasing costs for most brands here in China, including rents and ingredients," he said.
Since its first entrance to the Chinese market in 1999, Starbucks has opened more than 2200 stores in 102 cities, making the country its largest market outside of the United States. He said Starbucks' current price rise of 8 to 10 percent will not change buying behavior among Chinese customers as they don't have many options in the coffee market, which is dominated by Starbucks. The main competitor, Costa Coffee, has even higher prices and lower priced brands have no scale.
"Customers might complain about the price change for a while, but the regular customers will not give it up and will keep coming back to Starbucks," said Cavender.