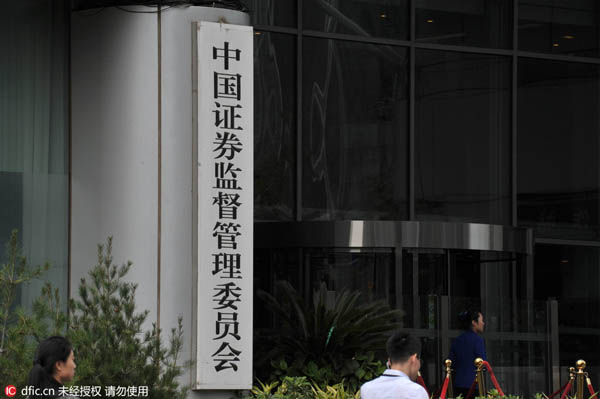 People visit the headquarters of the China Securities Regulatory Commission (CSRC) in Beijing, China, Sept 20 2015. [Photo/IC]
China's top securities regulator tightened the scrutiny on initial public offerings, vowing on Friday to eliminate any unqualified new share issues by companies.
The move came after the regulator announced the termination of its review of IPO applications for 17 companies submitted between January and May, citing reasons that included unclear capital origins of shareholders, incomplete information disclosure and substantial profit decline or losses.
The regulator will particularly look into IPO fraud by companies that attempt to "whitewash" their financial accounts to gain regulatory approval and fail to disclose proper information to investors, said Deng Ge, the spokesman of the China Securities Regulatory Commission.
Analysts said the tightened scrutiny on IPOs underscored the regulator's concerns about companies' illegal fundraising activities and possible wrongdoings that would hurt investors interests.
The CSRC has delayed the launch of the much-anticipated registration-based IPO mechanism to replace the existing approval-based scheme for new share sales.
On Friday, the CSRC also revised the rules for major asset restructuring by listed companies, aiming to better regulate back-door listings and to curb the sometimes feverish speculation surrounding shell companies.
The regulator will ban listed companies from raising funds for asset restructuring and will extend the share lockup period for new shareholders to 24 months under the new rules.
Listed companies with a record of law and rule violations within the past three years will also be banned from selling assets, according to the new rules.
"This is a step forward to get the market back in order, curb excessive speculation and to protect small retail investors," said Hong Hao, managing director at BOCOM International Ltd.
"Shell companies' valuations will be dampened further," he said, adding that backdoor listings will likely be subject to the same standards as IPOs, which would help the market grow in a healthy manner.