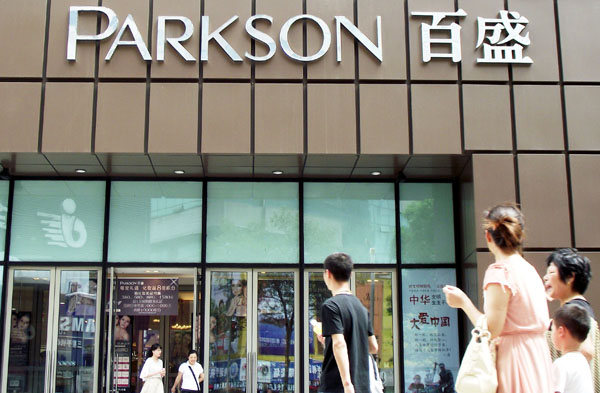 People pass by a department store of Parkson Retail Group in Changzhou, East China's Jiangsu province, Aug 23, 2013. [Photo/VCG]
Hong Kong-listed retailer Parkson Retail Group will expand into more third and lower-tier Chinese cities, developing small to medium-sized urban residential and commercial complexes.
The announcement was made by William H.J. Cheng, Executive Chairman of the retailer's operator, the Lion Group.
Mr Cheng was speaking at a meeting on the eve of the Lion Mall's opening in Qingdao, the group's first comprehensive shopping mall in the Chinese market.
Parkson has closed more than 10 stores in China in the past five years, and has been opening new stores in third-and-lower-tier cities.
Mr Cheng says changing the retail group's footprint in China and transforming business models are a "must", because market demands are transforming fast and swift new strategies are needed to keep up.
Conventional department stores have been facing challenges and pressures in the past few years, making shopping malls with retail, food and beverage, entertainment and boutique grocery stores a natural trend for department stores to evolve into, Cheng said.
Membership schemes will also expand in China, enabling Chinese member card-holders to enjoy benefits and prestiges in Parson stores and shopping malls in other Asian countries.
China's retail market has changed significantly in the past two years as consumers' spending on various categories shifted. Analysts say they are reprioritizing as lifestyles diversify among younger generations.
The latest annual research report on Chinese consumers' spending, conducted by the China Academy of Social Sciences, showed 25 per cent of Chinese consumers' spending was on food and beverage, while only 9 perc ent was on clothing. The latter accounted for more than 30 per cent before 2010.
Research by Aijian Securities suggests the retail sector may witness booming demand amid demographic changse, supply-side reform and urbanization.
It argues management and operation are key to retail business, such as shopping malls and department stores, and that the market will diversify even more in the near future.