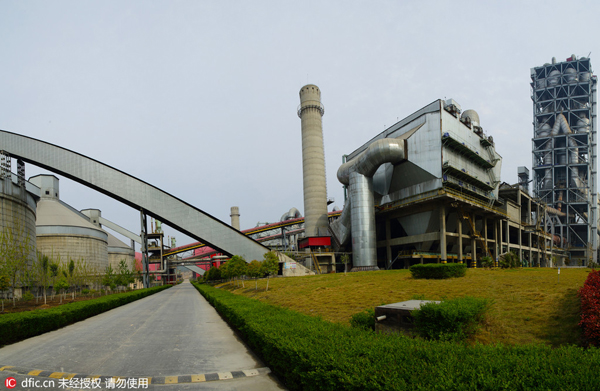 A view of Anhui Conch Cement Co, parent of Conch International Holdings (HK), April 9, 2015 [Photo/IC]
PHNOM PENH - A China - Cambodia joint venture has announced a plan to build a $230 million cement factory in northwestern Cambodia's Battambang province next month, the Phnom Penh Post reported on Friday.
Battambang Conch Cement Company - a joint venture between Chinese firm Conch International Holdings (HK) and local cement company Battambang KT Cement Company - will break ground next month in Rattanak Mondul district, said Vinh Hour, director of Battambang Conch Cement.
He said the new cement plant is expected to begin operation in December 2017 and will have a capacity of 1.8 million tons per year.
"We will be the fourth cement company to supply the market," he was quoted as saying by the newspaper. "And when the supply increases in the market, the price of cement will decrease."
According to Hour, Cambodia's annual demand for cement has reached 8 million tonnes, while the existing three cement plants in Kampot province can only supply about half of this amount. The remainder is imported from Asian suppliers.
Battambang Conch Cement has applied for an industrial mining licence to use limestone from a nearby mountain in the district for its production, he said.