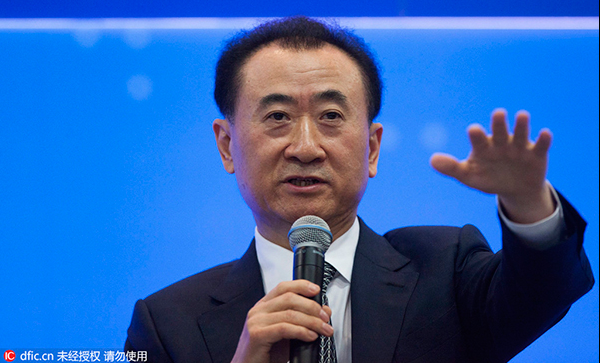 Wang Jianllin speaks during a financial forum in Hong Kong, China, Jan 18, 2016. [Photo/IC]
Dalian Wanda Group, through its subsidiary Infront Sports & Media AG, on Thursday announced a long-term business partnership with the International Basketball Federation-its latest move to explore the sports business. For over four FIBA Basketball World Cup cycles, up to 2033, Wanda will be FIBA's worldwide exclusive partner for the sale and marketing of global sponsorship and licensing rights.
The long-term partnership starts immediately and takes an all-encompassing marketing approach. It involves comprehensive marketing initiatives and services in branding, merchandising, event hospitality, on-site operations and marketing partner support.
Wanda's partnership with FIBA followed involvement with FIFA in March. Since last year, through the acquisitions of Infront Sports & Media in Switzerland, World Triathlon Corp in the United States and the endurance sports sector of Lagardere Sports & Entertainment in France, Wanda has established an integrated value chain to become the world's largest sports company by revenue.
"With Wanda's traditional strength in real estate sector slowing down, the shift to the burgeoning sports and entertainment sector seems a smart move but the lack of operational expertise in sports events might be a challenge to overcome," said Tan Jianxiang, a sports sociology expert at South China Normal University.
Wanda's strong commitment to sports shows its determination to reshuffle its business portfolio. At the start of this year, the company slashed its property sales target by 40 percent.
Wanda's investment in mass-popular sports the like of soccer and basketball bodes well for its commercial sustainability, said Tan
With China to host the FIBA World Cup, formerly known as the FIBA World Championship, in 2019, the partnership is also tasked to further boost the game's popularity globally, with an emphasis on China, said Wanda's Chairman Wang Jianlin.
"Although more than 300 million people have been watching and playing basketball in China, I still see a great potential for the game to be further promoted and the partnership with FIBA will help Chinese basketball to climb to the highest level in the world," Wang said.
As part of their joint plan, Wanda and FIBA, together with the Chinese Basketball Association, will establish a development fund to support youth participation in basketball, while looking to emulate the continental league system in Europe to form a new professional club competition format in Asia to raise the elite level of the game.