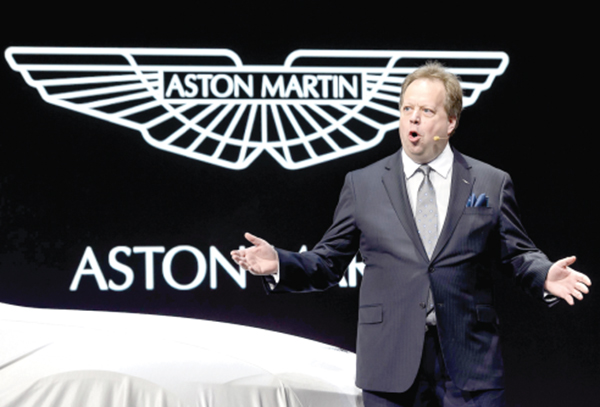 Andy Palmer, Aston Martin CEO. [Photo/Agencies]

Andy Palmer, chief of a top British carmaker, expounds on what it takes to succeed as China takes center stage in the auto industry
Andy Palmer is convinced his dealings with China give him a firm grip on his role as Aston Martin's CEO, saying the reality is that there is a lot of growth and building that can be done by working with Chinese institutions.
Palmer, 53, a British executive who has spent half his career in Asia, said: "We are moving into the world where China is one of the dominant forces in the world, and the relationship between Britain and China is moving into a new era."
Aston Martin is one of the many British companies gaining opportunities by partnering with Chinese businesses.
Driven by the policy in China to move more towards green development, the luxury carmaker secured an investment worth 50 million pounds ($72 million) from a Chinese investment group, China Equity, to develop its electric Rapid E sports car, a deal struck during President Xi Jinping's visit to the United Kingdom last October.
Although Aston started late in the electric vehicle business, Palmer said the company is working hard to make sure there is a pure electric offer in the luxury sports car segment, so the company will be among the first into the segment. He hopes the Chinese customers will reward that innovation.
This February, Gaydonbased Aston Martin, famous for making James Bond's iconic DB5 sports coupe, partnered with LeEco, a Chinese consumer electronics firm, to further its electric car project.
Recently, Palmer spoke to China Daily about his vision and strategy and new opportunities for Aston Martin's China operations. Following are edited excerpts of the interview:
What are the prospects of your company in China in the current economic situation?
I'm still relatively bullish about the Chinese economy despite the recent slowdown. The luxury industry might have struggled under China's current economic climate, but as we do not have a really high exposure in China-selling about 200 cars a year in China-the effect is rather small.
Now, as the new Aston Martin DBX crossover SUV is in the pipeline and China is a country that rewards entrepreneurs, which has been the key to China's growth, I am confident that would put Aston Martin in a new arena.
A culture that exhibits a continuing and growing appreciation of art and craftsmanship, coupled with a growing awareness of the love of things English, creates real space for Aston Martin to grow.
What is your company's biggest achievement in the China market?
Our dealerships in China are some of the best in the world, in terms of quality and customer service. When customers buy a luxury car, they expect to buy it in a place of luxury and also expect to receive unbeatable service. Our Shanghai and Beijing dealerships are exemplary in that sense.
I am very pleased with the way our company has stepped up to improve its understanding of the Chinese market, by establishing a significant local presence. I think the route to success is by understanding the Chinese marketing, we employ Chinese people and promote Chinese people. The president of Aston Martin China and his first line of executives are all Chinese.
Also, the partnership with LeEco shows that we are not simply looking to the West when we talk about technology. We're not just looking at Google and Apple and Tesla, but looking to the East and seeing the potential for a Silicon Valley type operation coming out of China. Some of the most innovative companies right now are coming out of China and we happen to be lucky enough to be partnered with LeEco.
What do you consider important when cooperating or dealing with local Chinese partners?
Honesty and integrity. I think Chinese people are honorable and they deserve honorable treatment. Chinese business culture is different from the Western (corporate culture), which means you need to take time and not bring your existing mental model to the table.
If you bring the Western mental model to a negotiating table with a Chinese partner, it would inevitably end up in confusion and difficulty.
We have to adapt to the Chinese model and understand how to negotiate, discuss and collaborate, and at the core of that is being honorable. Through my dealings with China, the best relationships have always been made around the dinner table.
Westerners, especially Britons and Germans, concentrate very much on the business relationship, exchanging the business card and creating an understanding inside the office. This might not work well in Chinese business networks.
What essential leadership qualities do you consider important when leading your team to grow in the Chinese market?
Chinese people, both businessmen and businesswomen, respond very well to ambitious business goals and they are quite entrepreneurial. I think in China what you need to do is to be bullish in setting out your ambitions for your businesses.
For example, being a Chinese executive doesn't mean that is the end of your career or the pinnacle of your career is just being the president of Aston Martin China.
In fact, the staff that we have in Shanghai could equally have the opportunities to continue their career in any part of the Aston Martin, including back in head office.
So I think as a global CEO, it is very important that you paint a picture of both professional and personal growth for your Chinese nationals.
How do you handle your international team?
In order to handle the international team efficiently and successfully, I think you have to work very hard on communication.
Because of the different construction of the language between English and Chinese, it is often easy to find errors and misunderstanding which were not meant to be misunderstood. I think that it is obligatory for British executives, me for example, to spend more time ensuring that the message is well understood by my Chinese counterparts. Almost every six weeks, I go to China and visit different parts of the country as China is not one holistic culture, and if you want to understand China, you need to go to each of the different provinces.
What are your business strategies in adjusting to China's latest economic initiatives like the New Normal (or slower but sustained economic growth rate) and the Belt and Road Initiative?
Every year at our global conference, we take the opportunity to renew or adjust our long-term business plan called the "Second Century Plan".
This year we had Michael Peng, our president of Aston Martin China, who contributed a lot of input into what the plan should look like for China--adapted, but not fundamentally changed, considering the Chinese economy, the Belt and Road Initiative and also considering where the Chinese president is taking the country.
We adapt annually to what we know, but it is more adjustments than massive directional changes.
How do you handle challenges that your team may encounter in China?
As a low volume manufacturer, one of our challenges in China is how to meet ongoing regulations. In most countries around the world, there is a small series exemption clause, which allows the company to move at a slightly slower pace. However, the exemption clause doesn't exist in China explicitly today.
We have to learn to negotiate with different areas of the Chinese government so they get a better understanding about what our business is and why we are important to the future of the Chinese economy. I think that not having Aston Martin in China would be a shame.
What do you think about the Chinese Dream? What are the dreams you have for your company in China?
What Aston Martin represents in the UK might be slightly different from that in China. In the UK, it is understood better by a slightly older generation.
I would like China to be our leading edge in terms of our new generation and hope the generation born after the 1980s will be the champions for allowing Aston to be meaningful in the next century of production. So, in the same way, my generation loves Astons because of the DB5 and the Vantage V8. I'd like to think that the Chinese young generation would love Astons because of the DB10, the DB11 and the DBX.
What are your hobbies? How do you spend your time outside of work when you are in China?
I do not really have much free time when I am in China as the work is intensive and schedule is often busy, but I enjoy going to Chinese restaurants and meeting with friends. In the UK, whenever I have the opportunity, I go to drive my classic car-a 1980 Vantage V8. Car racing is also one of my biggest hobbies. I would race a GT4 three or four times a year for Aston Martin, though my aspiration is to race a GT3 when I can.
What is your life/business philosophy?
My philosophy and my approach to work was driven by the fact that I left school at 16 and worked on a shop floor. I think all people are born equal and all people deserve to be treated with respect and that you get the best out of people if, despite their EQ and IQ, you treat them with respect.
CV
Age: 53
Career:
2014 onwards: CEO, Aston Martin Lagonda Ltd
2013-14: Chief planning officer and executive VP, Nissan Motor Co, Japan
2011-13: Executive VP, Nissan Motor Co, Ltd
2010-11: Global marketing, brand and communications, Nissan Motor Co, Ltd
2009-10: Senior VP, Nissan Motor Co, Ltd
Education:
2010: Honorary Doctor of Technology, Coventry University
1998-2004: PhD, Engineering Management, Cranfield University
Family: Married with four children