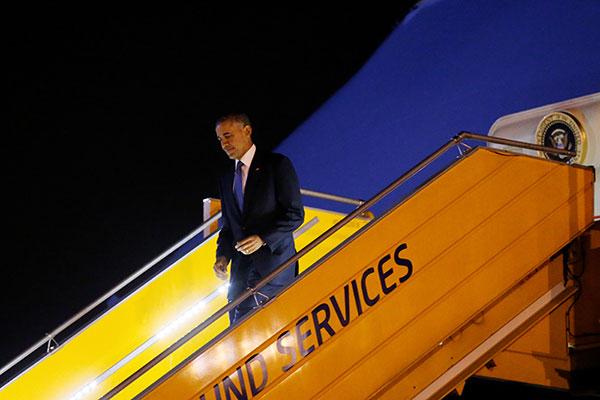 US President Barack Obama arrives at Noibai International Airport in Hanoi, Vietnam May 22, 2016. [Photo/Agencies]
Analysts have urged Washington not to intensify regional tensions by provocative words or actions ahead of US President Barack Obama's visit to Hanoi on Monday.
Obama's tour should not harm the interests of countries in the region, as some are currently involved in maritime disputes, they said.
It will be Obama's 10th trip to Asia as United States president. According to Vietnamese media, Hanoi is paying great attention to this visit and has prepared a high-level reception for Obama.
White House officials say Washington is considering lifting restrictions on arms sales during Obama's first visit to Vietnam. He will also visit Japan.
"It's a kind of farewell tour for Obama, who expects to enhance his diplomatic legacy during the visit," said Jin Canrong, a professor of international relations at Renmin University of China.
However, this should not be done by harming the interests of countries in the region, Jin said.
Fu Mengzi, vice-president of the China Institutes of Contemporary International Relations, said the US is "making new friends", in addition to its existing allies, to carry forward its Asia-Pacific rebalancing strategy.
The Permanent Court of Arbitration in The Hague is expected to rule soon on a unilateral arbitration case submitted by the Philippines on its territorial disputes with China in the South China Sea.
Fu said that in view of this arbitration, the US should not "hype up" the situation or cause provocation in words or actions.
Observers said Vietnam is not likely to side with the US, as the Asian country is trying to strike a diplomatic balance among nations including China, the US and Japan.
During Obama's visit to Japan, he will attend the G7 summit on Thursday and Friday and will end his trip with a visit to Hiroshima. He will visit the Hiroshima Peace Memorial, which marks the atomic bombing of the city on Aug 6, 1945, that helped end World War II.
Jin said that with the Asia-Pacific region becoming increasingly important in global strategy, one purpose of Obama's visit to Japan is to bolster relations with its ally in the region.
Regarding the trip to Hiroshima, the White House has said it is not willing to give an apology.
"However, an apology for the past could be played up by Japanese media," Jin said, adding that this will not be accepted by China.
Foreign Ministry spokesman Hong Lei said on Thursday, "We hope that by inviting leaders or political figures of other countries to visit Hiroshima, Japan is telling the world that it will never tread on the path of militarism again, as it once brought unspeakable suffering to its people and the people of Asia."
US Trade Representative Michael Froman, who will accompany Obama on the trip, said the Trans-Pacific Partnership will open the Vietnamese market and benefit US businesses, citing the high tariffs there for vehicles and beef.
The partnership is a trade agreement among 12 Pacific Rim countries signed in February in Auckland, New Zealand, after seven years of negotiations. It has not entered into force
Froman also acknowledged challenges in Vietnam concerning child labor, intellectual property rights and the environment.
He said the Obama administration is consulting with US Congressional leaders to discuss holding a vote on the Trans-Pacific Partnership. The US, Vietnam and Japan are part of the proposed pact, but both Japan and the US are facing an uphill battle to ratify it.
Chen Weihua in New York contributed to this story.