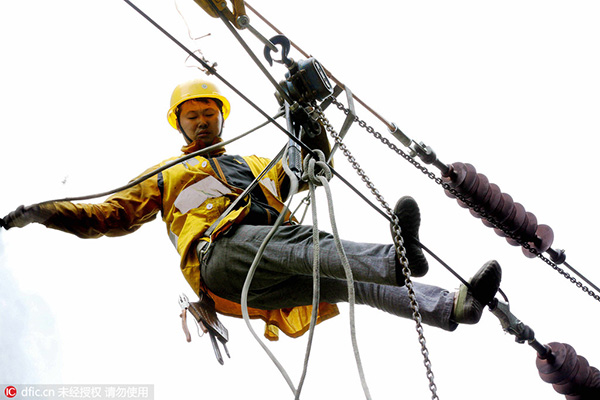 A worker changes a carrier cable along the Neijing-Kungming railway in Chengdu, Sichuan province, April 24, 2015. [Photo / IC] 
China needs to beef up its investment in infrastructure to fuel domestic demand and cut excess industrial capacity amid the ongoing restructuring, said Yu Yongding, a former central bank adviser.
"In order to reduce excess capacity while adhering to structural reforms, it is absolutely necessary for the Chinese government to support infrastructure investment to offset the negative effect of declining real estate investment growth," Yu said at an economic conference that ended Sunday.
"If China does not increase infrastructure investment now, it may miss a rare historical opportunity," he added during the conference held by China Finance 40 Forum, a Beijing-based club for economists, and the Peterson Institute For International Economics.
China's infrastructure, although significantly better than other developing countries, still lags behind compared to developed countries, according to Yu, now a research fellow with the Chinese Academy of Social Sciences and a member of CF40.
An "excellent opportunity" has come for the country to do so against the backdrop of global economic downturn, falling commodity prices, low interest rates in western countries, and overcapacity in China, he said.
"The key lies in the scale and pace of infrastructure investment in China, and in what infrastructure projects should be pursued," he said.
Adam Posen, president of PIIE, echoed Yu at the conference, saying investing in infrastructure not only creates a better environment, but boosts economic vitality, and from a very optimistic view helps sustain high-level growth in the long run.
China's economic growth dipped to a 25-year low of 6.9 percent year-on-year in 2015, fueling worries that the world's second-largest country may suffer from a hard landing.
But an "authoritative insider" dispelled such concerns in an exclusive interview with People's Daily earlier this month, saying China's economic growth will not drop abruptly given its potential, resilience and room for maneuvering.
The source said the economic trend in the coming years will be "L-shaped" rather than "U-shaped" or "V-shaped," given potential difficulties that include overcapacity, bad loans, local government debt, a property bubble and illegal financing.
Infrastructure investment will not undercut efforts to overhaul economic structure, but instead will create "necessary conditions for stabilizing and boosting the potential growth rate", Yu said.
"It's difficult to avoid the increase of debt and leverage" at this time, but China is unlikely to see a financial crisis as long as there's no large-scale capital flight," he said. "The more likely scenario is a crisis caused by rising non-performing loans, in which banks refrain from lending and firms from borrowing."
The Chinese government should seek more financing vehicles, such as raising the fiscal deficit rate amid infrastructure investment to cut reliance on bank lending, he added.