Space industry focuses on growing Latin American market
China successfully launched into orbit Bolivia's first telecommunications satellite on Saturday morning - a move expected to boost China's share of Latin America's surging satellite sector.
The Tupac Katari satellite was launched from Sichuan province's Xichang Satellite Launch Center by China Great Wall Industry Corp. The country's only commercial provider of international satellite launch services and in-orbit delivery has launched 45 satellites for 20 countries and regions.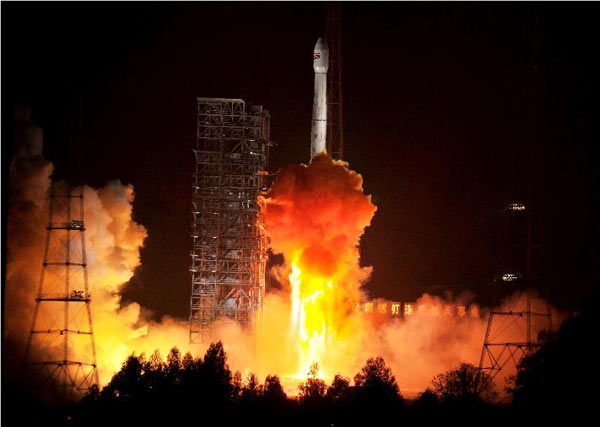 A Bolivian communications satellite is launched from the Xichang Satellite Launch Center(XSLC), southwest China's Sichuan Province, Dec. 21, 2013. China successfully sent a Bolivian communications satellite into orbit with its Long March-3B carrier rocket at 0:42 a.m.(Beijing Time) Saturday. [Photo/Xinhua]
"Latin America is an important market for China," the company's vice-president He Xing said.
"I believe this successful launch will accelerate our business."
The launch of the Bolivia's Tupac Katari satellite has captivated the Bolivian public's attention. President Evo Morales traveled to the site to witness the launch.
It was the center's first visit by a foreign leader, Xinhua News Agency reported on Saturday.
"I am excited about the successful launch," Morales said at the center on Saturday.
He said Bolivians will benefit from his country's first telecommunications satellite.
Chinese President Xi Jinping sent a congratulatory letter on Saturday. He expressed hopes scientific and technological cooperation will strengthen bilateral ties.
The satellite will improve radio, television and telecommunications services, long-distance education, healthcare and Internet access in Bolivia in March, following in-orbit tests.
Tupac Katari was launched at 12:42 am Beijing time and is expected to operate for about 15 years.
It is named after the indigenous Bolivian leader who died staging a rebellion against Spanish colonists in the 18th century.
The China Academy of Space Technology spent nearly 2.5 years designing and developing the satellite. Chief designer Li Jingtao said its successful launch showed Chinese satellites' "high degree of reliability".
Bolivian Space Agency director Ivan Zambrana said China is a "world-class" power in the space industry, so he and his country were confident in the project.
Zambrana said Tupac Katari will save the country at least $15 million a year that would otherwise be spent to rent foreign satellites' services.
It will enable complete coverage across Bolivian territory. And the country can rent its services to such Latin American countries as Colombia and Peru at competitive prices, Zambrana said.
He estimated profits from renting its services will reach $40 million a year within a decade. This, in turn, can fund the Bolivian space industry's sustainable development.
China Great Wall Industry Corp and the Bolivian Space Agency signed the Tupac Katari deal in 2010.
The $300 million investment covered construction, launch and orbit placement; the establishment of two ground stations in Bolivia's La Paz and Santa Cruz; and the training in China of 78 Bolivian professionals, who will operate the satellite. Most of the investment came from a China Development Bank loan.
China Great Wall Industry Corp's He said: "Providing customized services, such as packaging satellite export contracts with infrastructure construction and personnel training, is our distinctive business model and has its advantages in the international satellite market."
He added that low cost is not the selling point of China's satellite export business because some of the technologies are globally advanced.
China last week achieved its first soft landing on the moon with the Chang'e-3 lunar probe mission. It became the third country - after the United States and former Soviet Union - to do so with the mission's completion, and the landing was the first in nearly four decades.
The country's rise as a space industry powerhouse has helped Great Wall Industry Corp in the international market, He said.
China has exported five telecommunications satellites, and another eight contracts are in the works, he said, without elaborating.
Zambrana said Bolivia is considering launching a remote-sensing satellite in 2017 to monitor the country's natural resources. It will likely look to China to build the next satellite, he said.
Latin America has been a major market for China's satellite exports. The country has helped Venezula launch two - a telecommunications satellite and a remote-sensing satellite - since 2008.
wangqian@chinadaily.com.cn