Employees who lost their jobs because of cost-cutting measures take to the streets, report Hu Yongqi, Wu Wencong and Jiang Xueqing in Beijing.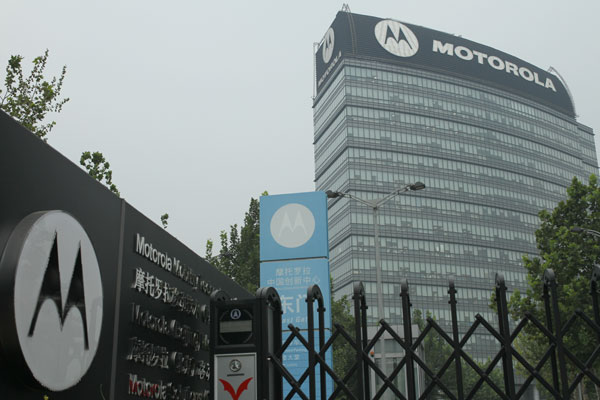 The Motorola building in Beijing. Hundreds of Motorola employees staged protests in Nanjing, Jiangsu province on Aug 16 and in Beijing on Aug 17, after being informed of a layoff. Wang Jing / China Daily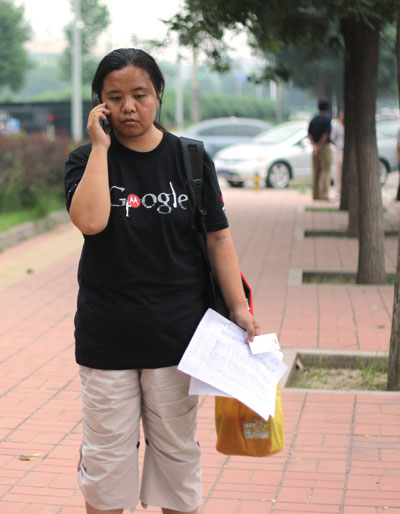 A Motorola employee outside the company building in Beijing. Wang Jing / China Daily
A motorcycle breaks down on a dusty country road. A mule has to pull it to its destination. The motorcyclist takes out a black object, the size of half a brick, and talks into it. Millions of Chinese TV viewers think it's cool. This is a flashback to the 1990s.
A Motorola cell phone, selling for an office worker's annual salary, was the symbol of wealth in China then. Motorola, in Chinese, literally means a "motorcycle pulled by a mule". The advertisement, playing on this aspect, ensured that the company became a household name.
Motorola is making news again, this time of a different nature. Hundreds of employees laid off by the company staged protests in Nanjing, capital of Jiangsu province, on Thursday and in Beijing on Friday.
They said the attitude of the company's management, combined with the massive scale of the layoffs, had forced them to take to the streets.
"We are not after money. We feel humiliated by being forced to leave this way," said Chen Hongbin, 31, a cloud-computing engineer at Motorola's Beijing unit. He joined protesters waving banners in front of the Motorola building in Wangjing, northeast Beijing.
"We understand that the mobile communication industry is experiencing a recession, but no company has cut so many jobs in one place at one time," said Zheng, 35, also a laid-off worker.
The protesters claimed Motorola is letting go about 700 of its 1,600 employees in Beijing, and closing its operations completely in Nanjing, where about 500 people were employed.
The company will slash about 4,000 jobs globally, one-third of them in the United States, according to an e-mail sent by Motorola's chief executive to the company's units across the world on Aug 13. This will reduce its workforce by 20 percent and result in the closure of a third of its 94 offices worldwide, said Motorola China's spokesman Kevin Si.
Motorola China's human resources department began talking with laid-off workers one by one on Aug 14. Since then, the conflict has been escalating, reaching a flashpoint that led to protests two days later. "They told us about the compensation, warning that there was no room for discussion, and asked us to sign the papers before 5 pm on Aug 15. They said if we didn't, our contracts would be terminated," Zheng said.
On Aug 15, a group of 30 laid-off workers managed to talk with two top executives. "We explained our point. We wanted to negotiate the time and terms of leaving the company, know the total number of workers being laid off, the reasons for doing so and the standards followed," she said. "But we were told that the details sought were secret and none of our concern, and that there was no room for discussion on the time and terms."
The laid-off workers with higher education then sent two teams, one to Beijing municipal human resources and social security bureau and the other to the Chaoyang district federation of trade unions, to gather information.
The first team checked the files at the labor bureau and found that about 700 employees were being made redundant. It also applied to seek more information, and was told it would be given within 15 days, she said.
The second team questioned why the company's trade union had agreed to the layoffs beforehand and found that the names of the company's trade union president and vice-president registered with the federation were not the ones they believed to be, Zheng said.