Answers at your fingertips may give a sense of independence, report He Na and Zhang Yuchen.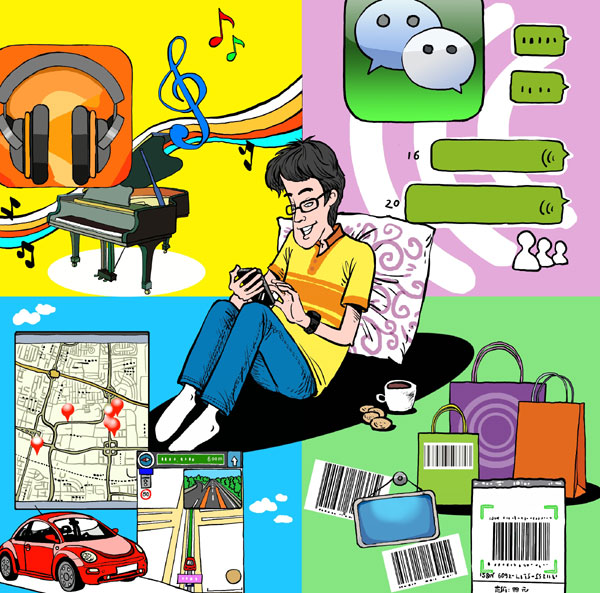 [By Pangli/China Daily]
Zhang Yu claims to have a lot of good friends, but they are not convinced. They joke that Zhang's "friends" are a number of thumbnail-sized applications installed on her smartphone.
The phone is never out of Zhang's hands, and she admits to spending more time with apps than with family and friends.
"With the popularity of smartphones and other mobile gadgets, apps - computer software applications designed to help users perform specific tasks via mobile devices - have greatly changed people's way of life," said Chen Ziming, vice-president of research and development at app developer Wochacha Information Technology (Shanghai).
For Zhang, apps function as a general assistant. Every morning, she turns to Moji Weather which provides a forecast for the day and helps her decide what to wear.
"It also advises on suitable makeup and the sun-lotion factor most suited to the day's weather. For example, it says today will be hot and humid, so it's best for me to use cosmetics designed to prevent dehydration and to apply less foundation cream," said Zhang, 30, who works for a public relations and social media company.
Out on the roads, she uses Anjia Digital Dog, an app that alerts drivers of upcoming speed cameras, no-parking zones and the areas most often patrolled by police. "That's a good app. It's already helped me to avoid lots of parking tickets and speeding fines," she said with a smile.
Zhang, a music fan, often forgets song titles. She found a solution with Shazam Encore, a song-search app capable of identifying a tune from just a few bars. "I've learned tons of new songs with it and won lots of applause from friends at Karaoke bars," she said.
The app she uses most frequently is called Momo, an instant chat platform that provides users with easy access to other subscribers. It's similar to text messaging, but far more advanced, and allows devotees to send photos and video footage and identify other user accounts. Subscribers can cyberchat, even if they've never met in real life.
"It's a good way to share moods and emotions and its location service is very strong. I install new apps and delete old ones almost every day. It's amazing that I can find apps related to almost every aspect of my life through App Store or Google Market. I find they make life more convenient and interesting," Zhang said.
Changing lives
"I think that right now apps are changing our lives in the same way websites changed the world 10 years ago. Apps are a worldwide revolution and provide people with access to information about companies, restaurants, anything, in a convenient and fun way," said Evgeny Kosolapov, CEO of I-Free Asia, a division of Russia's largest mobile Internet company which both develops apps and provides a platform for developers, when he attended the Macworld Asia 2012 conference in Beijing.
"We still have to use computers at home or in the office because of the Internet access, but apps - no matter whether you use them in the city, on the road or on the train - are changing user behavior," he said.
By the end of June, 388 million people in China were using cellphones to go online and mobile devices are now far and away the most common way for Chinese people to gain access to the Internet, according to a report released by the China Internet Network Information Center.
At the Apple Worldwide Developers Conference 2012, Apple Inc's CEO Tim Cook revealed that the number of downloads from the company's App Store has surpassed 30 billion globally so far this year.
Liu Kai, an Apple fan who works at a newspaper in Changchun, capital of Jilin province, said apps are the best and cheapest tool for entertainment.
"I've installed many apps, but my favorite is iMovie, a video-making app. Even people without video- or directorial skills can make their own movies. I often use it to edit video I recorded with friends and family members," Liu said.
"I think apps are a good invention. They allow regular people like me to really feel the development of technology. They also make my life more convenient and interesting than before. It's really amazing that you can get whatever you want from them," he said.
Hou Xing, manager of a cultural communications company in Beijing's Chaoyang district, is also a fan, but he favors apps that aid daily life. "I installed a pocket health checkup on my phone. It tests my eyesight, memory, weight, hearing and heart rate. It's very convenient and a good reminder for people like me who pay little attention to their health," he said.
One of Hou's favorite apps is China Survival Handbook, which supplies updates on food safety. "I just received a reminder that a bakery I often visit has been selling out-of-date bread. I used to buy snacks for my 2-year-old daughter there. Thank goodness it reminded me," he said.
Hou also often uses weibo, or micro blogs, to access the latest news and to share views on certain topics. "I really like micro blogs. For me they've opened a new window to the outside world."
Negative effects
Despite the convenience, experts warn that apps can also have a negative side. "The mobile Internet can benefit our daily lives. Apps can provide shortcuts in the way we do things and are convenient for dealing with daily affairs," said Dong Yan, an assistant professor at Renmin University of China's psychology department.
"But there's a problem we can't ignore. Many young people cling to their phones so they can check social networks or text messages every few minutes, and that can interfere with the normal process of working or studying," she added.
"Communicating or problem-solving via apps is quite different from contacting real people to tackle difficulties. To take an extreme example, say one day your map app fails, and you have to ask a real person for directions. You might not know how to approach a real person to broach the question politely and may end up causing offence. That would be because you've communicated lazily via your phone for a long time and have never developed interpersonal skills. When people become absorbed in playing game apps or reading in public spaces, they may easily forget their surroundings and subconsciously become indifferent to other people's needs."
It's a problem that has already occurred to Hou. "The most obvious downside is that they make people lazy and help them find excuses if they don't want to chat or go out. Many of my friends feel the same way. Apps narrow the distance between people through cyberspace, but can disrupt relationships in the real world," said Hou.
"I find the recent graduates who work at my company really amusing: When we go out for lunch or dinner, they just stare at their cellphones and rarely speak until the food is put on the table. When the dishes arrive, these people immediately take photos and upload them on micro blogs to share their views," he said.
"My interest in apps is almost morbid," said Li Weiwei, 26, a government employee in Wuhai in the Inner Mongolia autonomous region who has tried to break her apps addiction, but failed. "On several occasions, I've accidentally left my phone at home and felt nervous and uncomfortable the whole day. Take Sina Weibo (one of China's most popular micro-blogging websites) for example. I feel the impulse to log on and keep updating even when I go to the restroom. If I don't, I feel like I've been abandoned," she admitted.
The phenomenon is common among young people, especially students, as smartphones become increasingly affordable.
Gao Han, a student at Renmin University of China has been obsessed with apps since the beginning of 2011, and has more than 70 installed on his smartphone. Like many of his classmates, he uses apps to read books, visit websites, play games and communicate with friends. While appreciating that apps can provide a more-structured existence, Gao admits that the amount of time he spends with friends has fallen since he began using apps regularly. "It's not the apps' fault, the problem is people's lack of self-control," he said.
Face-to-face contact
Hou recommended a game he often plays with friends when they go out for meals. "We put our mobile phones in a pile and the person whose phone rings first has to pay the bill. And anyone who touches their iPad before the meal is finished has to share the bill. It's a really good way of avoiding the embarrassment caused when people sit together holding their phones and not talking," he explained.
Cui Jia and Mo Jingxi contributed to this story.
Contact the reporters at hena@chinadaily.com.cn and zhangyuchen@chinadaily.com.cn