An eight-year manhunt for the country's most wanted criminal suspect came to an abrupt end in the early hours of Tuesday when Zhou Kehua was shot dead by police in a Chongqing alley.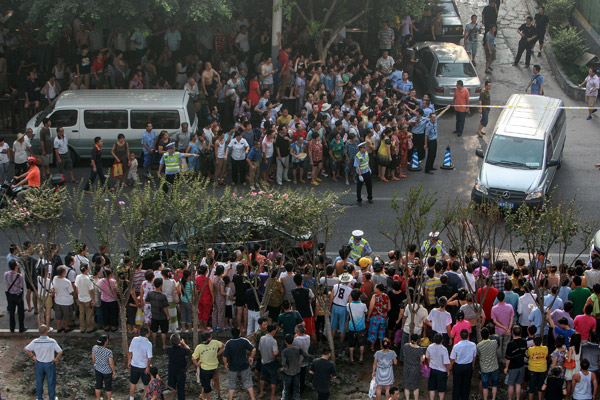 Crowds watch police vehicles take the body of Zhou Kehua away from the site in Chongqing's Shapingba district where he was shot by police on Tuesday.[Chen Cheng / Xinhua]
Zhou had been on the run since 2004 and was the prime suspect in 10 murders. The clinical brutality and manner of the killings earned Zhou the nickname "Brother Headshot".
He mainly targeted bank customers withdrawing large sums of cash, followed them and shot them.
Two police officers from the Chongqing Municipal Public Security Bureau told China Central Television on Tuesday that they had managed to corner Zhou in an alley after following him on foot.
Once Zhou realized he was being followed he turned to walk in the direction of the officers and exchanged words. A gunfight followed and Zhou was killed.
Born in Chongqing, Zhou, 42, began his killing spree in his hometown and by a strange twist of fate the municipality was where he died after a resident had tipped off police.
Zhou was believed to have committed two murders last week. A police officer was shot, and a woman was robbed and shot at a bank in the city on Friday.
Zhou was also accused of murdering eight people in incidents spread across three cities.
"The way Zhou kills is brutal and identical," said Dai Peng, director of the criminal investigation department at the Chinese People's Public Security University.
"He goes for the head in broad daylight."
Dai said that although Zhou primarily targeted people withdrawing large amounts of cash, he never seemed to show any degree of hesitation or remorse.
The frequency of his crimes increased because he was enjoying it more and more and getting excited by it, he said.
Zhou's attacks were not random, they were carefully planned and he would meticulously stake out locations, according to Dai.
Zhang Shuming, the manager of a restaurant that stands opposite the Chongqing bank where last week's robbery and murder took place, said Zhou observed the bank from the edge of a nearby flowerbed.
But police realized they were getting closer. Just hours before Zhou was shot, Dai was confident that Zhou's killing spree would soon end.
"I believe he will be caught very soon," Dai said on Monday evening as police conducted a massive manhunt.
The Chongqing Municipal Public Security Bureau, which dispatched thousands of officers on a citywide hunt, was praised by Meng Jianzhu, the minister of public security, immediately after the successful operation.
The replica Type 54 pistol allegedly fired by Zhou in Friday's murder and the 9mm pistol with which he allegedly killed the police officer on Friday were also used in the murder of a People's Liberation Army soldier in 2009, according to fingerprint analysis and DNA found on bullet casings discovered at the scene, Huang Wei, deputy director of the Chongqing Municipal Public Security Bureau, said on Tuesday.
Huang also said that DNA data, provided by police in Jiangsu province, allied to a physical description, provided by police in Changsha, Hunan province, laid a "solid foundation" for the operation.
The Ministry of Public Security has confirmed that the unidentified Chongqing resident, who tipped off the police, will get a reward of 100,000 yuan ($15,700), plus a further 500,000 yuan from Chongqing authorities.