The natural disaster that hit China's capital city last month has prompted residents to ensure that they're fully prepared for the next encounter with Mother Nature. Peng Yining, Jiang Xueqing and Hu Yongqi report from Beijing.
In the week following the devastating rainstorms that claimed 77 lives in Beijing and the surrounding area on July 21, Cui Fei packed her apartment with survival equipment, including bottled water, flashlights, safety hammers, military-style knives and canned food.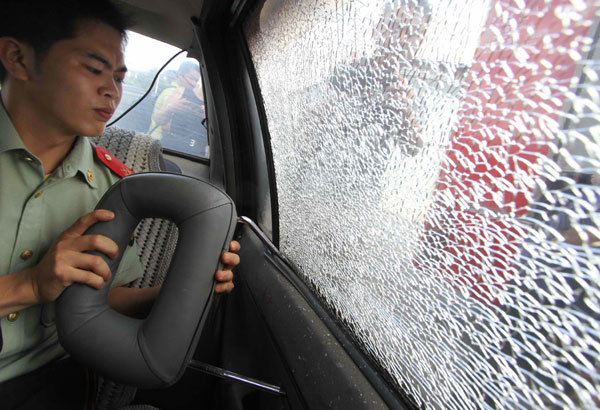 A firefighter shows how to use a removable headrest to smash a car window. After the devastating downpour in Beijing on July 21, an increasing number of people have decided to upgrade their survival skills. Provided to China Daily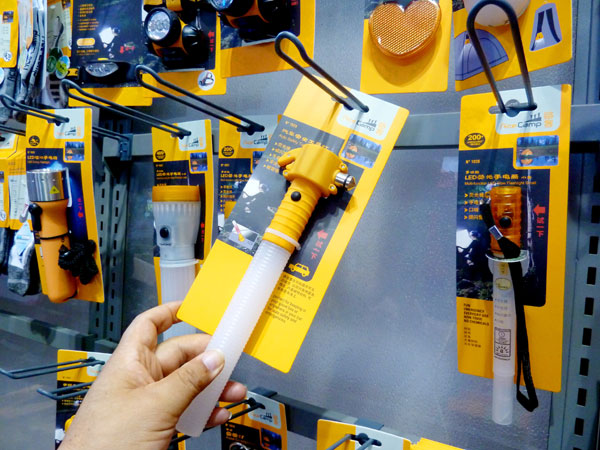 Survival tools on display at an outdoor products expo in Nanjing, Jiangsu province, last month. Wang Luxian / for China Daily
"I had never thought about buying a household disaster kit until the storm hit Beijing," said the 27-year-old. "Living in such a large modern city, who would think about keeping a survival kit under their bed? I do now, though. I guess the storm was a wake-up call for everybody."
She said the floodwater around her apartment block reached half a meter on the fateful night. Although the water was not deep enough to pose a threat to Cui's fourth-floor apartment, the following week's news reports about people who died because they were unprepared prompted her to buy the survival equipment.
The kit, ordered through Taobao, China's most popular online market place, cost roughly 400 yuan ($60), and Cui also bought the three-volume SAS Survival Handbook, written by John Wiseman, a former instructor with the British Army's Special Air Squadron.
"The handbook teaches you how to drive safely in a downpour," she said. "A friend recommended it to me. It's now becoming very popular."
Raising public awareness
The Red Cross Society of China has also been at pains to raise public awareness. The society's branch in the city of Shijiazhuang in Hebei province issued a brochure through the local newspaper to publicize survival measures during torrential rain. The society will also print 10,000 copies for distribution to residents of 24 counties and districts in the city, especially the mountainous regions and areas that are easily flooded.
"We've previously published similar brochures on the basics of first aid, such as bandaging and cardiopulmonary resuscitation, but the new brochure is more about hands-on emergency response tips for some of the most common natural disasters and events, including rainstorms," said Zhai Lin, deputy director of the operations department at the branch. He added that the brochures will be available later this month, and that doctors will ensure that the instructions are easy to understand.
In the summer of 2011, a sudden downpour hit a village in Shijiazhuang's Pingshan county, causing several houses to collapse. This year, with the flood season coming again, the city government is paying serious attention to administration and guiding people's responses to emergency situations, Zhai said.
Earlier this year, the Red Cross sent doctors to five communities in Shijiazhuang to train locals in first-aid skills. At least 100, mainly middle-aged, people attended each of the two- or three-hour training sessions, where the medics explained basic skills and encouraged the participants to demonstrate what they'd learned in front of the class.
"Many elderly people sitting at the back of the room stood up during the training, craning their necks and watching the doctors very attentively. They didn't want to miss a single detail," said Zhai. "It was obvious that they were very interested in learning first-aid skills, although, speaking frankly, public awareness of disaster prevention is still low in China. We are trying different methods to hammer this information home."
About 700,000 people out of Shijiazhuang's population of 10.28 million undertook first-aid training and gained elementary medical aid certificates from the Red Cross between 2007 and 2012. Certificate holders are examined every two years, and their certificate is renewed upon successful completion of the tests.