Communication is vital for sports stars with global ambitions, report Yu Yilei and Peng Yining in Beijing and Sun Xiaochen in London.
After winning the Laser Radial gold medal at the London Games, Xu Lijia, 24, gave an interview to the BBC in English. She thanked people for their support in a fluent and confident manner. "I gave my best for the world and my country, China."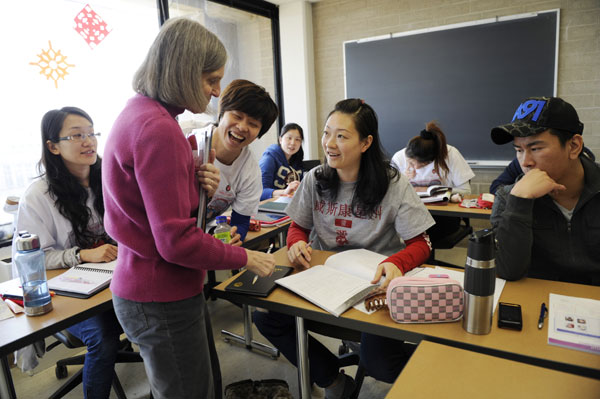 From left to right: Zhou Yan (curling), Zhong Hongyan (canoeing), Gong Ruina (badminton) and Han Xiaopeng (skiing), in discussion with their teacher during an English class at the University of Wisconsin in the US. They were among 16 medal-winning athletes from 2008 Olympic Games, taking part in the university's 10-month-long "China Champions" program. Zhang Jun / Xinhua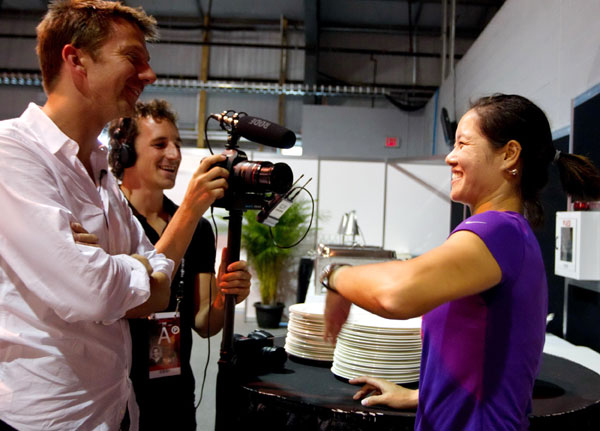 Li Na being interviewed during the 2011 Rogers Cup in Montreal, Canada.

Photo Provided to China Daily
Xu is no stranger to success having won bronze at the Beijing Games in 2008. Nor is she a stranger to the English language and she is a leading figure among Chinese athletes eager to learn the world's most widely spoken language.
"Sailing has never been that popular in China. I've learned most of my skills and got most of my information through English," Xu said. "I wouldn't have won without learning the language. It wouldn't be an exaggeration to say that language learning has marked every progression in my career."
Reading in English has become part of a daily routine for Xu, who was born and raised in Shanghai. In her backpack there is always room for an English-language novel, perhaps a best-selling self-help book. She is currently reading Close to the Wind, the autobiography of British Olympic sailor Ben Ainslie, with marks and notes on almost every page.
Tellingly, the sentence, "When I am racing, I commit my all, body and soul, and nothing else matters," is highlighted in Xu's copy of the book.
"As more and more Chinese athletes display their talents overseas, the enthusiasm for learning English has grown in China's sporting centers," said Li Quanhai, deputy director of the China Aquatic Sports Administrative Center. "We encourage athletes to learn English and provide as many opportunities to learn as we can."
Since 2004, more than 1,000 athletes from 29 national and provincial teams across the sporting board - including the Olympic gold medal-winning gymnast Li Xiaopeng, the swimmer Luo Xuejuan and the table tennis player Zhang Yining - have participated in the English-language program provided by the Chinese Athletes' Educational Foundation. The athletes are coached by professional teachers, some of whom are native English speakers, in their classes every week. They are also encouraged to obtain a language qualification from Trinity College London, an international exam board whose certificate is recognized by colleges, universities and employers worldwide.
In 2012, 61 athletes passed the Trinity examination, with 17 of them earning an "A" grade, according to the CAEF. In addition to the program, Li said the national sports teams regularly use English in their training sessions and daily lives.
A whiteboard with the slogan "New Words for Today" hangs in the lobby of the dormitory used by China's yachting and sailing athletes. With words such as "Upwind", "Downwind", "Starboard", "Port", the board helps the competitors to learn sporting terms as well as commonplace expressions.
Meanwhile, the Chinese national table tennis team has paper tapes bearing English phrases pasted in its players' dormitories, canteen and training area. The tapes employ the sort of sentences and phrases frequently used in interviews, such as "It's the best day of my life" or "I enjoy table tennis."
"It's not just about talking fluently in front of the cameras," said Li. "Sometimes your English skills can even affect the result of the race."
Two interpreters accompanied China's yachting and sailing team to London, but Li said the athletes had to depend on their own language skills most of the time. In every international match, the weather reports and other essential race information are in English. Once offshore, the sailors have to communicate with the judges and rival competitors in English.
"If you are on a convergent course with another boat, you need to hail loudly to make clear your understanding of the situation and your intentions. Just as important, you may need to defend yourself at race hearings, where a rival competitor may be protesting at your actions. An inadequate command of English may mean that you don't put your case forward effectively and could result in you losing points and the race," said Li.
That message was driven home to Xu when she found herself in a hearing during an international race in 2002, at age 14. "With our broken English, we couldn't even describe clearly what had really happened out on the water, and if you lose the protest, you might lose your score," said Xu. "Since then I've realized how important the language is."
Now, every night after her backbreaking training sessions, Xu spends two to five hours learning English by reading and reciting material. After eight years, she has memorized all four volumes of New Concept English, one of the most popular English-language textbooks in China, which includes more than 200 essays and extracts from classic English literature. "Sometimes, I recited so much that my throat was sore," she said.
After winning the gold medal in London, Xu used English during an interview with China Central Television as she narrated a video of herself approaching the finishing line in the Olympic final. "Now let's take a close look at how Lijia is steering her boat and surfing the wave," she said to the camera, without recourse to a teleprompter or other aids. She was later interviewed by CCTV's English-language channel and the foreign media.