Five Britons residing in China share their views on the Olympic Games and the differences in approach between Beijing 2008 and London 2012.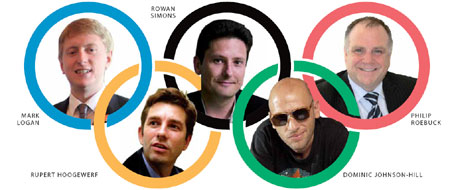 Mark Logan
Head of communications, eastern China, at the British consulate in Shanghai
A1: I have particularly enjoyed watching the diving competitions. Being based in China, any event that is broadcast after midnight doesn't work for me as I'm already sound asleep.
A2: The British cyclist, Bradley Wiggins, is really cool. As a former table tennis player myself, I quite like watching Wang Hao.
A3: I've read quite a few articles in the Chinese media that have been very positive in response to the London ceremony. The only drawback is the time difference, which meant that a lot of people in China didn't get to see the ceremony.
A4: The viewing records for the Olympics, both in China in 2008 and London in 2012, are testament to a shared fascination with the Olympic movement.
A5: I think that interest in sports here in China is increasing year-on-year, in a large part thanks to the Beijing Olympics, and of course, as seen in the London opening ceremony, sports have played a central role in the UK's development over the last few hundred years.
A6: The medals rankings do, to a certain extent, reflect the sporting ability of all nations involved. Other elements are reflected as well, though, including investment in sports and the size of a country's population. The UK's strong performance in the Olympics so far is a fair reflection of these various elements.
Rowan Simons
Born in London, Rowan Simons has been living in China for 25 years. He is best known for his book Bamboo Goalposts, published in 2008.
A1: Whatever the controversy surrounding these events, I have seen one dedicated young Chinese woman smash a record in the pool and two other Chinese women (along with others) openly betraying the very principles of sport by employing team tactics in a poorly designed competition. The events I like least are those that involve guns and farmyard animals. There should be no space for either at the Olympics.
A2: In Beijing, it was Bolt, and we are going to see some amazing performances in the track and field events. Maybe it will be him again (Rowan's contribution came before Bolt's victory in the 100 meter sprint). My favorite Chinese athlete in 2008 was Liu Xiang, so I would like to see him at his best this time (Liu fell during his qualifying heat.)
A3: About seven hours in the summer! The similarities are more striking. In my experience, national broadcasters tend to completely lose all sense of perspective as soon as the Games begin. The focus is on their own nation's athletes and the stories that resonate most directly with their viewers. It is one of the wonders of the Olympics that there can be so many journalists all in one place, all reporting on the same competitions, and all telling different stories about how the same thing happened.
A4: Both countries are proud of their sporting achievements. In my experience, British sports fans tend to have a closer personal and cultural relationship with many popular Olympic team sports, such as running, tennis and football, as recreation. In China, table tennis has this status, but many other sports are not yet popular at a social level.
A5: I think many people in China still see sport as a specialist career for talented athletes first, rather than a hobby or personal interest for themselves and their families. I can say that this is changing now. As China becomes richer and better educated, the more people will seek out the sports that interest them.
A6: Medal table rankings are followed with interest by all competing nations. As we know, the number of medals available in each sport is unbalanced. Football, the most popular game in the world, has just two gold medals, while shooting has several. Swimmers can cover the same distance in four different styles, so perhaps we should allow sprinters to run the 100 meters backwards or on all fours?
I think the real measure of a country's strengthen in each sport is the underlying number of people engaged in playing that sport regularly for fun. By this count, China is a strong table tennis nation and a weak football nation.