A new local government measure that targets rough sleepers has prompted debate about how they are treated, report Xu Jingxi in Guangzhou, and Hu Yongqi and Zhang Yuchen in Beijing.
Zhou has been living rough in Guangzhou, capital of Guangdong province, for 22 years. An open space beneath an overpass in Baiyun district has been his home for 20 of those years.
He exists by selling bottles he finds in the street. The small amount he earns this way is just enough to allow him to buy water, instant noodles and other daily items.
In 1990, he worked at a construction site in Qingyuan, also in Guangdong, dreaming of making his fortune and returning home proudly. However, when his employer delayed payment for seven consecutive months Zhou fled the site, afraid that he had been employed illegally. So he spent a week walking to Guangzhou without a cent in his pocket and surviving on his wits.
Although he can earn roughly 1,000 yuan ($160) per month, he has never considered moving into a residential complex because the monthly rent of 500 yuan for an apartment is beyond his means.
But Zhou's way of life is now under threat. The local authorities have embedded cement pyramids in the concrete below the overpass, making it impossible for the homeless to sleep there. The move is part of the city's plans to drive all the homeless from its cities by the end of the year, according to the local TV station.
However, the government's actions have sparked intense discussion about whether homeless people should be treated with more respect.
No return
At first, Zhou didn't go home because he felt it shameful to return without having saved a decent amount of money. He gradually got used to being a tramp. "I can't go back now," he said.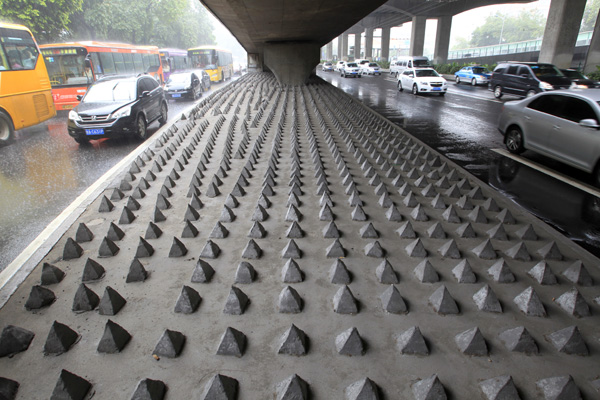 Cement pyramids prevent homeless people from sleeping underneath overpasses in Guangzhou, Guangdong province. [Photo/China Daily]