Healthier cattle feed from down on the ranch, Zhang Yuwei reports.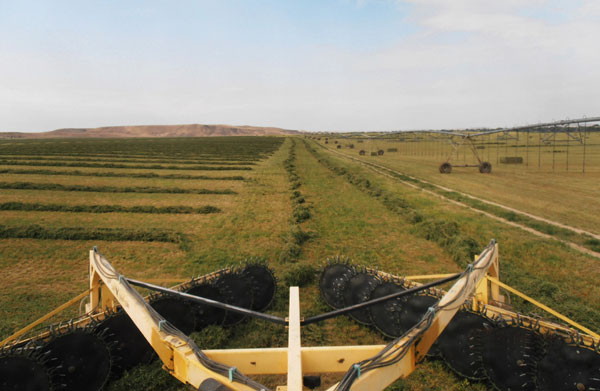 Alfalfa being cut in the fields at the Escalante Ranch in Utah. The Chinese businessman Zhang Renwu paid "something over $10 million" for the 8,900-hectare ranch and is growing alfalfa for export to China. Photos Provided to China Daily
Around noon on a sunny, early June day in northern Utah, Frank Biggs is on his tractor, busily cutting the season's alfalfa harvest on the Escalante Ranch for a second time. The plant, a member of the pea family and grown as a forage crop in many countries, will be turned into hay and exported as animal feed.
A middle-aged Chinese man waves to Biggs from across the field, carrying a bowl of soup noodles in one hand.
He is Zhang Renwu, 46, founder of Lu Tian Yuan (Green Pasture) Ecological Farm Co in Beijing and the new owner of Escalante, which means "ladder" or "staircase" in Spanish.
"My new boss really appreciates my work, and he even delivers the lunch he made to my tractor. That never happened before," said Biggs, a 37-year-old native of the tiny town of Jensen (population 400), where the ranch is located, who has worked at Escalante for eight years.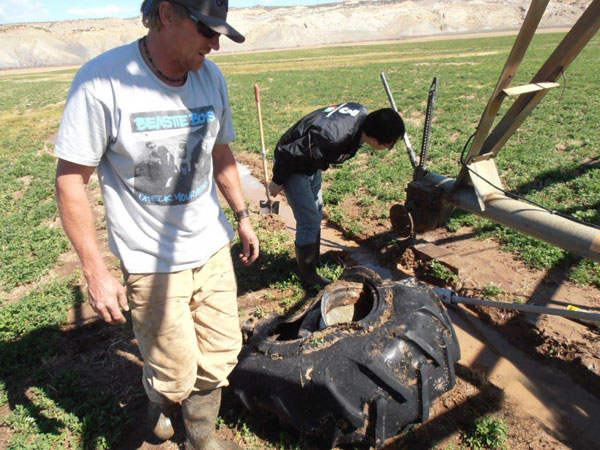 Ranch manager Frank Biggs (left), and Roger Qiao, an employee of Lu Tian Yuan in Beijing, check the farm machinery.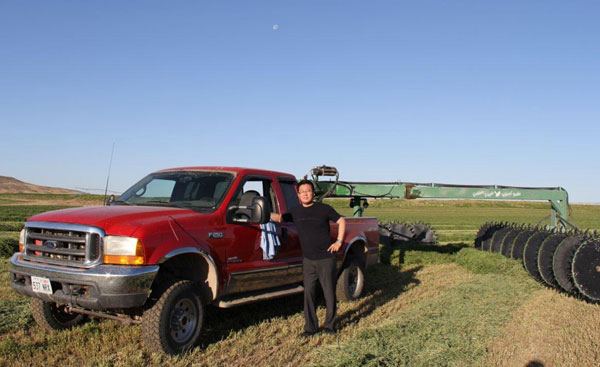 Simon Shao, the executive hiread by Zhang Renwu to oversee the recently purchased ranch, poses for a photo on a visit during the alfalfa harvest.
The 8,900-hectare ranch, which was put on the market for $16 million last year, was previously owned by a billionaire in Tennessee who used it as a vacation resort and visited just once or twice a year for hunting.
Zhang, who has been in the alfalfa hay import-export business for about two decades, had been searching for just such a deal. In December, two months after visiting the ranch, he signed a deal to buy it. Zhang wouldn't disclose how much he paid, but he said it was "something over $10 million" and "reasonable".
"I'll use the ranch differently from the previous owner, for growing alfalfa. The 1,416 hectares of irrigated land and the surroundings are great for that," he said.
The purchase, Biggs recounted, "caught a few people off guard" when they heard the buyer was a Chinese businessman - a first for Jensen, as far as anyone could tell.
"Now you find Chinese people buying all sorts of businesses, such as vineyards and hotels, in the United States and other countries, but I want to do something different and also something for a better cause," said Zhang.
"It is important to provide high-quality alfalfa hay for cows in China to maintain the high quality of dairy produce. It's a big mission and one I want to continue," he explained.
After the purchase, Zhang kept Biggs on as ranch manager. He also kept on two of the ranch hands.
"They know their business very well, and they are very hard-working people," he said.
"My new boss actually cares about the employees. He is different from my old boss. As long as he treats me fairly, I will continue to work for him, just like any other job," said Biggs.
Export licenses rise
The ranch is adjacent to the Dinosaur National Monument, which straddles the Utah-Colorado border and is named for the giant reptiles that once roamed what are now desert canyons. Hard by the Green River - Zhang indicated that as the owner he has water rights - the ranch hosts some of the richest soil for growing alfalfa and grain.
In the United States, the world's biggest producer, more than 99 percent of all alfalfa hay bound for export is grown in seven Western states, including Utah, according to the National Alfalfa and Forage Alliance.
The number of exporters licensed by the US Department of Agriculture to ship to China has increased to more than 70 from 17 in recent years, according to Simon Shao, the executive Zhang hired to oversee the ranch. Both Zhang and Shao visit Escalante about once a month, sometimes more frequently during the harvest season, which runs from March to October.
Zhang, a native of the Inner Mongolia autonomous region, has been working in agriculture since he graduated from Shandong University with a degree in biology in the late 1980s. He has been involved in exporting alfalfa hay since 2007, buying the crop from licensed US processors and shipping it to China.