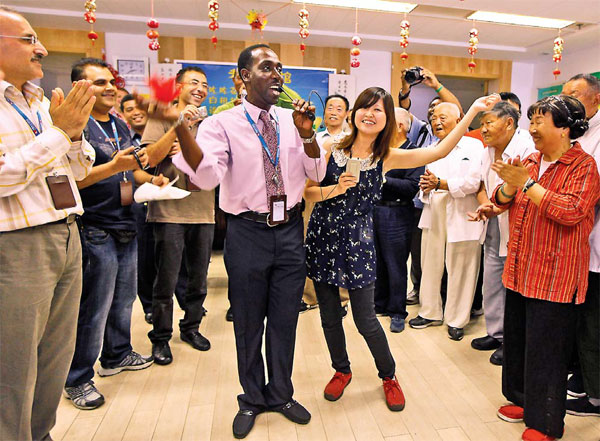 Owren Chesley Smith, from Antigua and Barbuda, sings at a community recreation center in Shanghai earlier this month. The visit to the center was arranged by the China Executive Leadership Academy Pudong where he attended a course for foreign officials. [Gao Erqiang / China Daily]
Course focusing on developing countries helps address issues raised by foreign participants and allows them to benefit from the knowledge gained from various projects, Tang Yue reports in Shanghai.
Is there only one party in China?
How are members of the National People's Congress elected?
How will China's family planning policy change?
These were just a few of the questions raised by foreign officials during a lecture entitled State Structure and the Decision-Making System in China, delivered on June 14 at the China Executive Leadership Academy Pudong in Shanghai.
The CELAP lecture was part of a seminar, Infrastructure Planning and Development for Developing Countries, which was attended by 27 participants from 16 countries.
CELAP is no ordinary academy: Founded by the government and supervised by the Organization Department of the Communist Party of China Central Committee, it is one of five national-level institutions to train Party officials.
Apart from training officials in a "global perspective", CELAP has been a leading light in terms of international programs among training institutions for officials.
More than 3,000 officials from 115 countries — about 200 of them at the ministerial level — have attended its courses since the academy opened in 2005.
For officials, the course is required to emphasize the role of Marxism and other political theories.
However, that's not the case for foreigners, said Feng Jun, executive vice-president of the academy.
"There might be a misunderstanding that we are brainwashing foreign officials and asking others to follow our path," he said. "But what we do is to explain our system and share our experiences, not 'instill' anything. We don't deal with ideology."
In addition to the seminars for developing countries as part of the foreign aid program, and including themes such as city planning, development zones and anti-corruption work, there are also projects that mainly recruit officials from developed countries who are interested in the investment outlook in China.
Despite the different theme of each program, the curriculum always starts with an overall introduction to China, including themes such as a General Review of China, The Relation Between Central and Local Government in China, and China's Agricultural and Rural Development, before expanding on the specific topic of each class.