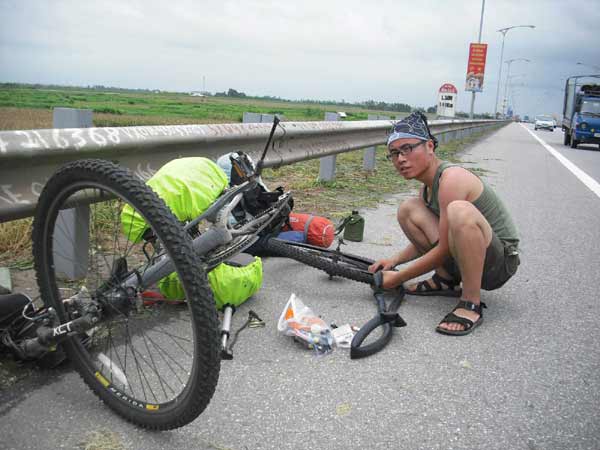 Mao Hexin at Hamoi, Vietnam in June 2011. 
The practice of taking time off between life stages to travel, do volunteer work or have a working holiday is taking root, reports Tang Yue in Beijing.
With a bachelor's degree in actuarial science, Anxin's life could have followed a predicable course since graduation last year: Secure a post in a bank or an insurance company, deal with figures and charts and earn a handsome salary.
Editor's note: Sun Dongchun is the author of The Delayed Gap Year, the first book on the topic to be published in China. Sun travelled for 13 months from late 2006 to early 2008 in Thailand, Laos, Myanmar, India, Pakistan, Nepal and also in China's Yunnan province and the autonomous regions of Xinjiang and Tibet. He now lives in Japan.
Or, in common with one-third of her classmates, she could have continued her studies in the United States or Britain in the hope of securing a good job and a high salary.
However, while most of her schoolmates have become regular 9-to-5ers or are studying for master's degrees, the 23-year-old chose a path much less traveled and volunteered to work overseas.
In Kolkata, India, she cared for seriously ill men at Kalighat, a hospice for the sick, destitute and the dying established by Mother Teresa. At the Father Ray Foundation in Pattaya, Thailand, she taught English to poverty-stricken kids and worked with autistic children.
What initially led to her yearlong journey was "gap year", a term she learned from a German friend in 2010 during an exchange program at San Diego State University in the US. The practice, which is thought to have originated in the UK in the 1960s, involves students primarily, traveling, engaging in volunteer work overseas or undertaking a working holiday abroad.
"I found it very interesting. I though 'a lot of Europeans are doing it, so why shouldn't I?'" said Anxin, whose real name is Zhou Jing, but she likes to be called by the name she uses in the Gapper's blogosphere.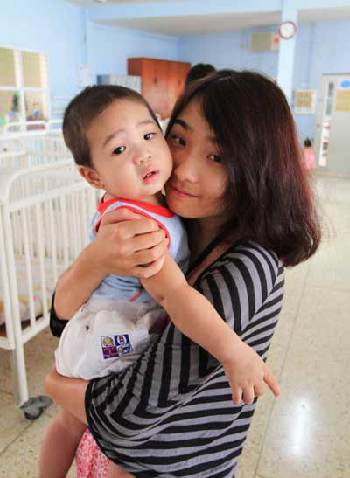 Anxin at an orphanage in Pattaya, Thailand in March.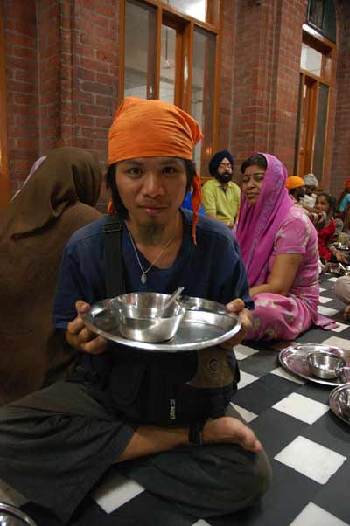 Sun Dongchun at the Golden Temple in Amritsar, India in 2007. 
Well-established in the West, the idea of the sabbatical was introduced to China just a few years ago. However, it has become increasingly popular among young people as they try to learn more about the world in general and themselves in particular after 16 years of exam-oriented education, before they enter a fast-changing society with an increasing emphasis on speed.
Anxin, who hails from the southwestern municipality of Chongqing, said she chose the actuarial science course because her father studied mathematics. Although she showed talent, she wasn't really interested in the subject. "I didn't want to do something I have no passion for. I felt confused and lost. I wanted to learn more about myself on the road," she said recently, when sharing her experiences with around 150 students in Beijing.
However, she admitted that it wasn't easy to get the idea across to her parents: "My father asked, 'Are you crazy? It's not easy to find a good job today, yet you are going to be a volunteer overseas?'"
"And when I told him that Pattaya was one of my destinations, he asked, 'Isn't that place famous for its sex industry?'"
However, the determined senior reassured and persuaded her family by outlining a sound plan. She also translated the introductions of all the NGOs she was going to work for so they could read about the organizations for themselves.
Not just about fun
Zheng Kaifeng, 32, was jealous of the younger generation. He didn't hear about gap years until 2007, and by then his wife was expecting a baby. "If I had learned about it in college, I would definitely have taken a gap year," said Zheng, an advocate of independent travel who has gained fame online through a popular social networking website called Douban, and has also written a book called The Classroom of Independent Travel Abroad.
"I've met a lot of foreigners on trips. Students in China shoulder a heavier burden than their foreign counterparts. They are always in a hurry to find a well-paid job, to buy a house, get married and have a baby," said the computer programmer. "The heavy expectations of family and society mean you can't afford to pause and think about what kind of life you really want."
In the West, the term "gap year" usually refers to a period before college or immediately afterwards, but the current definition in China is slightly different. A lot of people, who, like Zheng, didn't know about gap years during their school days or were not financially able, have chosen to make up for the missed lesson after working for a few years.
Badao is one of those who undertook a delayed gap year. After working as a film production coordinator for three years, she traveled to New Zealand at the end of 2010 on a working holiday visa. "I learned about working holidays from a Malaysian friend and applied in 2009. Not many people knew it at the time, so it was pretty easy. It has become much harder to secure a berth since then," she said, referring to the visa program that started in late 2008 with an annual quota of 1,000.
New Zealand has become a popular destination for Chinese gappers, because it is the only country that offers a working visa for residents of the Chinese mainland. "The scenery in New Zealand was really amazing, but the trip wasn't just about sightseeing. You have to work really hard and it can be really demanding," said the 28-year-old.
She was employed in factories that processed strawberries, apples and kiwis, working up to 14 hours a day to earn enough money to support her on her later travels. "For the first time, I knew how it felt to be a factory girl. It was really tiring and not at all interesting," she admitted.
The lessons she had learned during her gap year helped a lot when Badao returned to Beijing. She discovered that a lot of her friends had moved on with their lives. Some had been promoted, while others had married. "Occasionally, I asked myself, was it worth taking that year off?" she said.
"But then I found I was quite cool with it. After a year of working, travelling and thinking, I realized that our real needs are very simple. Success is not about making money and achieving a high position; but whether you can do what you want and live a healthy life."