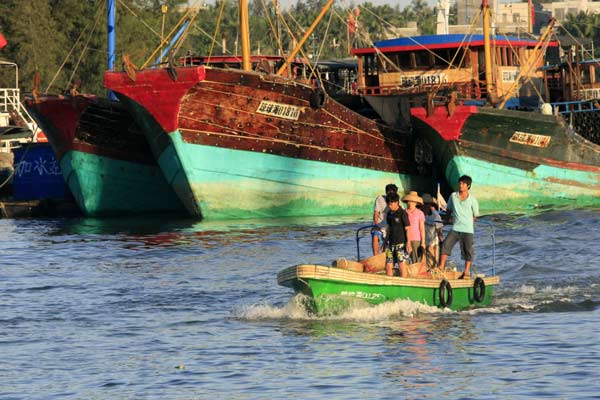 Fishermen at work in Tanmen town of Qionghai city, Hainan province. A number of the town's fishing boats were harassed by a Philippine warship in the waters off Huangyan Island in the South China Sea on April 10. The monthlong Huangyan Island impasse is escalating. PHOTOS BY HUANG YIMING / CHINA DAILY
Chinese fishermen defiant in face of harassment by Philippine ships in territorial waters, report Hu Yinan and Huang Yiming in Tanmen, Hainan province.
Fu Mingyan, 52, was not amused as he watched Filipino soldiers impound his fishing vessel in waters off Huangyan Island in the South China Sea on April 10. The soldiers held Fu and his crew of 15, as well as fishermen from several other vessels, at gunpoint while photographs were taken to be used as evidence to back up Manila's allegations of illegal fishing in its waters.
Here we go again, thought Fu, as he quickly calculated his losses.
He would just have to make up the shortfall next time, on what would be his fourth trip this year to the resource-rich fishing area.
"Huangyan Island has been my go-to spot for 14 years. Stuff like this happens over there. It's no big deal," Fu recalled.
Fu had no idea that his bad day in April would be the start of a still-developing political standoff.
Philippine vessels remained in the waters as of Thursday, even after Beijing voiced its strongest warning to Manila for many years. On Monday, the Vice-Minister of Foreign Affairs Fu Ying said China is fully prepared to respond to any moves that could increase the tension.
Fu's warning was followed by a statement from the Chinese embassy in Manila, urging its nationals in the country to stay off the streets during anti-Chinese protests scheduled for Friday.
China's official Xinhua News Agency ran an English commentary on the issue on Wednesday. The headline encapsulated the story: "Never test China's will to defend its own sovereignty".
Beijing's tough stance came as welcome news to Fu and his fellow fishermen in Tanmen, a town where roughly one-fifth of the population of 32,000 makes a living by fishing in the waters off Hainan, China's most southerly province.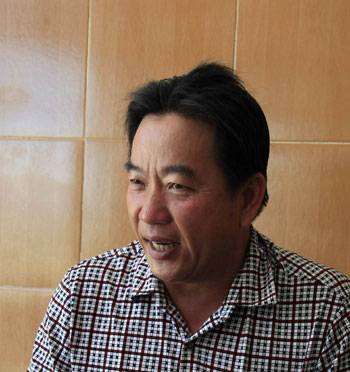 Fu Mingyan, a fisherman from Tanmen 
A 70-hour-long boat trip southeast of Tanmen and 350 kilometers west of Manila, the unpopulated Huangyan Island is a prime destination for the fishing community in Tanmen, widely known in Hainan for their exclusive interest in these deep waters. Local fishermen have been setting sail for Huangyan, a cluster of volcanic rocks, for generations.
Up to 40 large fishing boats leave Tanmen for Huangyan every spring. At present, eight to 10 are either there or in transit. Fu returned home on Sunday, but his other 100-ton vessel departed for Huangyan the next day. It arrived on Wednesday and is scheduled to return in about a month, just ahead of the typhoon season.
"We're used to confrontation and being chased back and forth (near Huangyan). The issue has attracted a little more attention this year, that's all," he said.
The Philippines claims that Chinese fishermen have harvested giant clams, coral and other endangered marine species from the waters around the shoal. For its part, China has insisted that its sovereignty over Huangyan has never been called into question.
The Chinese government claimed the island as sovereign territory in a series of documents issued in 1935, 1947, and 1983.
The Philippines, on the other hand, has only been insisting that the shoal is part of its Exclusive Economic Zone since a major dispute in 1997, even though the island lies outside the country's western boundary, as defined in its 1935 Constitution and 1961 Baselines Law.
Wu Shicun, president of the National Institute for South China Studies, said the fact that there are no permanent inhabitants on Huangyan Island - a major argument in Manila's claim - does not make it Philippine territory. "That line of logic is rather absurd," he said.
"Lots of interests are involved here. An island can carry a 200-nautical-mile EEZ," said a senior border patrol officer in Tanmen, who declined to be identified, citing the 1982 United Nations Convention on the Law of the Sea, which allows for territorial waters to be claimed from features above the waterline.
Chen Yiping, 49, made his first fishing trip to Huangyan in the company of local elders in 1992. He remembered it as a simpler and freer time for Tanmen's fishermen. "There were lots of fish and maritime produce and many places to work. You were free to go anywhere and there was no one after you," he said.
He Shixuan, who started his fishing career in 1973, said there was no Philippine presence around Huangyan until the mid-1990s. "That shoal has always been ours. My dad went there, and so did my father-in-law and their fathers. Knowledge about Huangyan Island is passed down through the generations in Tanmen," said the 57-year-old fisherman.
According to Wu, the Hainan-based scholar, tensions first arose when the Philippines began to realize the vast potential of the resources surrounding the island in the late 1980s and early '90s.
In 1998, Chen Yiping and several fellow fishermen were arrested and jailed by the Philippine authorities in the waters off the island. The men spent four months in a Philippine jail before the Chinese Foreign Ministry and embassy in Manila managed to secure their release. Eight years later, Chen's younger brother was killed by a group of unidentified Philippine nationals in the South China Sea.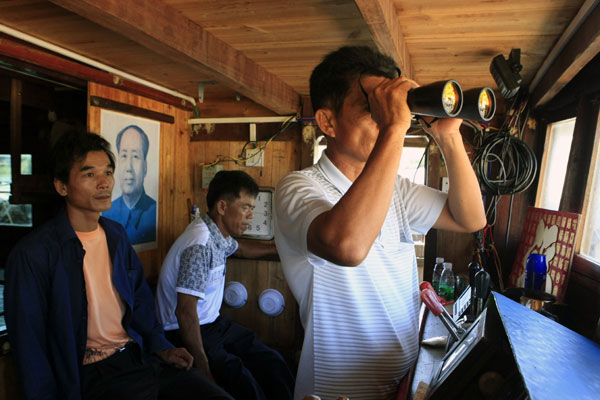 Chen Yiping (right), 49, from Tanmen, said he made his first fishing trip to Huangyan in 1992. 
And it's not just Chinese fishermen who have been affected by Manila's growing interest in the region. Disputes over Huangyan Island first made global headlines in May 1997, when Philippine military jets and gunboats harassed and cut short an expedition to the shoal by a group of amateur radio enthusiasts from around the world.
"They said it was in their EEZ. But we were carrying maps from the Philippines, that indicated that Huangyan is part of China," recalled Chen Ping, 63, a member of the ill-fated group. His older brother Chen Fang had also led a group of radio enthusiasts to the island on earlier expeditions in 1994 and 1995.
Manila was outraged that a Chinese call sign, BS7H, has been used for Huangyan by the influential American Radio Relay League since 1996. To the Philippine authorities, the 1997 amateur radio expedition, even though the United States and Japanese nationals took part, appeared suspicious.
"Amateur radio hobbyists around the world know that BS7H is a Chinese call sign for Huangyan Island," said Chen Ping.
Back in Tanmen, the daily reality for the local fishing community appears far more complex than the international headlines would suggest.
The rapidly depleting stocks around Hainan's shores, allied to improvements in fishing equipment, are increasingly driving fishing boats into deeper waters, according to a recent report in the official Hainan Daily newspaper. While this has not had a direct impact on the fishermen in Tanmen, long revered for their knowledge of the waters of the South China Sea, some locals say the incentive to undertake an average of three voyages, each lasting one month, to Huangyan each year are now weaker than ever before.
The government of Qionghai, Tanmen's superior city, has long allocated subsidies for every local fishing trip to the South China Sea. It also reimburses a certain amount of the diesel cost for each vessel.
But as diesel prices continue to soar, veteran fishermen say the subsidies barely cover their costs. "There was money to be made when there was no subsidy. But now, the costs are much higher, fish stocks are lower, and people always come after us when we try to fish," said Chen Yiping.
Wu, the scholar, said the most pressing issues at hand for the local government are to raise subsidies for the fishermen and to make greater efforts to ensure their safety when working in the waters around the island.
If realized, those moves would come as music to the ears of discouraged fishermen. The most experienced fisherman in town, He, no longer personally goes to Huangyan, although his two vessels returned from there earlier this week after a troubled month.
"I don't know if it's because the fishermen here are simply not afraid to die, or if it's because we feel so strongly about Huangyan being a part of our country and our lives. One way or another, it's where we go," he said.
Cui Haipei in Beijing contributed to this story.
Contact the reporters at huyinan@chinadaily.com.cn and cuihaipei@chinadaily.com.cn