Nation's reading habits may soon enter a new chapter, reports Zhang Yuchen in Beijing.
When the first e-book readers appeared in the late 1990s, technology experts predicted a great future for the digital publishing industry, arguing that the development could provide a sea change in the way people consume literature.
The United States currently dominates the sector in terms of popularity and, therefore, revenue, and many in China are now wondering why the country's publishers have taken so long to embrace the world of digital publishing.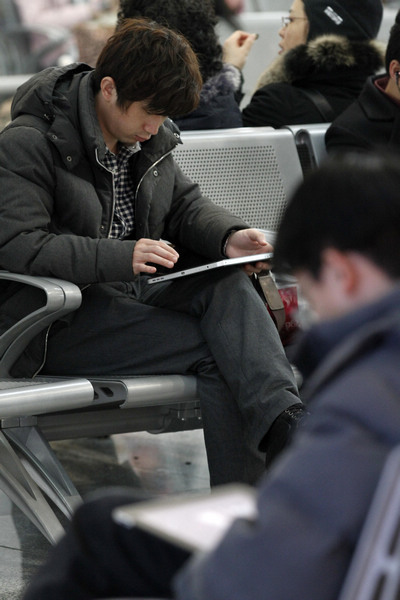 Although many young people like to use Apple's iPad, or read e-books, the publication of e-books still has a long way to go in China. Provided to China Daily
As defined by the General Administration of Press and Publication, digital publishing output includes e-books, e-newspapers, digital magazines and online ads.
In 2001, the total output of the digital publishing industry accounted for 105 billion yuan ($16 billion), according to GAPP's figures.
Although that figure appears large, the reality is that currently e-readers are low on the list of people's priorities. In 2011, 1 million Chinese people owned an e-reader, far fewer than the number in the US where there are 12 e-readers or eight tablet computers for every 100 people.
However, while most Chinese publishers still cling to their traditional business model, a few pioneers have entered the e-book market, even though it's far from mature.
Seizing the nettle
Huang Peijian, manager of the digital publishing and new-media department at Citic Press, a publishing house established in 1988, explained the company's strategy for exploiting the new reality.
"Our readers' habits will be transformed by e-books. We are targeting a mainstream audience that uses the whole range of digital devices, such as tablets, cell phones and smartphones," he said.
Huang said the company provides material tailored to the needs of customers, according to the type of device they use to access digital books. "Depending on the device they use, readers may not like lengthy pieces like those found in traditional books," said Huang. "We have to adapt according to the situation.
"For example, we offer online literature for China Mobile, and most downloads (on feature phones) are made by migrant workers," he said. Because most of these workers have only received a basic-level education, the literature they download tends to fall into two categories, lightweight romances and the "Time Travel" tales that are currently enjoying huge popularity in China. "We recommend more heavyweight books for those people who use smartphone app stores," said Huang.
The tie-up with China Mobile accounts for a large proportion of the company's annual revenue, he added, without disclosing details.
"We decided to grab the opportunity and establish our own bookshelflike app," he said, in reference to applications that provide readers with a huge range of material and regular updates on forthcoming titles. "Unlike single-copy apps, it provides readers with a more upmarket service."
The app appeared online in February and its biggest seller so far is a biography of the up-and-coming NBA star Jeremy Lin. The success is partly attributable to the fact that in China the book is only available in the digital format.
Production took less than 10 days, from purchasing the copyright to publication on Apple's iTunes store, and the 40,000-character biography proved an immediate hit with readers. Traditionally, Chinese books are measured in terms of the number of characters they contain, and not by pages. According to custom, a book should contain at least 100,000 characters.
However, the Lin biography is only Citic's first attempt to publish e-books "at the speed of a magazine".
The app, Citic Speedy Publishing, is maintained by the company itself and not a third party. "We are totally in control of the subsequent marketing and updating."
Although Citic specializes in books on financial matters, a number of the works it recommends in the digital format, through smartphone app stores and large online retailers such as Dangdang or 360buy, are of the "self-help" variety, in deference to the policy of adapting to the market and device used.