Program to teach senior officials English 'opens window to the world', reports Cui Jia in Beijing.
'Wilson" proposed his toast in English. In a loud, confident voice, he welcomed the distinguished guests at the banquet. "Cheers!" he concluded, while holding up a cup of green tea as if it were a glass of champagne and the classroom in which he stood was a banqueting hall.
"Wilson" is better known to his subordinates as Wang Huisheng, president of the State Development and Investment Corp. Wang, who adopted the English name as part of the seventh Intensive English Training Program run by Beijing Foreign Studies University and the Chinese Academy of Governance, was very pleased with his performance in front of his classmates, also ministry-level officials, at a presentation session held every Friday during the course.
"The nature of my job means that I have to deal with foreigners all the time and I want to make a good impression on them by greeting or talking to them in fluent English," he said. "After all, we represent China."
The intensive English language course for senior government officials has been running since 2001, in line with government policy to encourage the country's representatives to communicate directly with people overseas.
This year, 12 senior officials from around China have temporarily left their posts to undertake 15 grueling weeks at the academy as they strive to improve their command of English.
Because of the high-intensity study program and the quality of the resources provided for the students, the teachers refer to the course as "the No 1 English class in China".
The course covers 24 basic scenarios, including proposing toasts at banquets, making a phone call, and giving speeches about the economic and social reforms in China. Students engage in situational dialogues and the lessons are backed up by notes on vocabulary, grammar and cultural hints, according to Norman Pritchard, a British teacher who is currently in his sixth year of the course.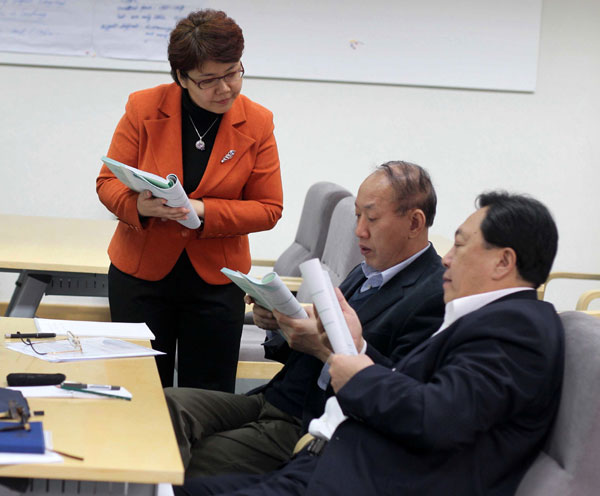 Teacher Wang Tong talks with Wang Huisheng (right), president of the State Development and Investment Corp and Lu Huangsheng, chairman of the supervision board of the State-owned Assets Supervision and Administration Commission, at the Chinese Academy of Governance in Beijing last month. Wang Jing / China Daily
"These dialogues are learned and practiced intensively, with the emphasis on fluency and the correct pronunciation and intonation," he said. "It's particularly important because the trainees are senior officials in their 50s whose early schooling in English took place more than three decades ago, at a time when communicative language teaching was not widely practiced in Chinese schools."
Pritchard said that he has been greatly impressed by the students' attitude toward the course. "Take 'Wilson' as an example: He is the president of a big government department, someone who has control over hundreds of million of yuan. But as a student, he loves to joke and is not afraid to make mistakes in class," he said.
"Before I came to the class, I thought I would be able to relax a little from my busy daily routine. Well, I was totally wrong," admitted Lu Huangsheng, chairman of the supervisory board of the State-owned Assets Supervision and Administration Commission of the State Council. "Everyone treasures such a great opportunity to learn English and works extremely hard, because we all agree that it's crucially important in this day and age."
Extra hours of study
The official study day involves a minimum of 12 hours exposure to the language, but the students put in several extra hours of study, too. All of them use English names and conscientiously address each other in English during classes. They also use the language to discuss current affairs while watching the TV news in English during meal breaks. As a break from the theoretical aspects of the course, the students also sing traditional English songs, especially London's Burning in four-part harmony.
"I've been teaching English for more than 20 years now and I've never before seen a group of students take their studies so seriously. I really didn't expect that, and I am actually quite moved," said Wang Xiaomei, who teaches English at Beijing Foreign Studies University. "They are also very competitive."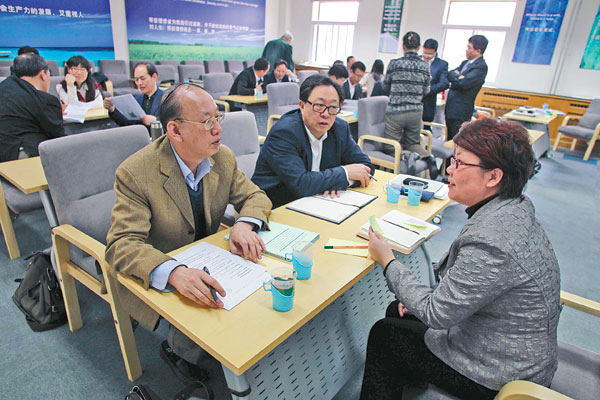 Students discuss their work with a tutor during a course for senior government officials run by the Chinese Academy of Governance and Beijing University of Foreign Studies. Photos by Wang Jing / China Daily 
The group has been together for a little more than a month and the progress the students have made is obvious, she added. "I found them to be very intelligent and eager to learn new things, because they don't want to be left behind in a fast-moving world. They are also down-to-earth and warm," she said. "As a regular citizen, I really trust these people to help lead our country to a better future. People should be given more opportunities to see officials in this light."
"Learning English is not just about the language. It actually opens a window to the world," said Tan Wangeng, Party chief of China Southern Airlines, the country's largest carrier by fleet numbers. When we spoke, he preferred to be called 'Wogan' (a phonetic transliteration of his Chinese name) and was adamant that he should be interviewed in English.
"With better English, I could monitor what my competitors are doing myself, so we won't be left behind. It's so different from asking someone else to do it for you," he said. "Many Chinese officials still haven't realized the importance of learning English. It gives you a new way of thinking and makes you more open."
Dong Kaijun, president of the Qinghai Higher People's Court, agreed: "Learning English might not have a direct influence on my work in the law, but it gives me the ability to adopt new things and ideas, which is exactly what Chinese officials need."
In addition to the purely language-based parts of the course, the officials also attend lectures designed to show them how to cope with the cultural differences between East and West. The students showed great interest when discussing concepts such as guan xi (relationships), ling dao (leader) and mian zi (face).
When John G. Blair, who teaches a course on Western civilization with Chinese comparisons at the Beijing University of Foreign Studies, said Chinese people tend to skirt around an issue instead of getting straight to the point, Yu Jianfeng, vice-president of China Power Investment Corp raised his hand to disagree. "The Chinese are not always like that and it actually depends on the circumstances," he told his teacher in English. "Westerners like to stereotype the Chinese. They need to learn more about Chinese culture."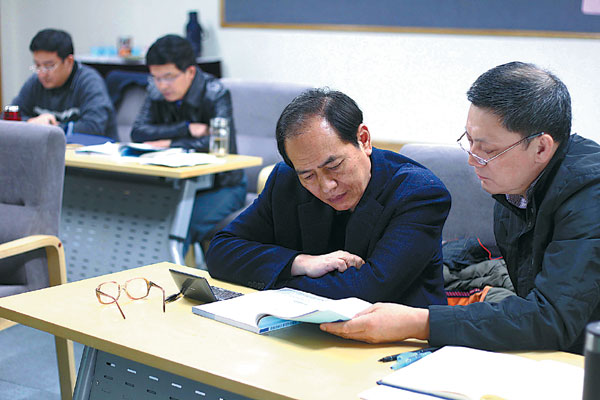 Ji Xiaonan (center), chairman of the supervisory board of the State-owned Assets Supervision and Administration Commission of the State Council, studies along with Xie Zhichun, executive director of China Everbright Group. 
"During a video conference, I told our business partner in the US that I am trying my best to learn English, but he replied that I might not need to, because he is learning Chinese right now," said Zhao Huan, vice-president of China Construction Bank.
"Necessary and helpful"
So far, 87 ministry-level officials have benefited from the program. Zhang Qingwei, the governor of Hebei province is one of them. "I sought an opportunity to attend the class in 2011. I think the learning is both necessary and helpful," said the 51-year-old politician, who added that as China further opens up to the world, meetings with foreigners will become more frequent and it's vital that political leaders are equipped with English-language skills.
"I like English, and I need it for my job, too. English is likely to become more important in the future," he said. According to Zhang, improving his English has helped him become more confident in the sphere of foreign affairs. "For example, it has allowed me to converse more easily with politicians from the United States," said Zhang, who recently visited the US with Vice-President Xi Jinping and attended both the US-China Economic and Trade Cooperation Forum and the US-China Governors Forum in February.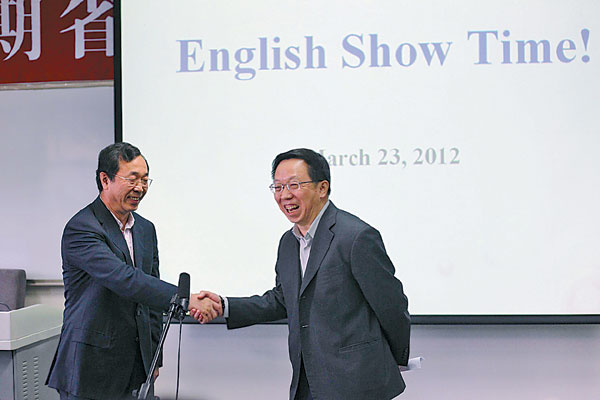 Sun Kangmin (right), vice-president of China Telecom, shakes hands with Gong Jingkun, chairman of Harbin Electric Corp, following a presentation in English at the IETP course. 
Improving his language skills has also helped to broaden his understanding at formal events. "On some occasions," Zhang said, "I will pay extra attention to my interpreter's expression and decide if his or her words are precise, and whether they have fully conveyed the emotions of the speaker."
"Leaning English can help officials to respect foreign cultures as well as our own diverse culture," said Zhou Wenzhang, vice-president of the Chinese Academy of Governance. Zhou, who graduated from the course in 2008, is proud that he can vividly remember and recite the victory speech made by US President Barack Obama. His only regret is that few of the younger officials have joined the program, thereby missing an opportunity to utilize their skills over a longer period of time, "The ultimate goal is to help them serve and present the country more effectively," he said.
"All the senior officials in the class are accompanied by translators when they deal with foreign affairs, but using a translator is like having a walking stick. People should be able to walk on their own," he said.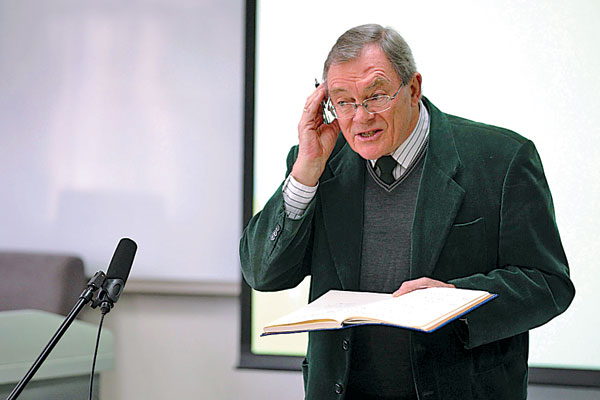 Norman Pritchard, a British teacher who is currently in his sixth year of the course.