Artists interpreting dynamics of society in non-traditional ways, reports Jiang Xueqing in Beijing.
When Alison Friedman first came to China in 2002 on a Fulbright fellowship to research modern dance, local residents had little idea what it was.
"Most people would say, 'Oh, you mean hip-hop?' or 'You mean disco in a bar?'" recalled Friedman, who later founded Ping Pong Productions to develop cultural exchange projects between Chinese and international performers.
"Now when I say I research modern dance, they'll say, 'Oh, like Pina Bausch?' (the late German dancer, choreographer and director) or 'Oh, like the Beijing Modern Dance Company?' The difference is amazing. People are more aware of what it is, and there are definitely bigger and bigger audiences."
The birth of modern dance in China can be traced back to the latter stages of the Qing Dynasty (1644-1911) when Yu Rongling, the daughter of the then ambassador to France, studied with Isadora Duncan in Paris. Yu later returned to China and performed this type of new dance for Empress Dowager Cixi.
For decades, modern dance remained at a distance from the public because of suppression of the body, individuality and personality, said Willy Tsao, founder of the City Contemporary Dance Company in Hong Kong and a company director of BeijingDance / LDTX. Chinese audiences were not familiar with the form until recently, when the infrastructure for modern dance underwent big changes. In the past, the government only supported State-run dance companies, leaving individual artists and unregistered troupes with no application channel for financial support. Later, the government began to recognize the huge overseas interest in contemporary China, including its modern culture and ideas. The past five years have seen increasing support for independent modern dance groups.
For example, the China International Culture Association will be one of the sponsors of TAO Dance Theater, an unregistered, independent group of five dancers, when the troupe performs at the Lincoln Center for the Performing Arts in New York in July.
The change in government attitudes is significant, according to Friedman, because the authorities used to categorize modern dance as a "foreign art" and considered it either dangerous or irrelevant to China. But now they are willing to pay independent artists to travel abroad.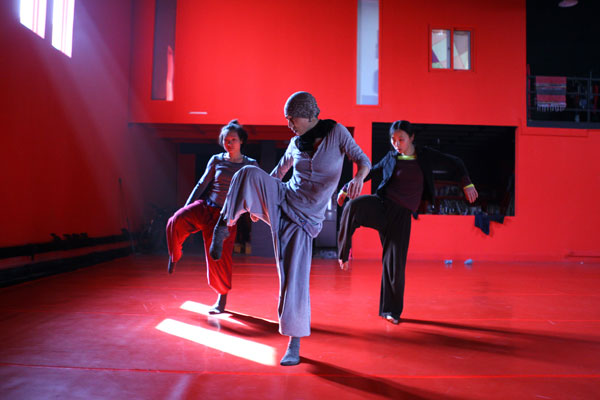 Dancers shape up at a theater in Beijing. Zou Hong / China Daily
"First, you have to have a change in attitude, and then you can change the system," she said, adding that although the infrastructure has changed in some ways, the system and the funding structure for independent art groups is still developing.
Many unregistered, small and medium-sized modern groups are still not eligible to apply for government subsidies. But if they do manage to register, they will have to pay large amounts in taxes, which are sometimes far greater than any financial support they receive from the government.
"For a period of time, they (the government) supported certain projects, but only large projects," said Friedman. "That is changing now. If you only support big projects, it's not a market. A market is like a forest. You can't just have big trees. That's not a healthy market. You need big, commercial. You need small, experimental. You need diversity."
Tour to survive
In common with many other independent modern dance groups, the survival of TAO Dance Theater has relied on international touring since it was founded in 2008. Following its first US performance at the American Dance Festival in 2010, the group has received a growing number of invitations to perform at art festivals around the world. These tours allow the company to cover all of its expenses, including a monthly salary of 3,000 yuan ($476) for each of the dancers.
In September, the troupe moved to its current studio in a desolate part of Beijing's Chaoyang district. From the city center, it takes a journey of three subway transfers plus a bus ride to reach the 280-square-meter studio which costs nearly 80,000 yuan a year to rent.
Before they rented the studio, the dancers were forced to scour the city to find affordable rehearsal spaces. The rent for such places is very expensive, said Tao Ye, the founder of TAO Dance Theater. He estimated that a basic studio of about 200 sq m and close to the Beijing Dance Academy would cost 5,000 yuan a day. Even the cheapest spaces cost 300 to 500 yuan a day and the dancers have to compete with a number of TV and theater crews who also want to rent the space, but usually have stronger connections with those in charge.
The cheapest rehearsal place Tao discovered was in the city of Zhuozhou, Hebei province. There, a wooden-floored studio of 100 sq m costs only 5 yuan a day. However, to get there required a five-hour round trip every day for three weeks, during the hardest times for the troupe.
Tao also noted that stage rents are surprisingly high in China. For example, a three-hour performance at the Beijing People's Liberation Army Opera House will cost 40,000 yuan, and that's excluding expenses for lighting, rubber flooring, air conditioning and publicity posters. On the basis of those figures, Tao calculated that a three-day performance would cost 200,000 to 300,000 yuan, but that only around 1,000 tickets would be sold at prices ranging from 80 to 320 yuan. Depending on its agreement with the opera house, TAO may receive 10 percent of the box office, although that figure can sometimes rise to 40 or 50 percent. Therefore, staging a show at the opera house would mean racking up a debt of more than 100,000 yuan, according to Tao.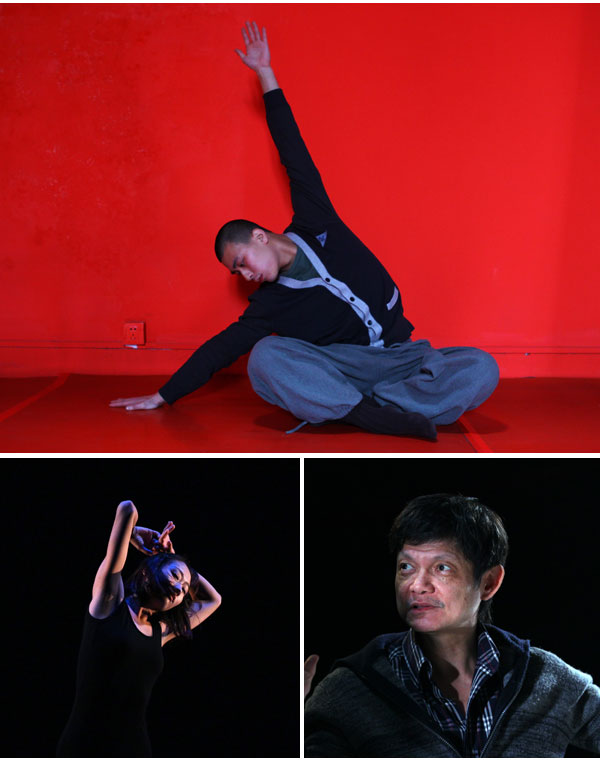 Clockwise from top: Tao Ye from TAO Dance Theater rehearses at the company's studio in Beijing; Willy Tsao, founder of BeijingDance / LDTX and the City Contemporary Dance Company in Hong Kong; a dancer with BeijingDance / LDTX performs a piece entitled Awakening in Beijing in March. Photos by Zou Hong / China Daily