Technique and craftwork kept alive by masters of the delicate art, reports Yang Wanli in Jingdezhen.
In a small town in China, almost all the visitors departing from the local airport attempt to carry the maximum number of suitcases allowed onto the plane.
On the evening of March 22, the flight to Beijing was delayed 15 minutes as the cabin crew rearranged luggage. "It's unbelievable that the rack is full, 20 percent of the seats weren't sold," murmured a stewardess.
When the plane finally took off, the empty seats were occupied by boxes filled with Chinese porcelain.
Jingdezhen, in northeastern Jiangxi province, is a city that has been supported by a single industry for more than 1,000 years. It has been called "The Capital of Porcelain" since an 11th century emperor gave it the name in admiration of its beautiful craftsmanship.
In the following centuries, Chinese vases, bowls and tableware became so famous worldwide that the word "china" became the English word for the material, supplanting the Franco-Italian term "porcelain".
However, that glory has faded over the centuries and now China's leading position in the industry is threatened by goods made overseas.
According to statistics from the China Ceramics Industry Association, the average export price of one piece of Chinese porcelain was just 35 US cents in 2010, just 10 percent of the price of an imported piece. Moreover, the manufacture of porcelain for use in the construction industry has also declined.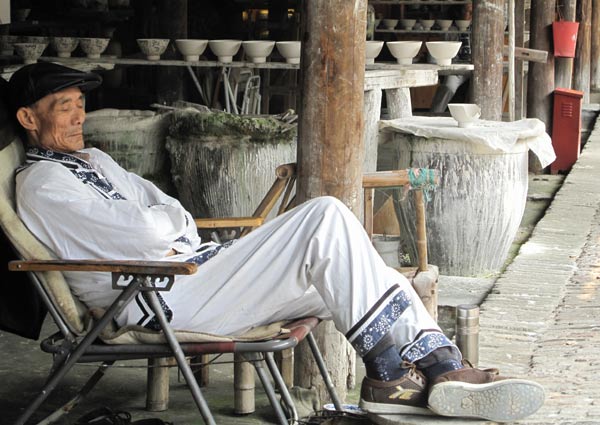 A craftsman manages to take advantage of a lull in business last month at a porcelain shop in Jingdezhen, East China's Jiangxi province. Yang Wanli / China Daily
Driving around the city, a taxi driver named Li advised his passenger, who claimed to know nothing about ceramics, on how to obtain goods at the lowest possible price. "The market here has some hidden rules that mean a nonprofessional purchaser can easily end up being cheated, especially in terms of "art porcelain", such as ancient bottles and bowls. There is only one way to find a satisfactory deal - haggle. Don't be afraid, you can get some unbelievable prices," he said.
"Porcelain made in Germany, the UK and Japan have great reputations in the international market. But ours are simply viewed as low-end products," said Li Youyu, a master of porcelain production. "The traditional handicrafts haven't been protected well and our designs also lagged behind. It is shameful that 70 percent of the porcelain in the world is made in China, but we have no famous brand. Even worse, our products are sold at the lowest prices."
At the famous Tendence Lifestyle trade show, held annually in Germany, Chinese-made porcelain has attracted a low price in recent years and in most cases, the Chinese exhibitors return home without having secured any orders.
White like jade
Unlike jade ornaments, made from precious stone, and carrying an intrinsic value, porcelain is valued not for the cost of the raw materials, but for the craftwork on display. Over the years, Jingdezhen porcelain has developed four special characteristics: It's white like jade, as bright as a mirror, as thin as paper and it chimes when struck softly.
Today, however, Jingdezhen's porcelain has a reputation for poor quality. The city's 4,000 individual workshops produce identikit goods of varying quality. Some inferior wares, branded "Made in Jingdezhen", have been sold at extortionate prices overseas, but that has sometimes resulted in countries refusing to grant entry visas to the city's merchants to discourage such trade.
The city's porcelain industry failed to develop after the Qing Dynasty and went into almost terminal decline in the 1990s, when its 10 State-owned factories closed during the national enterprise reforms, resulting in tens of thousands of artisans losing their jobs. A handful opened workshops, but most went out of business because the scale of production was so small. Without the continued practice, their skills were lost.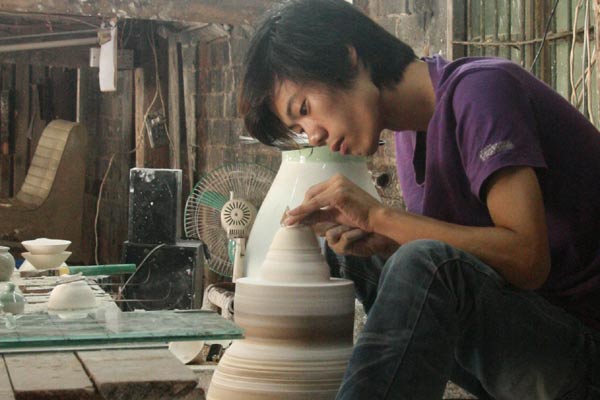 A man makes a cup at a ceramics workshop in Jingdezhen, Jiangxi province. Known as China's "Capital of Porcelain", the city is now struggling to recapture its former glory. Wang Hao / China Daily