Shaanxi province's Zhongnan Mountains have a special place in history, report Cui Jia and Lu Hongyan.
China's economic rise has brought a raft of benefits to the population, but that rise has also led to increased pressure as people strive to compete and become successful. Many may quietly dream of giving up and embracing a simpler lifestyle, but the common perception of a life of peace and tranquility is often far removed from the reality. "People say we are running away from our problems. We are not," said Zhi Jun, a lay practitioner who lives in the Zhongnan Mountains in Shaanxi province.
In the Arabian adventure tale Ali Baba and the Forty Thieves, "Open Sesame" is the secret code that unlocks the door of a treasure-filled cave. For visitors to the Zhongnan Mountains, the recluses who reside there are so secluded that they may as well be hidden behind that famous cave door. They are China's modern-day hermits.
The mountains, an hour's drive from Xi'an, the capital of Shaanxi province and home to the legendary Terracotta Army, have reputedly been playing host to hermits since the time of the Yellow Emperor, Huang Di, some 5,000 years ago. Many famous ancient scholars and even emperors have shared the Zhongnan hermit experience.
The range, also sometimes known as the Taiyi or Zhounan Mountains, are said to have become popular with Taoists in the time of the Qin Dynasty (221-206 BC). Meanwhile, the introduction of the Buddhism from India in the early part of the first millennium AD saw the arrival of Buddhist monks. Moreover, the Quanzhen School of Taoism, often known as the Sect of Complete Perfection, is reputed to have been founded somewhere in the mountain range.
That legacy has made the mountains the top destination for those who desire isolation and peace at a particular phase in their spiritual development. The majority of the residents are monks, nuns or lay practitioners of Buddhism or Taoism. They come and go according to the needs of their practice.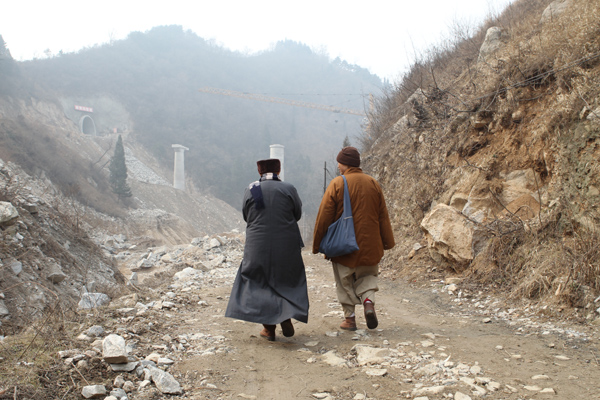 Cheng Bo (left) and Miao Zheng, both nuns, who have been living in the Zhongnan Mountains for 30 years, walk to a temple at the foot of the mountain. Photos by Feng Yongbin / China Daily