Reforms will see prices lowered to bring more benefits, report Jiang Xueqing from Zhenjiang and Shanghai, and Yang Wanli from Huangshan.
For decades, Tan Shijin refused to visit his local community health center. Instead, whenever he was sick, he would travel 5 kilometers to the nearest public hospital.
"Doctors (at the center) were ill-mannered and prescribed expensive drugs," said the 76-year-old farmer in Huangshan, Anhui province, adding that he was once yelled at for asking if he could get a cheaper cold remedy.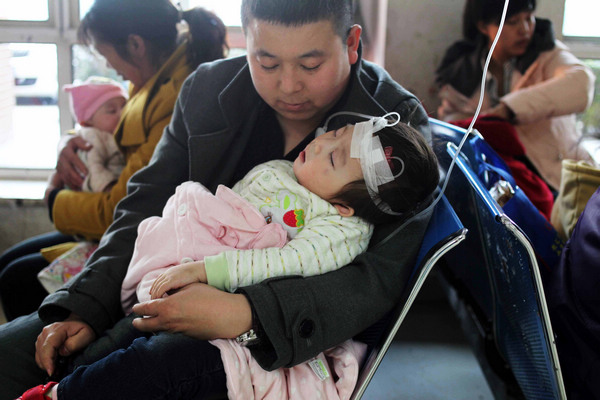 A father cradles his daughter as she is treated at the Beijing Pediatric Research Institute on Monday. The government has vowed to boost medical reform amid growing public demand for better services. [Wang Jing / China Daily]
Things have changed in recent years, however, largely thanks to a drug-procurement platform that has standardized the prices of about 600 essential medicines at rural clinics in Anhui and reduced the average cost for patients by more than 40 percent.
Reforms of the health sector began nationwide in 2009. However, experts and industry insiders say the process has entered a critical stage, especially for public hospitals.
At a February meeting of the State Council, Premier Wen Jiabao urged authorities to work together to change the way medical facilities generate revenue and to abolish the traditional practice of raising drug prices.
"To solve the problems that exist today, we urgently need to establish a scientific, rational, institutionalized and standardized compensation system (for public hospitals)," Minister of Health Chen Zhu told China Daily in an exclusive interview.
"With such a system," he added, "we'll be able to abandon the old ways - selling drugs for profit - and at the same time boost our doctors' enthusiasm for treating patients."
Chen said the government will pay special attention to county hospitals over the next three years, as well as push forward comprehensive nationwide reforms in administration, purchasing, distribution and pricing.
One of the forerunners of healthcare reform is Zhenjiang in East China's Jiangsu province.
Clinics in the city were previously allowed to sell medicine at 15 percent higher than the purchase price, which formed a large part of revenues.