'Linsanity' could lead to a revolution in physical education, reports Tang Yue in Beijing and Dalian.
Want to know what impact Jeremy Lin, the point guard for the New York Knicks currently taking US basketball by storm, has had this side of the Pacific Ocean?
Just go to the ongoing two sessions of the National People's Congress and Chinese People's Political Consultative Conference in Beijing, the most important events on China's political calendar.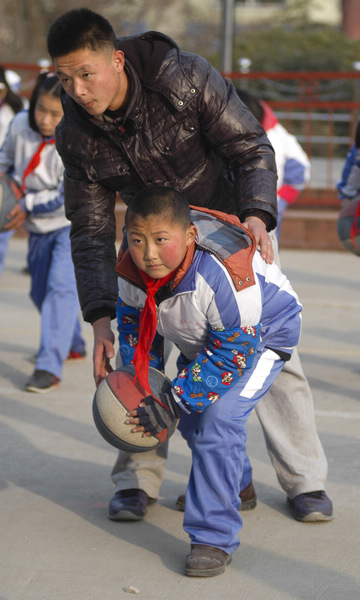 A student from Shandong Liaocheng Sports College helps fifth-graders learn how to play basketball. The volunteer activity at Yuhong Primary School in Liaocheng, Shandong province, was part of celebrations to mark World Basketball Day on Dec 21. Zhang Zhenxiang / for China Daily 
Having scored more points in his first five starts -136 - than any NBA player since 1976, the 23-year-old Chinese-American and Harvard graduate has not only won the hearts of millions of Chinese fans, but has also made statesmen here re-evaluate the country's education and sports systems.
"Things have to change," said two-time Olympic judo champion Xian Dongmei, now a deputy to the NPC.
"In China, many sportsmen and women like me spent way too much time on physical training after they were enrolled in sporting academies."
Deng Yaping, a four-time Olympic table tennis champion and CPPCC member, said sports should play a bigger role in the national curriculum. "Despite the heavy pressure of academic studies, children need more time to enjoy sport," she said. "It will pay off."
What happens now is a small number of youngsters are selected for intensive training at an early age, while the rest get little exercise due to demands in the classroom.
As sport is not a priority for ordinary schools, it is hard for scouts to find fledgling talent among the world's largest population so that it can be nurtured in a systematic way.
In addition, stories of world champions struggling after retirement due to their poor education backgrounds are myriad, such as Zhang Shangwu, a former gymnast, who was discovered last year making a living by performing acrobatics in the streets of Beijing.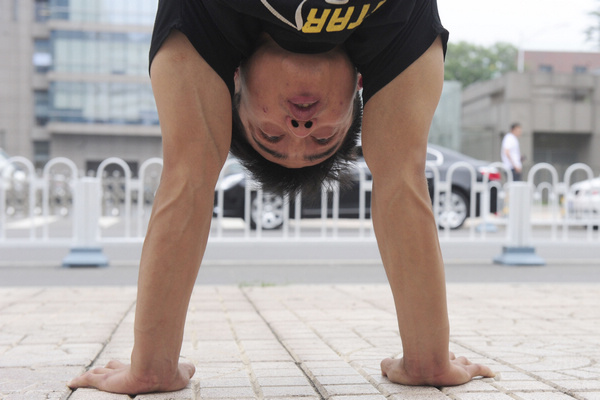 Zhang Shangwu, a medal-winning gymnast who was forced into retirement by injury, performs acrobatics on the sidewalk in Beijing's Wangfujing Street. [Yang Tianxiao / for China Daily]