Companies operating overseas have to deal with more than just business matters, Xie Yu reports in Shanghai.
After four years of running a company in Mozambique, Chen Songzeng has no doubt about who his most valued employees are: His seven fierce dogs.
"Dogs frighten thieves away; they're far more useful than security guards," said the boss of Jiangsu Water Resources Corp. He backed up his claim by adding that another Chinese company discovered its locally hired guards were actually assisting burglars.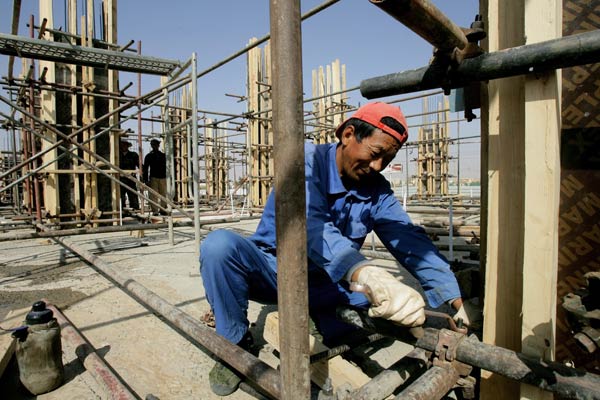 A Chinese worker at a construction site in Khartoum, capital of Sudan, on Feb 2. More Chinese companies are expanding their businesses abroad but struggle to get insurance. Applications for projects in high-risk zones such as in Iraq or Sudan are routinely rejected by insurance fi rms, leaving companies to cover the costs in the event of accidents. [Photo/Agencies]
After experiencing several raids on his offices, including by armed gunmen who took cash, computers and cell phones, Chen knows he can rely on no one but himself to protect his business - especially as he has no insurance.
"Chinese firms are unwilling to insure us. They think it's dangerous here, and it's also difficult for them to value property," he said. "The Chinese embassy sends us regular alerts and we hire local security, but bad things still happen."
Chen's problem is all too common, and experts warn that the lack of insurance services for domestic firms expanding into developing regions, such as southeast Africa, is adding to the risk of overseas trade and investment.
Wei Jianguo, secretary-general of the China Center for International Economic Exchanges, explained that insurers have simply not kept pace with the corporations branching out abroad.
"Chinese companies suffered great losses when they withdrew from Libya (during its civil war last year). That sounded an alarm for us," the former deputy commerce minister said at a recent forum in Shanghai. "However, the problem still exists, and the situation is even worse today."
Ministry of Commerce data for May show that 13 State-run enterprises had been contracted for 50 projects worth a total of $18.8 billion. However, just 5.6 percent of these projects covering infrastructure, telecommunications, real estate and petroleum were insured.
Meager payouts
Commerce Ministry spokesman Shen Danyang said that by the end of last year, more than 18,000 companies had operations overseas, employing 1.2 million Chinese and holding assets worth a combined $1.5 trillion.
Very few have any insurance for their people or property.
"It is not that we don't want insurance, the problem is Chinese insurance firms are not willing to handle our business," said Zang Xiaojing, human resources manager at Shanghai Construction Group.
The State-run enterprise began taking on overseas projects in 1965 and today has roughly 5,000 workers on 10 construction sites worldwide.
"For those people working on national assistance projects, there is a compulsory life insurance that should be bought for them. The payout is only 50,000 yuan ($8,000) per person," Zang said. "That means if an accident happens, the company will cover the majority of the compensation."
Getting insurance for fixed assets overseas or international contract projects, which account for up for 80 percent of Shanghai Construction Group's business, is even harder.
"The tsunami in the Indian Ocean washed away all the equipment at one of our construction sites the diplomatic building in the Maldives. We could do nothing but put it down to bad luck," the HR manager added.