Nation looks to altruistic icon for inspiration amid period of self-reflection, Wu Wencong and Feng Zhiwei in Changsha report.
The iconic image of Lei Feng shows him standing in full army uniform and holding a rifle. Gazing into the distance, his face displays a thoughtful determination to protect his people against any danger.
This year, the country will mark the 50th anniversary of his death. Yet, the lessons offered by this guardian of morality are arguably more important today than ever.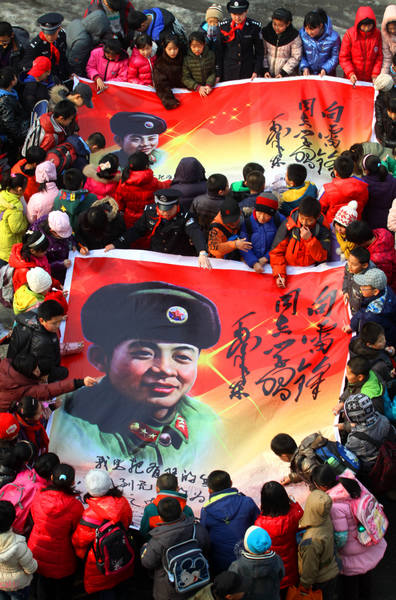 Students from Lingxi Primary School in Shenyang, Liaoning, sign their names on posters of Lei Feng, part of an activity to start the new semester, on March 1. Cai Bing / Xinhua
With many people still reeling from several shocking events in 2011, including the death of a 2-year-old girl who was ignored by passers-by after being run over, authorities are evoking the spirit of the legendary figure to encourage altruism.
"As our society has developed we've ... seen the loss of good faith and distortions in our values," Luo Shugang, executive deputy head of the publicity department for the Central Committee of the Communist Party of China, told a news conference in Beijing recently. "To solve these issues, we must look to Lei Feng."
In addition to emphasizing the hero's nobility, however, officials nationwide are introducing controversial legislation to promote and protect modern-day role models.
Lei Feng was born in 1940 to a poor family in Changsha, Hunan province. After being orphaned at the age of 7, he was cared for by the local government and was enrolled at a primary school three years later.
It is said he arrived early every day to clean the classroom before lessons, an early sign of his charitable nature.
He received six years of education before ending his studies to become a farmer, as developing China's agriculture was a key priority for the Party. He also contributed in several areas with various work units.
At the age of 20, Lei joined the People's Liberation Army. Despite being just 1.6 meters tall, which is below the height limit, he was enlisted based on his good performance and was stationed in Fushun, Liaoning province. He was also made a Party member.
During military service, he is said to have washed his comrades' clothes and given them free haircuts, as well as given away money and possessions to people in need. When he traveled on trains, he gave his seat to elderly passengers, and helped stewards to sweep up.
"If you take time to learn about his life and the help he received from the Party and kind-hearted people, it's not hard to understand his love for the Party and the people, or his motivation," said Liu Xiaoyun, 25, a tour guide at the Changsha Lei Feng Memorial Hall.
Lei Feng's life was tragically cut short in 1962, when he was hit by a telegraph pole that was felled by a reversing army truck he was directing. However, his memory has lived on.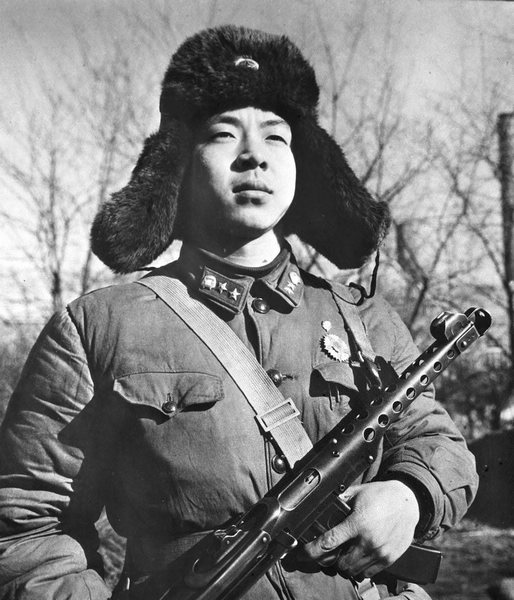 The classic image of Lei Feng, an altruistic icon for the past five decades. Xinhua file
Legendary tale offers lessons for all, says us teacher
JINZHOU, Liaoning - Leif Rogers says everyone, regardless of nationality, should learn from Lei Feng.
"Lei Feng's spirit is transnational and never outdated," said the college lecturer, who has already translated the majority of the iconic Chinese soldier's diary into English for foreign readers.
"Helping others is the core of his spirit, which is beyond religion, politics and national boundaries. What I do is what I should do."
The 39-year-old learned of the legend in 2005 when a Beijing taxi driver mentioned that his name, Leif, sounded a lot like Lei Feng. He had just arrived in China from the United States and did not understand much of the conversation, but he said he was struck by the excitement in the man's expressions as he retold the tale.
Rogers was intrigued and began gathering research on Lei Feng. The more he found out, the more he was touched by the man's story.
Today, he is a member of the Lei Feng Spirit Volunteer Organization and has arranged countless charity projects in his new home of Jinzhou, Liaoning province, including fundraising for victims of the Sichuan earthquake and helping to support a girl with leukemia in nearby Fushun. Last year, he also helped raise more than 160,000 yuan ($25,400) for an orphanage in Dalian.
"I can understand how some young people may think Lei Feng is outdated," he said, "but if they see me, an American, is so fascinated with him, most of them will think that maybe Lei Feng is cool. That's what I can do."
Rogers, who in 2007 became the first foreigner to receive a Lei Feng Medal from the Liaoning government, said he plans to translate more pages from the soldier's diary.
"Many friends in my hometown (in the US) are moved by him," he said. "I want to let more foreign people know about the hero."
Liu Ce and Wu Yong