Prices on par with US fail to deter Chinese customers who want a taste of 'the good life', report Gao Changxin in Shanghai and Wang Jingshu in New York.
Su Nan stood inside a Starbucks on Shanghai's bustling Huaihai Road and complained about the US coffee chain's recent price hike. "It's already expensive. How am I going to live?"
But the 26-year-old still joined a long line for a latte.
The world's biggest coffee chain raised the price of some products on Jan 31, due to what it said were rising operating costs. That brought Su's 16-ounce (about half a liter) "grande" cup to 30 yuan ($4.75) from 28 yuan.
Starbucks was already an expensive choice for regular Chinese customers such as Su, who earns about 7,000 yuan a month. One cup of cappuccino a day for a year would cost her 10,950 yuan - about one-eighth of her income.
Still, Su is better off than many others. China's per capita GDP last year was $5,184. It was $48,147 in the US.
Despite a huge gap in personal income, Starbucks has priced its products almost the same in China as in the US, if not higher, since it entered the Chinese market in 1999.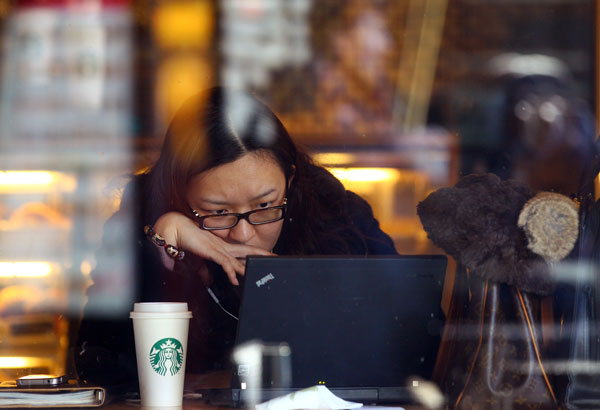 A customer is absorbed in thought at Starbucks in Sanlitun, Beijing, on Tuesday. Zou Hong / China Daily