Travel agencies and destination countries try to cash in on a predicted spending and tourism surge, Xin Dingding, Zheng Yangpeng and Shi Yingying report from Beijing and Shanghai.
The ever-increasing number of Chinese tourists means that more and more countries are trying to simplify visa red tape.
A prime example of this occurred just last month. US President Barack Obama promised that procedures in China for non-immigrant visas will be much more efficient.
Travel services and destination countries are positioning themselves to cash in on the expected tourism surge.
Li Meng of China International Travel Service said that the company doubled the number of April-October air tickets it usually buys for China-US flights. This is the route's peak travel season.
Figures back the confident outlook. The number of Chinese visitors to the US has grown from nearly 400,000 in 2007 to more than 1 million in 2010, according to the China Tourism Academy.
Chinese companies benefit by providing travel services, but the numbers are also good for destination countries. Tourists and students bring in hard cash and in sluggish economic times, cash is king.
The United States is the most frequently cited "dream destination" for Chinese citizens, followed by France, according to research by the US Travel Association. However, more Chinese visited second-place France.
"A big reason has been the US visa system," the Travel Association's Siming Cao told China Daily in an email. "If you look at countries that have made their visa process simpler for Chinese citizens, they capture a larger share of outbound travel than the US."
As evidence, she said that 38 percent of Chinese international travelers visited Western Europe in 2010, compared with 13 percent for the US.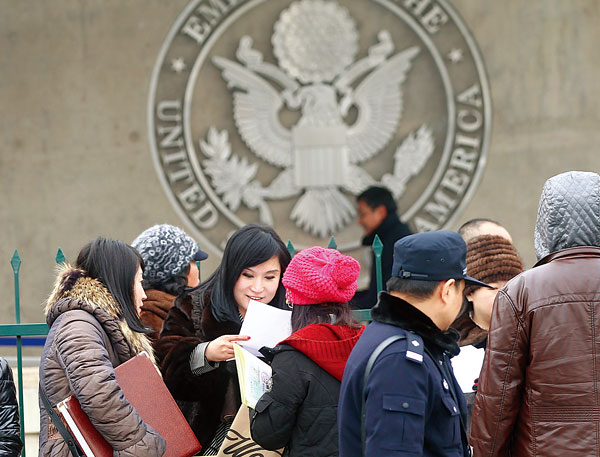 Visa applicants gather outside the US embassy in Beijing on Jan 30. Zou Hong / China Daily