Purchasing process can be journey into frustration, Wu Wencong and Yang Wanli report in Beijing.
Whoever said getting there is half the fun hasn't tried to buy a train ticket for a Spring Festival trip home.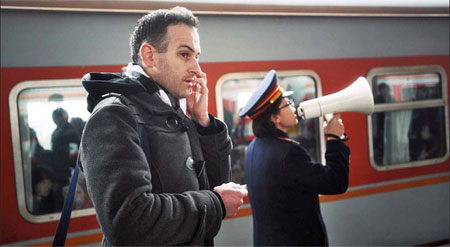 A foreign visitor finds procedures at Changsha Railway Station confusing as he phones a friend for travel advice. Buying a train ticket during peak season can be a daunting prospect. [Photo/Xinhua]
First, there is the intense competition for a finite number of seats, or even standing room. The Ministry of Railways expects a record 235 million passengers to travel across the country between Jan 8 and Feb 16, the most important holiday season for Chinese family gatherings.
Then there is the requirement that people use their identity cards when buying tickets - a system intended to foil ticket scalpers - and the limitations of new computer and telephone booking systems.
It's hard enough for Chinese citizens, but can be even more difficult for foreigners.
"It may not be intimidating, but was indeed a little scary." That's how Muazzem Hussain described his experience buying a train ticket at Beijing South Railway Station, and it happened in a much less busy time of year.
Hussain, 31 and a British national, wanted to take a bullet train overnight from Beijing to Shanghai last June during the Dragon Boat Festival. The real-name ticket system had started several days earlier.
"I went to the small shop window (at a ticket agency) nearby and queued up as usual, but was told to go to the train station for tickets," he said.
Hussain wasn't told why he couldn't buy tickets at the agency. He teaches English but his Chinese is poor, limiting his communication with people who speak only Chinese.
A friend later inquired at the ticket agency in Chaoyang district.
"The computer system at all ticket agencies is supposed to recognize passport numbers as it does for ID cards," a staff member said, "but based on my experience, mistakes occur very often when the system tries to read passport numbers.
"That's why we can only give it a try. The passenger may still need to go to the ticket office at the station if not successful," he said.
What did Hussain mean about the station being "not intimidating, but . . . ?"
"Sometimes when you are in a queue and there are many people behind you," he said, "you are telling the person (selling tickets) where you are going. It's very noisy so you need to be very loud. The person at the counter may not understand you. And people behind you are getting impatient. It's scary and makes you nervous."
He was glad to hear about the launch of computer and telephone booking systems, thinking he wouldn't need to line up at the station anymore. But he frowned when he was told that although foreigners can use passports to register, neither new system has an English version.
"Everything is in Chinese," he said. "I may need to ask for help from my friends when I need to buy train tickets in the future."
There's a catch
China's railway system introduced the real-name ticket system at the Guangzhou and Chengdu railway bureaus for 2010 Spring Festival. Real names have been required for booking bullet train tickets since June, and for all rail tickets since Jan 1.
The new system requires one identification card for each ticket for a particular train, making it difficult for scalpers to exploit the Spring Festival migration. To make sure the real-name system works, ticketholders' ID certificates are checked at the entrances of railway stations in all major cities.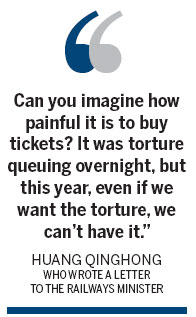 The ministry activated its online booking system, at 12306.com, on Dec 21. The telephone booking line, 95105105, was turned on in many cities last year.
One of the intentions of the new booking platforms was to reduce the number of people lining up for hours at the stations. And statistics released by the ministry indicate some success: About 2.16 million people were buying their tickets online or by phone every day, accounting for 36 percent of all the tickets sold.
But there's a catch. Passengers can buy tickets online and by phone 12 or 14 days before the scheduled travel date (the time frame varies). Tickets are available at train stations and ticket agencies only eight or 10 days in advance.
As a result, tickets might sell out several days before people line up at the station. The people who are most likely to show up there are unfamiliar with or not equipped for Internet or phone purchasing, and many of them are migrant workers.
Huang Qinghong, who is from Chongqing but works as a driver at a hardware factory in Wenzhou, Zhejiang province, complained in a letter to the railways minister about the hardships of buying a ticket home. Huang became well known after a Wenzhou newspaper published his letter.
"In the past, all we needed to do was queuing. There was hope as long as we came early. So I used to queue up after midnight. But this year, the online booking system deprived our rights to buy tickets," he wrote in the letter.
None of Huang's 40-some co-workers knows how to use a computer; and they had tried calling the telephone booking line for days but still couldn't get through.
"Can you imagine how painful it is to buy tickets?" Huang's letter said. "It was torture queuing overnight, but this year, even if we want the torture, we can't have it."
Hot public discussion raised by the letter was eased when the local newspaper bought Huang a plane ticket home. But many others like him are not that lucky.
Beijing West Railway Station has 120 windows at the ticket office. Lines to the windows for picking up tickets booked online or by phone are much longer than those that sell tickets directly.
But passengers still cover every window, although the most frequent answer they get is: "Sorry, all the tickets on that day have been sold out."