Depleted stocks mean catch is harder to come by, Cui Jia and Liu Ce report from Shandong and Liaoning provinces.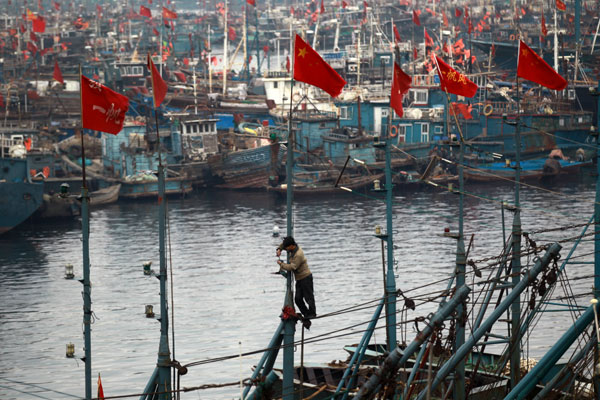 China has the world's largest fishing fleet, with more than 1 million vessels, according to the Ministry of Agriculture. This port, Shidao, is the largest fishing port in north China.Photos by Cui Meng / China Daily
Wang Xinqing kept count as bins of Yellow Sea fish were heaved from two of his boats onto trucks waiting at Shidao port, Shandong province. He figured the catch would produce little profit, but he expected that.
"I ordered the boats to come back when the storage was only half full," Wang said. "That way at least we wouldn't lose the catch.
"If the boats stayed in South Korean fishing grounds longer and caught the eye of South Korea coastguards, they almost certainly would find some reasons to fine us, even though we have a fishing permit and did everything according to regulations."
Not everyone does things by the book. "If we don't cheat, we can't earn a living," one fisherman said.
But it's a risky business. Fish stocks are depleted in Chinese waters and South Korea is getting tougher in protecting its own waters.
"The book" was set out in June 2001 under the Sino-South Korea Fishery Agreement. It defined sea areas for fishing and requires boats from one country to obtain a permit to fish in waters under the other's administration.
China has similar agreements with Japan, signed in 1997, and Vietnam, in 2000.
The 2001 agreement was considered provisional at the beginning, but the territories did not change when China and South Korea established exclusive economic zones in 2005. Under international maritime law, a state has special rights over the exploration and use of marine resources in such a sea zone.
The Chinese have worked resource-rich fishing grounds off South Korea for more than a thousand years, said Li Yongkai, deputy director of oceanic administration of Rongcheng city, which administers Shidao, the largest fishing port in northern China.
Because of the agreement, Li said, a great number of Chinese fishing vessels had to retreat from that area. Fishermen complain they cannot survive by fishing just in China's territory, where marine resources have declined dramatically.
Bohai Sea, where Shidao port sits, used to have 70 types of marine products with commercial value, according to a study released in July by Tianjin Bohai Sea Marine Products Institute. Pollution and overfishing have cut that number to 10.
"China's overfished and depleted waters are forcing Chinese fisherman farther and farther out into sea, where they are running into more and more trouble with Korean coast guards." Li said.
'Don't have a choice'
In the first year of the fisheries agreement, 2,796 Chinese and 1,402 South Korean fishing boats were granted permits, according to China's Ministry of Agriculture. For this year, South Korea has issued about 1,900 permits to Chinese boats. Only 217 go to Rongcheng this year, 89 fewer than last year. More than 2,300 fishing boats are registered there.
South Korea's government has repeated pledges to crack down on illegal Chinese fishing boats in the exclusive economic zone. Some fishermen try their luck without permits.
"To avoid bumping into South Korean coast guards, those fishermen have to go out in harsh weather, with strong wind and huge waves," Li said. "Coast guards won't risk their lives to patrol, but to survive, our fishermen will."
South Korea caught 10 boats from Rongcheng that were fishing without permits last year, compared with 30 the year before. Tang Fuyang, owner of Lurongyu 1492, was one who pushed his luck too far. He was fined 410,000 yuan ($64,900) on Nov 3.
"My whole year's earning went down the drain because of the fine, and I couldn't even afford to pay my crew," Tang said. "But trust me, I really don't have a choice."
In Liaoning province, boat owners with similar experiences have gotten together and set up a public account as a type of self-insurance. Huang Shengkui of Yingkou said each member pays in 100,000 yuan or so. If one member is fined, money is allocated from the account to avert devastating damage to the boat owner.
"It's a kind of gambling. A way out of no ways," Huang said.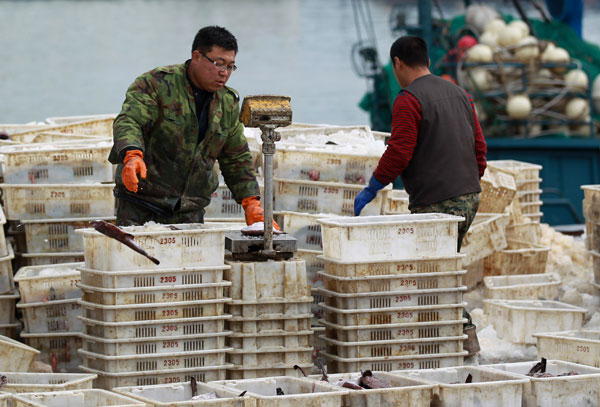 At sea, the bins are filled half with fish, half with ice. The unloading and transfer move quickly once the boats return to Shidao port. Photos by Cui Meng / China Daily
'How stupid is that?'
Meanwhile, Li said, the number of boats penalized for technical faults is rising, More than 20 percent of the boats with permits were fined because they did not meet the fishing regulations of South Korea - most commonly, misreporting the volume of fish caught and the size of the boat's hold, and using fishing nets with smaller holes than required.
South Korean coast guards inspected two of Wang's boats last April and fined them for not filling in their fishing logs properly. Both boats also were banned from South Korea's zone from Oct 16 to Nov 14.
"It feels like they began to pick on us this year over minor mistakes," Wang, 40, said in December. "My boats were fined for altering numbers of the catch a little bit, in a messy way. How stupid is that?"
They also said there was 5 kg of discrepancy in total volume when there was more than 600 kg of fish on board, Wang said. "They don't even allow errors of using different scales. Really, there is nothing we can say or do."
Wang owns 12 boats and each has a crew of 11 to 16. Many of them didn't even graduate from primary school, he said, so it's obvious that they are not good at paperwork.
Sticks vs hoses
"South Korea coast guards often ask crew members to get down on their knees with their hands behind their backs and shout at them during routine inspections," Lu Bing-long said. "They are very aggressive and sometimes use force. Basically, they treat Chinese fishermen as prisoners."
Lu, who owns 32 boats in Rongcheng, said some of his crew members came back and decided to quit because it's humiliating. They are also afraid the coast guards might one day threaten their lives with the weapons they carry.
"Even with permits, even when they have not broken any rules, Chinese fishing boats will run as fast as they can when they see South Korean coast guards coming because they fear being beaten up and fined," Lu said.
"Out of frustration, some will even use long wooden sticks or shovels to push away approaching South Korean law enforcement boats, while they use high-pressure water guns to slow the fishing boats down and try to get on board."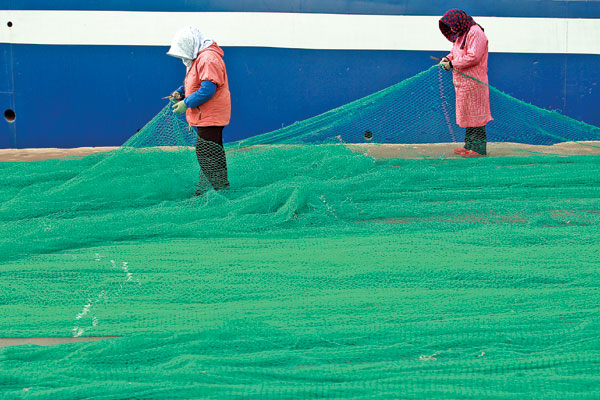 Two women knit fishing net at Shidao port. Under South Korea's standard, the holes in nets can be no smaller than 3.9 cm.Photos by Cui Meng / China Daily
'No expectation'
The clashes are expected to intensify as more Chinese fishermen feel they have no choice but to fish in South Korean waters.
Jia Yongsheng, 39, grew up in Erjiegou, a 100-year-old fishing village in Panjin, Liaoning province. In 2000, he said, he could make more than 200,000 yuan in one day by fishing for jellyfish. Last year, he filled only two buckets worth a total of 1,500 yuan.
"No one can make money now," Jia said. "Most of the boat owners tied their boats up along the quay so they will not lose money."
The boisterous and busy village has become chilly and lonely. Jia blames the continuing construction of a new harbor.
"Land reclamation and port construction change the geographic and geomorphic conditions underwater. As a result, migrating fishes could not come back again and have vanished little by little.
"I have lost tens of thousands of yuan and can only rely on my savings now," Jia said. And this year? "I have no expectation."
'Feed the families'
Meng Defu, who also is from Erjiegou, is 60 but he isn't ready to hang up his nets. "How can I survive without fishing?"
Like others, of course, he would rather "have our own fishes at home" than have to spend 10 to 15 days on each fishing trip to South Korea.
His boat, with a 70-ton capacity, has had a permit to fish off South Korea since 2001 but he chafes at regulations that "are getting stricter and stricter".
The South Korean standard on nets puts the hole size at 3.9 cm, and that's too big, he said. What's more, the total catch is limited to 10,000 kg a year.
He calculated that a fishing trip would require about 2 tons of gasoline and at least eight workers, for a total cost of about 120,000 yuan ($19,000). He could sell a 10,000 kg catch for the same amount.
"So if we don't cheat, we can't earn a living," Meng said. "You know, we have to feed the families."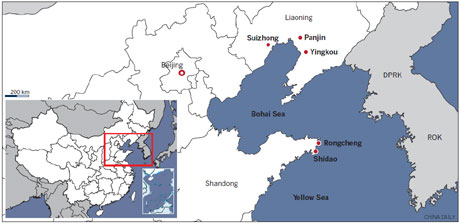 That's why some fishermen have smaller net holes or hide some of their catch, and why they flee when they see South Korean coast guards approaching.
Fines for illegal fishing usually run between 30,000 and 50,000 yuan, he said, though sometimes top 100,000. Then, when the boat comes back to China, the local fishery bureau can confiscate its license.
Under that double whammy, frustrated fishermen try their best to avoid the coast guards. When spotted, they try not to let the guards on board. "This results in conflicts."
When Meng heard about the conflict last month involving Chinese captain Cheng Dawei, who is charged with murdering a South Korean coast guard, Meng was also fishing in South Korean waters. His catch at that point was paltry, but he hurried home.
Cracking down
Since 2006, the number of Chinese boats caught fishing illegally in South Korea's exclusive economic zone has reached 2,600, and the number of Chinese fishermen arrested is close to 800.
In the first 11 months of last year, the numbers were 439 boats (up 46 percent in a year) and 58 crew, coast guard spokesman Kim Dong-jin said. (No percentage was available for the arrests.)
In December, the South Korean government decided to increase the security collateral for boats captured while trespassing, from a top fine of 70 million won ($62,056) to 100 million won. The change began this month. Transferring fish to other boats will cost up to 70 million won.
The government also announced plans to spend 932.4 billion won ($811 million) through 2015 to better equip its forces in the crackdown on illegal fishing. That includes issuing more firearms than are currently provided to the country's anti-terrorism squad.
South Korean President Lee Myung-bak and Chinese leaders discussed illegal fishing during Lee's visit to Beijing on Tuesday. South Korea and China have pledged to continue regular meetings to resolve the issue.
Ju Chuanjiang contributed to this report. Write the reporters at cuijia@chinadaily.com.cn and liuce@chinadaily.com.cn.