Glamour event steeped in tradition makes a glittering return to life, Xu Junqian reports from Shanghai.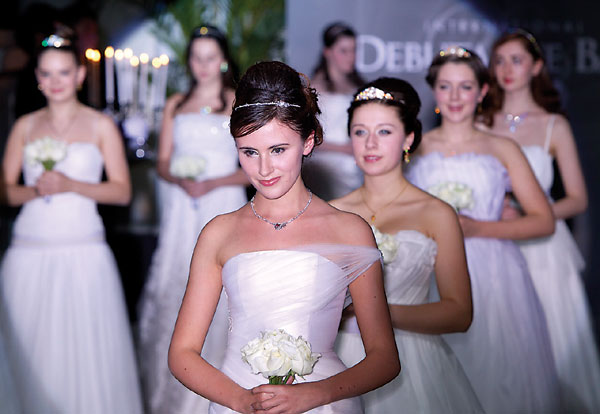 Larissa Scotting, 17, from the UK, leads a group of young women in the "coming out" formalities during the first Shanghai International Debutante Ball on Saturday. Gao Erqiang / China Daily
Sparkling tiaras and wine, young men sharply dressed and women wearing gowns, a Puccini aria as background music, and presentations to society: the trappings of another era - and of the first Shanghai International Debutante Ball.
Guests on Saturday night might have been taken back in time, but the organizer hopes such events are the future. If, that is, she can find any young Chinese women who are up to snuff.
"For all these years, people have been talking about our nation's zeal for luxury. But I don't think people really get the point of what luxury is," Zhou Caici said.
"All they have been chasing after is material stuff. Now I am showing them the real lifestyle."
Zhou, founder and executive director of the ball, has been an active socialite in Hong Kong, London and her native Shanghai. Two socialite friends from London helped her organize the party, and it followed a Victorian script with some 2012 tweaks.
'Impeccable'
The setting was the gilded grand ballroom of the Shanghai Waldorf-Astoria Hotel, which occupies a historic building on the Bund overlooking the Huangpu River. Of course, attendance was by invitation only.
The 160 guests, with the men in tuxedos, began to arrive around 9, mingling under huge chandeliers and sipping Champagne from flutes. The music, although recorded, was operatic.
At 10 sharp, two uniformed attendants opened the heavy doors through which 13 smiling young women made their debuts. Each handed her white-gloved hand to her escort, and they began their first dance - to the title song from Flashdance.
"Everything is impeccable," Jennie Hallam-Peel said. She and Patricia Woodall had organized the Queen Charlotte's Ball in London and had flown to Shanghai to help with this one.
"Shanghai is a city very similar to London," Hallam-Peel said. "It can't be more appropriate to have a debutante ball in as modern as well as historical place as here."
Hallam-Peel had her own "coming out" in the mid-1970s, and she described the tradition as a "unique English identity" that should not be lost.
The tradition - mainly to declare the availability of young women, especially bluebloods, for the marriage market - hasn't fared so well since 1958, when Prince Philip said that presenting the debs to Queen Elizabeth at Buckingham Palace was "bloody daft". The focus has shifted to charity work in a debutante's pedigree and includes middle-class families, not just the upper crust.
'The perfect city'
Zhou, 66, is the youngest daughter of Zhou Xinfang, a Peking Opera master, and Qiu Lilin who, Zhou said, certainly would have qualified as a deb if there had been such a thing in 1920s Shanghai. Zhou is known in Hong Kong and the UK as Vivian Chow Wong (adding her husband's family name).
She moved back to Shanghai in 2003 and said she had been thinking since then about reviving the ball tradition, not in its place of origin but on more receptive distant soil.
"Shanghai is the perfect city, if not the only one in China, to have a ball like this," she said. "Shanghai people love dancing, from ballroom dancing to morning dancing in the park, which serves a solid base for our ball."
Young Chinese women on the mainland have yet to warm to the idea of the ball as a matchmaking event. She said they are more used to one-on-one meetings arranged by their parents in restaurants or teahouses.
But Zhou thinks the Shanghai Debutante Ball could provide a connection for English aristocrats and well-off young Chinese women. After all, she said, in the United States in the 1930s, down-and-out English gentlemen traveled overseas to marry the daughters of American magnates.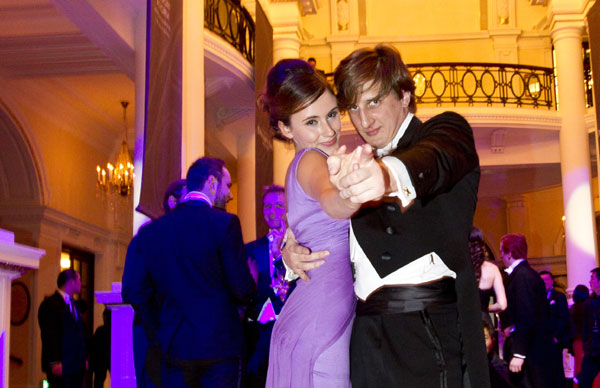 Larissa Scotting, 17, from the UK dances with her escort on Saturday night at the first Shanghai International Debutante Ball. She was named Debutante of the Year. Photos by Gao Erqiang / China Daily
Zithers and dumplings
But there is a problem: Although she interviewed scores of young women in opulent Yangtze River areas over the past year, she found not one on the mainland who met the conditions for an invitation: Age 17 to 25, competence in English and, preferably, from a family that has contributed to society in a certain way.
"The reason the first ball has no participants from the Chinese mainland is that we didn't find a suitable one," Zhou said. "We would rather go with nobody than someone shoddy, as we know how good people are at digging out others' pasts nowadays."
Zhou, who has a married son in his 30s, defined the perfect debutante as someone "every mother would like her son to marry, but not every son could get".
"Ideally, I would want someone who can stand out as a Chinese zither player or a deft embroiderer, which I think are the most basic skills of Chinese fine ladies, besides a clean (upstanding) family and good upbringing. However, as it turned out, I cannot even find someone who can make dumplings."
Lots of bachelors
Zhou did select two of the debutantes, one each from Hong Kong and Taiwan. Meanwhile, Hallam-Peel and Woodall handpicked the rest, one Polish and 10 British women, most the daughters of engineers, doctors or graphic designers.
The Asian debs have backgrounds most closely resembling those of traditional debutantes. Vivien Lee, a bubbly 22-year-old from Hong Kong, attended a top private girls school, Benenden in Kent, England, and was the UK's Undergraduate of 2010 when she graduated from Cambridge University.
Zhou described Jen Hau, 22-year-old daughter of the mayor of Taipei, as "the surprise" of the ball - a surprise because her father is a politician.
Hunting for escorts for the debs proved easy. The most recognizable name among the 13 was Tom Savernake, a viscount and the future heir to the Marquess of Ailesbury. The others were "talented gentlemen" from England, Germany, France and Hong Kong.
"It turned out there are more bachelors than I expected in the city," Zhou said Saturday night. "And they are all showing a keen interest in the ball. One recommended another and, finally, they are all here."
The young women had their own reasons to attend.
"How often does a girl get to dress up with a white gown and dance at such a fabulous ball, apart from her own wedding?" Hau said.
Lee, who works in equity derivatives marketing at J.P. Morgan, didn't tell her colleagues what she was up to when she took annual leave for the ball. She said she wanted to keep a low profile.
'Princess' hair
The cost of having "a once-in-a-lifetime-experience" as a debutante ranks up there with the expenses of a wedding. Although parents of these debs did not have to pay tens of thousands of dollars to buy a table, the bills for hairstyles and dresses were high.
For the night, French jewelry maker Chaumet - a company that once crowned Napoleon and a galaxy of European royalty - offered a collection of tiaras collectively worth 60 million yuan ($9.5 million), the most expensive one more than 6 million yuan. And Australian hairdresser Kim Robinson, who worked for supermodel Kate Moss and the late Princess Diana, was hired to style for 13 debs.
"Of course, doing the hair for debutantes differs from other areas," he said. "It has to be classy, elegant and show the princess part of every girl." Robinson said he had his best team brought in from Hong Kong for the ball, leaving his salon empty.
Zhou, who said she paid all the costs of putting on the ball, would not say how much money she invested in the "deluxe" night - which she defined as "graceful and spending every penny necessary" as distinguished from mere luxury.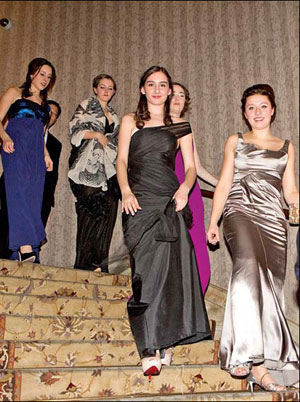 Thirteen young women wore traditional white gowns for the formalities of coming out to society, then changed into party clothes for dancing.
"I am not running this ball as a charity, which I have already done in my May Day Ball," Zhou said. That event, which Zhou launched in 2005, was dubbed the first upper-class ball in town. Zhou said it has helped raise around 8.5 million yuan since it began and saved more than 100 children who were "on the brink of death".
"The debutante ball is more like a private party," she said. "It's all about looking like a princess or pretending to be a princess for a day, for some girls like a dream.
"Good times or bad times, people always need something dreamy to fantasize about. And I want my ball to be a fairy tale for every girl and the mothers of the girls to believe in."
The future
"I feel very honored. It's so wonderful to have been chosen," 17-year-old Larissa Scotting said. The British organizers had selected her as Debutante of the Year. "I am thrilled to be given this award here in Shanghai."
A freshman at King's College in London, she confessed that she didn't quite know how the title would help her in her future. She plans to start a company of her own.
Zhou, however, was quite confident about the future as the ball she founded wound down Saturday night.
"It will be an annual thing. And the most urgent thing is to find some qualified Chinese mainland ladies."
Write the reporter at xujunqian@chinadaily.com.cn.