Developers and agents forced to resort to extreme measures as prices fall and transactions slump, Wang Ying reports from Shanghai.
China's "tough love" monetary policies, to cool the ardor of the property market, are dampening the passion of buyers. The volume of transactions slumped markedly in September and October, traditionally the peak season, and sellers are resorting to novel ideas to unload their property.
"Buy a villa, get a plane for free." That pitch, reported by Shanghai's eastday.com, was made for a villa in the Minhang district of Shanghai.
The listing price: 65 million yuan ($10.2 million).
The plane, modeled after a World War II-era fighter, has neither an engine nor a fuel tank and it lies in the villa's backyard.
The agent said the property comes with a private tennis court and a 4,300-square-meter garden.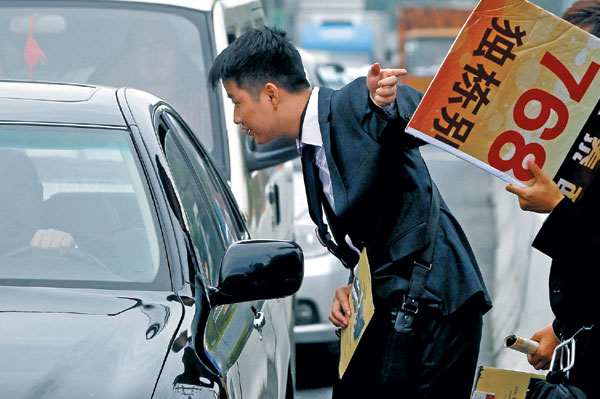 A real estate agent tries to interest a driver in a villa in Shanghai on Nov 5. Cash-strapped developers and real estate agents are desperate to seek buyers amid a sluggish market stemming from the government's tightening policies. Yong Kai / for China Daily 
The owner bought the property in 2000 as an investment but has never actually lived there, the agent said.
Experts say that case provides new evidence that the housing market has reached a turning point. According to Uwin Real Estate Research Center, 695,900 square meters of new housing were traded in October in Shanghai, a one-month drop of 27.56 percent and a one-year drop of more than 50 percent. The average sales price also weakened, by 1.65 percent in a year, to 19,689 yuan a square meter.
Sales of used homes hit their lowest point in five Octobers: 8,100 units changed hands, down 21.4 percent in a month and 40.2 percent from a year earlier, according to Century 21 China Real Estate's Shanghai Research.