Foreign products taking root among growers of greenhouse vegetables, Wang Ximin and Zhao Huanxin report from Shandong province.
Liu Mingshan, a farmer in Daotian township in Shouguang, the country's leading vegetable producer, said he prefers foreign seeds to domestic ones. "They are higher yielding and more resistant to disease than those developed by Chinese firms."
The veteran greenhouse vegetable grower pointed to a hybrid fruit cucumber from a Republic of Korea company. "It tastes great and sells well."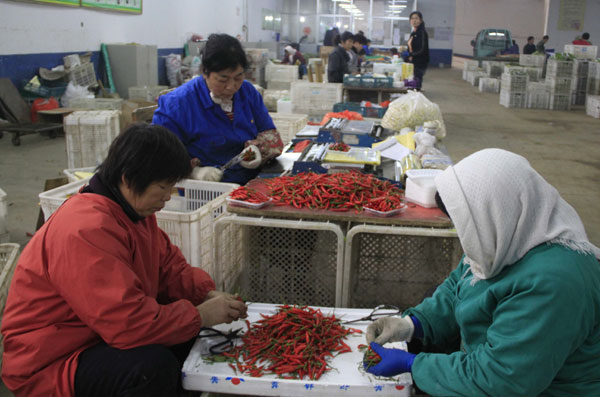 Workers at a distribution center in Shouguang city, Shandong province, select hot peppers for supermarkets. Shouguang has annual vegetable yield worth 4 billion yuan. Seeds companies around the world eye the big Chinese vegetable center. Ju Chuanjiang / China Daily 
Bitter news, perhaps, for some agriculture officials and breeders. Foreign varieties have taken more than half of the seed market for major greenhouse vegetables in Shouguang, in East China's Shandong province, and for higher-grade vegetables in China, according to the Ministry of Agriculture's seed management bureau. Industry insiders say, however, that the country should recognize competition renders more choices to farmers and consumers and spurs the fledgling seed industry.
Foreign businesses supply seeds for almost all of the greenhouse fruit cucumbers (with no thorns) and sweet peppers and 80 percent of tomatoes, eggplants and melons in Shouguang, a city of 1 million residents.
"Shouguang farmers have to spend 300 million yuan ($47 million) a year on imported seeds," Tang Mingtao, deputy chief of the city's science and technology bureau, told China Daily.
Two-thirds of the revenue to the local seed market goes to foreign companies, he said. And foreign seeds are distributed through Shouguang to other parts of Shandong, the largest vegetable-producing province in China.
With an annual vegetable yield worth 4 billion yuan, Shouguang is the "vegetable city" that multinational seed companies cannot afford to neglect.