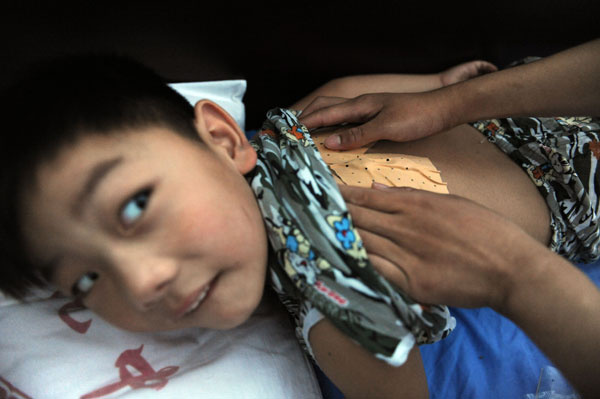 A doctor put plasters on a boy's back at a traditional Chinese medical hospital in Bozhou, Anhui province. The treatment is used with chronic diseases including bronchitis, asthma and arthritis. Zhang Yanlin / for China Daily
Lifestyle choices can really make a huge difference, Yang Wanli reports in Beijing.
On the first floor of a red-brick apartment house built in the early 1980s, people move busily in and out of the entrance beneath a green sign, Yaojiajing Residential Service Center. It is a largely unremarkable, even shabby place in the capital, but inside its walls it nurtures a fundamental advance in healthcare - the prevention of chronic disease.
It is an early November morning, and Feng Qiuyun, 69, is teaching neighbors a poem she wrote. It provides tips on maintaining a healthy life, such as how much salt a person should take daily and the best time of the day to exercise.
She has also devised a series of exercises targeting seniors. The program even includes therapeutic massage. Feng learned these skills at the center.
"I joined in 2005, and learned things about health that I was never aware of before," she said. "Most of my peers are used to taking pills to maintain their health and they pay little attention to habits that can lead to disease.
"But doctors at the center taught us how to better treat our diseases and prevent other diseases. It also saved us lots of money as we take fewer pills, do more exercise, have healthy diets and feel refreshed."
Yaojiajing center was established in 1998, in Beijing's Xicheng district, as the country's first provider of medical service and long-term health guidance to people in a residential setting.
It has collected residents' health information ever since, and all 10,000 or so people living in the area have their own health documents.
The medical staff visits some residents in their homes to check their health, and people can call for advice or in emergencies. But education is the center's primary focus.
"Different from doctors who treat disease, we are helping people to kill the possibility of getting sick or a worse health condition, especially those chronic diseases that will lead to severe conditions," said Cao Ne, a doctor who has been working at Yaojiajing center for 10 years. She graduated in 2000 from Peking Union Medical College, one of the best medical schools in China.
"I was disappointed at the very beginning. I originally expected to be a 'real doctor' in a hospital . . . But in the following years, I found a strong sense of accomplishment, that many residents seldom visit hospitals due to our work," she said. "We changed people's idea of health, which will save huge resources for the country in the following 10 or more years."
To citizens who had never enjoyed such medical service, the center means a lot.
Zhang Baoying, 66, lives alone in the Longquan residential area and was once - like many people - indifferent to high blood pressure. Now, she goes to the center twice a day to have her pressure checked, records the numbers in a notebook and asks about adjusting her diet and medicine.
Chang Yuying, 72, has had heart disease and a nerve problem in her right leg for years. She said the home doctors check her condition every week and adjust her drugs to the lowest level she needs, for fewer side effects. The rehabilitation training courses at the center help her walk easily now.
"It's impossible for doctors in a hospital to give you regular checkups, but doctors here can," she said. "In addition, I learned many healthy ways of cooking and taught my daughters. I believe such cooking will make them healthier than our generation."
A chronic threat
The World Bank reported in July that more than 260 million people in China have been diagnosed with chronic diseases, which account for 85 percent of deaths in China. Nearly 70 percent of the country's medical costs are for chronic illnesses such as cardiovascular disease and diabetes.
About 300 million people are overweight and more than 200 million have high blood pressure. The report estimated that the number of people over 40 who have cardiovascular diseases, diabetes or lung cancer will double or even triple in the next 20 years.
"The Ministry of Health turned the focus from disease treatment to prevention in 1998. Better service in residential areas and home medical staff are essential parts of the idea," said Kong Lianzhi, deputy director of the ministry's Bureau of Disease Control and Prevention.
The trial in Xicheng district proved a success, and the home service mode was proposed for adoption throughout Beijing in 2007. Three years later, the health department had trained 25,000 people in basic healthcare and first aid - for their own health and so they can help relatives and neighbors. The city's target is to train 200,000 by 2015.
Shanghai, Guangzhou, Chengdu and a half-dozen other cities have since started the same program.
It's getting harder
Wang Rong, a doctor who has worked at Yaojiajing center since the beginning, said that the challenges the staff faces have increased in the past decade.
"Chronic diseases such as high blood pressure and diabetes, which were mostly seen among the senior group, are now found in people under 40 because of unhealthy diet and less sports," she said. "If those younger cases are not controlled, the average health cost in the country will experience another big increase."
Wang Shiyong, a senior health specialist at the World Bank, told UN Radio Daily News in July that medical costs in China increased 70 percent from 1985 to 2005, and chronic diseases were the main cause. Nearly 600 million people had at least one such disease in 2010.
The World Bank's report also showed that the average active life in China (life without disease or disability) is 66, which is 10 years shorter than in other G20 countries. China's death rate from stroke is four to six times higher than that in the United States, and its rate of death from chronic obstructive pulmonary disease is 30 times that in Japan.
If China reduced its cardiovascular death rate by just 1 percent over the next 30 years, it would save the country more than $10 trillion, which is as much as 68 percent of its national GDP in 2010, the report said.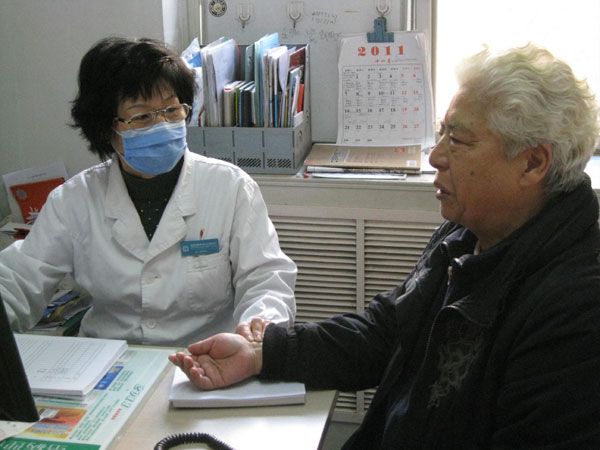 Dr Wang Rong checks Chang Yuying's pulse at Yaojiajing Residential Service Center in Beijing. Chang, a 72-year-old retired teacher, has heart disease and a nerve problem in her right leg. She says that treatment at the center has improved her health. Gao Ruilan / for China Daily
Investing in health
Shanghai's initiative to improve people's health is guided by health economics. "It is a branch of economics concerned with efficiency, effectiveness, value and behavior related to health and healthcare," said Hu Shanlian, deputy director of the Shanghai Health Economics Institute."It helps us to build a better health system or make a better plan."
In Jing'an district of Shanghai, people older than 60 account for a quarter of the population and 20 percent of them are over 80. District-run health facilities receive about 400 patients every year, with more than half of them over 60.
Local government has sent home medical staff to educate residents about preventing disease since 2003. Exercises and games for seniors are promoted daily in all residential areas.
Qiao Zhongqiang, director of Jing'an district health bureau, said that health investment should be directed more to prevent disease. He said that among the four primary factors influencing health and life expectancy, medical treatment accounts for only 8 percent and lifestyle accounts for 60 percent. (The others are environment, 17 percent, and individual physical condition, 15 percent.)
In the five years after the education and preventive programs began, the accidental death rate among people over 60 dropped from 140 to 103 for every 100,000 people, and life expectancy in Jing'an rose by 1.82 year. The data come from the district health bureau and the School of Public Health, Fudan University.
Hu said the central government's allocation for development of a national medical system has increased by 133 billion yuan ($21 billion) since 2009, and the government's average annual spending on healthcare has risen from 8 yuan a resident in 1998 to 25 yuan in 2008. In metropolises, the amount is 50 yuan or more.
"China has done research on chronic diseases since 1993. But compared with some Western countries, we still lack a complete investigation targeting each of those certain diseases," Hu said, and a comprehensive national survey is needed to help make good plans.
"We need to put the money first on those diseases that will show obvious effects. Detailed monitoring and evaluation are very important. With a good disease information system, disease prevention can make great achievements."
Change your ways
Smoking, an unhealthy diet and too little physical activity are the three primary factors that undermine human health, said Hu Dayi, director of Peking University Hospital Heart Center.
"If chronic diseases are under control, healthy adults can lengthen their precious working time by 16 percent, which will add 20 percent of income," he said. He predicted that cardiovascular disease would drop obviously in a year if the smoking rate in China were reduced to less than 5 percent by 2040. The current rate is nearly 20 percent.
Cardiovascular diseases constitute the majority of all chronic cases, so they should be given great attention, he said. "Studies show that 8.5 million premature deaths can be prevented in 23 low- and middle-income countries in 10 years, if the daily average salt intake is cut by 15 percent," he said.
The Chinese Nutrition Society says average salt use in China is 11 grams a day in cities and 17 grams in rural areas. The World Health Organization recommends 6-8 grams a day.
While medical experts call for support from health sectors, Kong, the official from the Health Ministry, said that multi-sector cooperation in Western countries should be encouraged in China.
Kong said Finland is a good example of such cooperation in meeting health goals. She said the death rate of adult males in Finland was found to be the world's worst in the late 1970s. The government adjusted its agricultural priorities, encouraging farmers to grow more fruit and other high-fiber food and people to eat them. The rate of deaths from cardiovascular disease dropped notably.
Some European countries try to discourage bad food choices by charging higher taxes on foods with high fat content. "Helping to build healthier bodies of citizens is a big task that we need to work on more," Kong said.