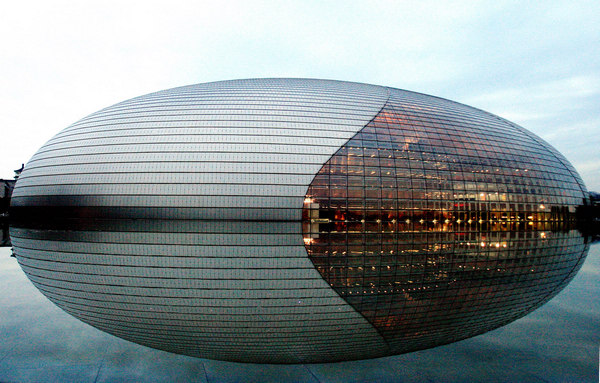 The National Center for the Performing Arts in Beijing has been a key venue for live performances since it opened in late December 2007. It is sometimes also called the national theater and the egg. [China Daily]
Television personality Bai Yansong ascended the stage recently at the National Center for the Performing Arts and appealed for lower ticket prices. He didn't realize at the time that his audience had benefited from such a plan.
Ticket prices for that day's one-hour program, mostly Mozart, were just 40 yuan ($6.30), or 10 yuan for members who had paid annual fees. That means a visitor could tour this new landmark plus indulge in the pleasures of the performing arts for about half the cost of a regular movie ticket.
From its opening in December 2007 through September, the center hosted 4,000 such events to bring various performing arts to the masses. Some 1.5 million people attended them without breaking their bank account.
But tickets for most live performances in Beijing and other Chinese cities cost considerably more. They defy basic economic theory, which dictates that price is determined by supply and demand. In China's live show market, other forces are at work.
Many tickets are priced with a string of eights, a lucky number in Chinese superstition - 880, 1,880 and so on. A record was set early this year when a box seat for a Shaanxi opera went for 8,000 yuan.
Granted, few people would pay that kind of money simply to enjoy a theatrical performance. Such a ticket is frequently a gift that can be covered by a corporate or government expense account. Sometimes, especially during year-end holidays, an employer books a night for public relations and employee perks.
"You cannot say these block bookings do not serve the masses," said Wang Wei, director of marketing and sales for NCPA, the national center. "A client, a sponsor or an employee should belong to the ranks of the masses, and some of them may be hooked on the arts from then on."
Wang would not divulge the ratio of institutional buyers to individuals.
Different motivation
According to Lin Nan, an industry analyst, the prevalence of high-priced tickets does not correlate to high demand and low supply. It is the result of government entities investing large sums into projects that "clog up venues and schedules but do not care for financial returns".
Production companies are mostly State-owned and often use the shows for purposes other than making money, such as promoting certain values. Overemphasis on these social values, such as a performance in celebration of Women's Day, essentially turns part of the industry into a promotional platform with little regard to its economic fundamentals, Lin said.
For a commercial performance, a theater does not intend to lose money. However, the producer with financial backing may not care. Whatever category a performance falls into, the tickets in the high price range are either given away or sold to institutional buyers.
The economic model is skewed, a state of affairs that NCPA is struggling to resolve.
Wang said there is no way the center could recoup its cost in certain projects, for example, flying in the Simon Rattle-led Berlin Philharmonic. Online rumors put per-seat cost at 3,000 yuan, partly due to special transportation and accommodation demands from the artists. Wang said only that the cost was "not that high".
But overall, he said, the center factors cost, audience acceptance and supply-and-demand dynamics into its pricing.
On its website, the Berlin Philharmonic concerts Nov 10 and 11 were listed at 380, 580, 780, 1,080, 1,380 and 1,680 yuan, plus an unspecified VIP rate. However, Wang explained that no matter how you price a performance, people who buy their own tickets will flock to tickets in the medium-to-low price range.