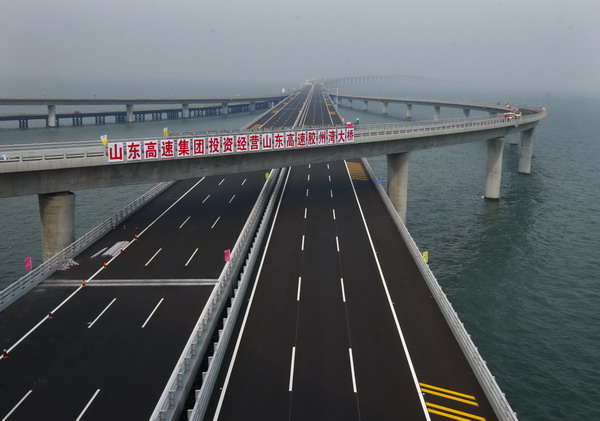 The Qingdao Jiaozhou Bay Bridge was ready to open the day before the Communist Party of China's 90th birthday this summer. The sign identifies one of the contracting companies. [Photo/provided to China Daily]
Corruption and shoddy work plague sector, He Na reports in Beijing.
Not far from Shennong Square in Zhuzhou, Hunan province, six buildings towered higher and higher each day on the city's largest construction site. Excavators, bulldozers and trucks transporting sand and stones crisscrossed more than two square kilometers in frenzied activity and about 3,500 construction workers sweated through days and nights to meet their deadline.
On Sept 30, the project was completed in time for the city's 60th anniversary, coming in a year earlier than normal for projects of such scale.
For centuries, groundbreaking ceremonies or the actual completion of huge public works projects have been timed to coincide with significant dates.
These so-called tribute projects are intended to show the outside world what the particular region, or country in general, are capable of achieving. They have also been publicity ornaments used by local officials to boost their standing.
Logic would dictate that the projects be of high quality and capable of standing the test of time. However, construction is often shoddy, with sometimes fatal results, due to rushed deadlines, compromised standards and corruption.
Sources from the Henan Provincial People's Procuratorate, for example, said the province handled 909 construction corruption and bribery cases between January 2009 and May 2011.
The average citizen supports these gift projects if they are useful and the quality is good, said Xia Xueluan, a sociology professor at Peking University. If they can be started or completed on some memorable day, so much the better.
"But the fact is that quite a few of these projects are either poor in quality or are abandoned due to an impractical design that ruined the best intentions, and that disappoints the people," Xia said. Disappointment turns to public anger when the resulting problems are significant.
"It's time for the government to halt the tribute projects and let the buildings and other projects return to the nature of practicality and safety," he said.
High profile
Gift projects were heavily criticized in an article published in People's Daily on Aug 2, titled "Gift projects: Gifts for whom".
The highest-profile public works projects recently were the Beijing-Shanghai high-speed railway and Qingdao Jiaozhou Bay Bridge, both gifts for the 90th anniversary of the founding of the Communist Party of China on July 1, said the article.
The Beijing-Shanghai high-speed railway opened to the public for commercial service on June 30 - 18 months ahead of schedule. On July 23, a crash of high-speed trains killed 40 people near Wenzhou, Zhejiang province. The fundamental reason for the crash has not yet been made public.
The 36.48-km bridge also has proved troublesome. It opened in Qingdao on June 30, just in time for the Party's birthday. But safety barriers were incomplete, and nuts on guardrails were loose.
"If you have ever done home improvement, you know that work needs to be done in steps and each step needs enough time to guarantee the building materials reach their best condition. So do large-scale projects," said Zhou Hongjun, a law professor at East China University of Political Science and Law.
"Once I heard someone say proudly that some construction projects were finished one or two years ahead of schedule. I couldn't help but have doubts about the construction quality."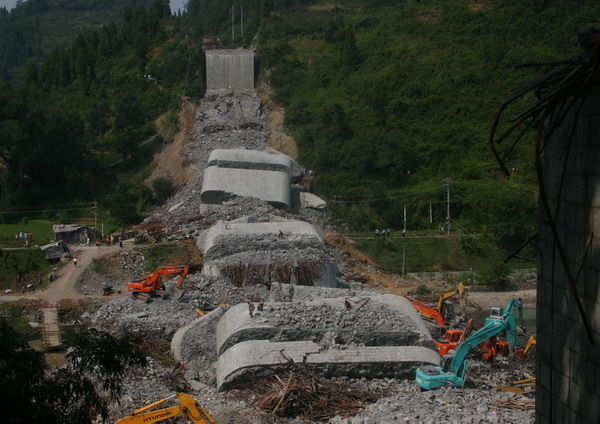 Fengda Bridge in Fenghuang county, Hunan province, collapsed on Aug 13, 2007. It was to be completed at month's end for the 50th anniversary of the founding of Xiangxi autonomous prefecture. [Photo by Guo Guoquan/for China Daily]