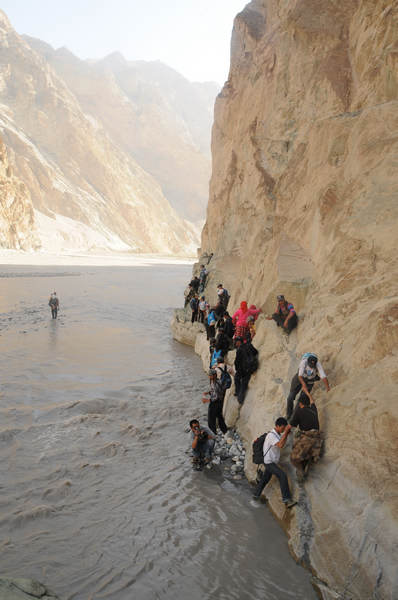 There are no roads from a mountainous village in Taxcorgan county, Xinjiang Uygur autonomous region, to the school that village children attend, so their trip is filled with peril. A CCTV video crew documented their journey in mid-September, before the school year began. [Provided to China Daily] 
Journalists travel off the beaten track to give news a different perspective, Cui Jia, Wang Yan and Jiang Xueqing report in Beijing.
Xu Wei flipped through the TV channels and sipped a cold beer after a typical workday. Normally, the 26-year-old Beijing resident would just watch stand-up comedy to pass the evening away. But a program, about life in the border regions, caught his attention.
Travel the Borders is a series produced and aired by China Central Television (CCTV) under the nationwide Go Grassroots campaign for the media.
Launched by five Party and government departments on Aug 9, the campaign aims to give greater coverage to what people at the grassroots think, prompt public discussion and improve journalism.
As part of the campaign, not only leaders in meetings but also ordinary people could make headlines from news scenes across the country. The campaign involves publicity departments at all levels and news organizations in China.
"China's media have been very good at following leaders' activities, but for me it's not good reporting because it is so far away from my life," Xu said.
"Seeing reporters getting into ordinary people's lives and reporting in a humble way is really a breath of fresh air. I feel connected, and it's also a good way for policymakers to learn what our life is really like."
Hearing the voices
"It's vital for policymakers to hear people's voices so that public interests will be represented and surveillance by the masses is guaranteed," said Hu Min, news center director and deputy director-general of the research office in the Chinese Academy of Governance.
"A well functioning government invites people into all aspects of administration. This idea of hearing people's voices coheres with the campaign in journalism.
"The Go Grassroots campaign shows that the origin of news reporting is at the very basic level," Hu said, "while the goal of improving the State administrative system is to provide better service to the people."
Whether the campaign succeeds will be determined by the people, he said.
"For journalists, the achievements will be increases in circulation or audience rating and stronger interactions between audience and the media. For public servants, scores are given on government working efficiency and public participation rates in government works."
In general, he said, the Go Grassroots campaign in journalism makes a good start in serving the people, and further influence on improving the administrative system is also expected.
"Our reporters are now digging in the grassroots and bringing back the people's expectations," Hu said. "Such voices are sounded to the government and should be a guide to future governance works. Changes in the news writing style might also encourage the improvement of (government) document writing."
Xu, the Beijing man who used to avoid TV news programs, said, "Hearing, in their own dialect, how villagers' lives were transformed due to certain policies is much better than hearing them from news anchors in perfect pronunciation."