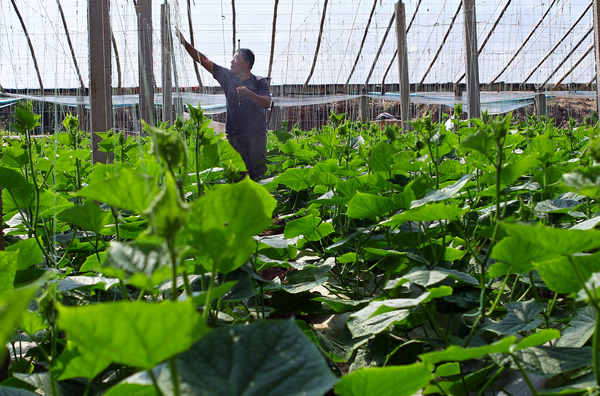 Fan Jiude cares for the cucumbers in his green house that bring in 40,000 to 50,000 yuan every year. [Photos by Zou Hong /China Daily] 
Overuse of chemicals in farming raises concerns about food on our table, Yang Wanli reports from Yunnan and Shandong provinces.
It seems incredible that farmers would shun the vegetables they send to the cities. But that is the case in Xundian where 100 hectares of greenhouses provide vegetables for Kunming, about 50 kilometers away. Farmers next door will not eat them due to health concerns.
"Chemicals and fertilizers are widely used. We have to use them to grow bigger and more beautiful vegetables to meet market demand," local farmer He Chengliang said.
"But we only eat those grown in our courtyard without the use of chemicals. The variety may be limited but they are safe and healthy."
It's not just that farmers use chemicals to control insects and boost the growth of plants and vegetables. It's that they are overusing them, far more than farmers in other countries.
The government has taken steps to tackle the problem. It has banned or limited the use of highly toxic chemicals, and promoted better agricultural practices.
The use of chemicals has been fed largely by economics.
He, 54, has grown vegetables for more than 30 years in Southwest China's Yunnan province. Most villagers no longer raise livestock, he said, so they have no ready manure. Buying it costs more than chemical fertilizer, and without pesticides, farmers would need to hire more people to kill pests for smaller harvests.
"Traditional ways of farming will raise the cost and can hardly meet the increasing demand from urban areas," He said. "If no chemicals are used, most urban people could not afford the vegetables."
Not just in Yunnan
Use of pesticides grew nationwide from about 700,000 tons in 1990 to 1.7 million tons (about 30 kg a hectare) in 2008, said Jiang Gaoming, an Institute of Botany researcher at the Chinese Academy of Sciences.
Average use of pesticides per hectare in China is three to five times higher than in most other countries, according to a report by the National Business Daily in June. And nearly 90 million hectares of crops are polluted every year.
Caijing magazine reported in September that the use of chemical fertilizer throughout China in the 1950s was 10,000 tons a year. By 2007, it was 51 million tons.
Agriculture Vice-Minister Wei Chao'an said at a national conference in July that China's consumption of chemical fertilizer constitutes 35 percent of global market share, equal to the US and India combined.
"We've got many problems . . . that will not only threaten our health, but also harm the farmland," Jiang said. Overuse of fertilizer "will cause the soil to pack together".
It can kill earthworms and other organisms that aerate soil and contribute to fertility.
'Good business'
Global sales of farm chemicals hit $45 billion in 2009 and are expected to reach $52 billion in 2014, according to the Freedonia Group, an international business research firm. China has become one of the biggest players - as both producer and consumer. In 2009, it made more than 2 million tons of farm chemicals, exporting 800,000 tons.
Organic (synthetic) pesticides have been widely used worldwide since the 1940s and still take the major market share. Low-toxicity - and expensive - biological pesticides account for 1 percent of sales in China.
Liu Xiulian, 54, has sold pesticides and chemical fertilizer in Zibo, East China's Shandong province, since 1996. She owns a family store covering about 20 square meters.
Liu said pesticides sell well during the busy season, May to August, but the business supports her family of four year-round.
"Every family is using farm chemicals. It's a good business," she said. "Compared with doing city jobs for 40 or 50 yuan a day, we don't need to go out while selling farm chemicals, which is easy and earns more."
Strict limits