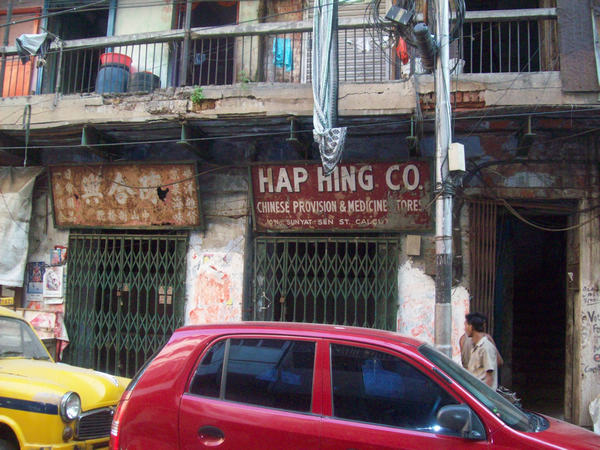 Sun Yat-sen Street is seen as a mark of respect for Sun's support of India's independence struggle. [Provided to China Daily]
KOLKATA, India - As a 9-year-old, Paul Chung led a staid life in school until one day he failed to turn in his homework. But Chung did not get the teacher's usual reprimand.
"Instead of getting a few strokes of the cane, which would have been painful, I was told to kneel down under a huge framed photo of Sun Yat-sen," Chung said. "It was embarrassing for me because I became the most noticeable shamed student of the class until I gathered the guts to seek an explanation for the unusual punishment.
"My teacher told me that his intention was to drill in Sun's sacrifice for the liberation of our nation (China). He also added that it was a shame for anyone who did not develop (a sense) of service like the 'Father of the Nation'," Chung said.
That happened more than 60 years ago. Chung, a first-generation Indian Chinese, never lived in China to experience Sun Yat-sen's contribution in building China. His father emigrated to Kolkata over eight decades back to live in India. But Chung expresses his reverence for China's foremost revolutionary hero and said Sun's influence on him has been overwhelming.
"Looking back, I realized on that fateful day I was touched by him even though I hardly knew him. I am grateful to my teacher who highlighted the deeds of Sun Yat-sen that changed my life."
It was 100 years ago, in 1911, when Sun led a revolution that marked the end of monarchy in China. On Jan 1, 1912, he became the president and formed the Kuomintang, and played a key role in uniting post-imperial China.
Far-reaching image
While Sun is considered one of the greatest leaders of modern China and is revered as the Father of the Nation, his popularity extends far beyond China's mainland, to almost all of Asia where large concentrations of Chinese immigrants reside.
This also holds true for most of the older generation Indian Chinese in Kolkata. This city has the largest population of overseas Chinese in India. Chung and his contemporaries were born and raised in India.
"I studied in a Chinese school in Kolkata that taught us about Sun Yat-sen's contribution and his political philosophy which espoused nationalism, democracy, and people's livelihood," Chung said.
The strong legacy of Sun and his influence on the Chinese of Kolkata could also be gauged by the existence of a street named after him. However, no one knows for sure how Sun Yat Sen Street in Kolkata got its name. Sun never visited India.
Accounts vary as well
According to Paul Lim, 52, an Indian Chinese whose grandfather came from China, Sun's influence on Indian Chinese, particularly the first generation, was so strong that the British administration that ruled India until 1947, decided to name a street after him, to express gratitude to the Chinese.
"During the Second World War, when the Japanese tried to invade India through Burma (Myanmar), the British administration sought the help of the Chinese army to thwart the Japanese," Lim said. "The Chinese army obliged and managed to keep the Japanese out. Consequently as a token of gratitude, the British named a street after Sun."
However, according to the New Delhi-based Indira Gandhi National Centre for the Arts, the street was named sometime after India gained independence as a mark of respect for Sun's support for India's independence struggle.
Lin Chengjie, a scholar with the center, said Sun referred to India a number of times in his writings and speeches. He thought India's problems were similar to China's during the pre-independence days when much of the country was ruled by warlords and feudal lords. Sun believed India became a colony solely because the English East India Co "cunningly" took advantage of the divisive state of Indian feudal society.
Sun's advice for India's independence was similar to that for his own country, Lin said. Sun said since India was crucial for Britain's economy, "the British authorities would hold on to India with no stone unturned even to the extent of sacrificing everything else." He also predicted that the Indian revolutionary movement would not be smooth sailing and urged the Indians to stay united and persevere in their struggle to end British rule.
Today, however, among third or fourth-generation Indian Chinese, Sun is just a fading memory.
"Although I am a Chinese, I never went to China and went to an Indian school," said Robert Hsu, 30, an IT professional. "My knowledge of Sun Yat-sen is restricted to whatever I have been taught in school, and all I remember now is, just like Mahatma Gandhi in India, Sun too is considered the father of the nation in China. Frankly,