Targeted program will see region prosper, Cui Jia and Mao Weihua report from Urumqi.
The Xinjiang Uygur autonomous region's economy will be transformed over the next five years by targeted investment from State-owned enterprises.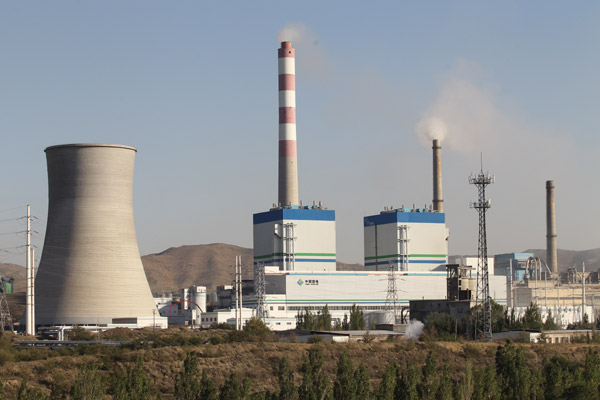 The Guodian Xinjiang Hongyanchi Power Co Ltd in Urumqi, the Xinjiang Uygur autonomous region, as shown in a photo taken on Sept 7. China Guodian invested 20 billion yuan in Xinjiang from 2006 to 2010. [Photo/China Daily]
The State-owned Assets Supervision and Administration Commission held a meeting in Urumqi, the regional capital, last month to discuss the enterprises' role in boosting the region's economic development.
Top officials from 121 State-owned companies contributed to the meeting.
Xinjiang will be a major production base for petroleum, petrochemicals and energy related industries, Wang Yong, chairman of the commission, said.
The government is also encouraging State enterprises to boost the region's infrastructure, especially transport, and improve water and electricity supplies.
"The enterprises should feel responsible for promoting this development, which will benefit residents and improve living standards in the region," Wang said during the meeting.
"When trying to help the autonomous region develop, State-owned enterprises shouldn't follow the old path of expanding blindly, abusing resources and responding to pollution only after it has occurred. They should take part in construction projects that lead to the employment of more local workers."
Zhang Chunxian, Party chief of Xinjiang, welcomed the enterprises' investment in the region but said they should place a priority on protecting the environment and work only toward sustainable forms of development.
Looking to the future
Thirty-one State-owned enterprises plan to invest 991.6 billion yuan ($155 billion) in Xinjiang from 2011 to 2015, bringing the total investment from such companies to 1 trillion yuan and doubling the amount they spent in the region between 2006 and 2010.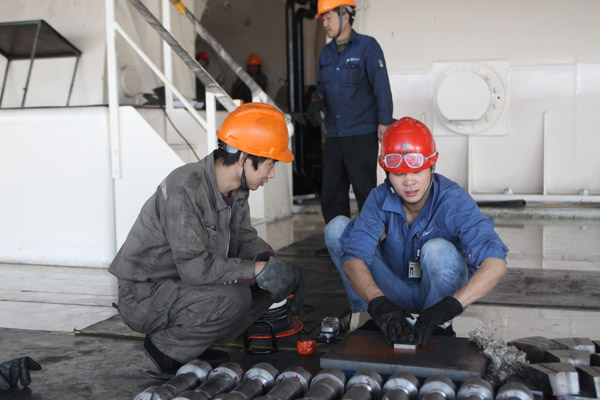 Workers at the Xinjiang Hongyanchi Power Co Ltd conduct safety inspections. [Photo/China Daily]
According to statistics released by the State-owned Assets Supervision and Administration Commission of Xinjiang, 44 central State-owned enterprises had invested 573.9 billion yuan by the end of 2010 into the petroleum and petrochemical, coal, power and metallurgical industries in the region. By the same date, they had made a profit of 55.2 billion yuan and paid 48.4 billion yuan in income taxes to the region. The companies also produced more than 70 percent of the value-added goods that came out of Xinjiang.
As an important strategic resource base in China, Xinjiang has long attracted investments from companies that are wholly or partially owned by the central government. Since China's adoption of its reform and opening-up policy in 1978 and its subsequent Great Western China Development Strategy, the region has taken advantage of its rich natural resources to attract large businesses and tried to become a place where State-owned enterprises will want to invest their money. To achieve that latter goal, it has adopted policies that give such companies preferential treatment, established industrial parks where they can obtain land for free and provided other accommodations. The strategy has proved an effective means of enticing large businesses to invest more and more in the region, Wang said.
Take the example of China Guodian, one of five companies supplying the largest amounts of electricity in the country.
"Guodian spent 20 billion yuan in Xinjiang from 2006 to 2010, and our contribution to the region will increase fourfold in the next five years," said Zhang Chenglong, manager of China Guodian's Xinjiang company.
Guodian plans to spend about 480 billion yuan on power projects in the country in the next five years. Xinjiang will receive nearly a fifth of that total, Zhang said.
"Unlike in the past, our future plan for Xinjiang will be to develop clean energy such as wind power and hydroelectricity," he said.
Guodian's Xinjiang company makes profits of around 10 percent, while the corporation as a whole makes profits of 4 percent. Zhang attributed the subsidiary's better performance to the preferential treatment it receives under the region's taxation policies as well as the cheap labor it finds in the region.
"Investing in Xinjiang is now a national strategy that we follow," Zhang said. "Still, because of the region's markets and resources, enterprises that have the ultimate goal of making as much profit as possible would spend money in the region regardless. It's mutually beneficial to both the region and the corporations."
Of those who work for Guodian in Xinjiang, more than 80 percent are local residents. And more job opportunities will open in the region once work begins there on various power plants and wind farms. Most of the projects Guodian plans to undertake in Xinjiang have already won approvals from the National Development and Reform Commission. Construction will start on them in 2012.
In Xinjiang, affiliates of State-owned enterprises are registered as local companies to ensure that they pay taxes to governments in the region and that the taxes collected from their projects can be used to improve residents' livelihoods.
East and west
Zhang said doing business in Xinjiang comes with certain difficulties.
"Culture differences still exist between the east and west, and people need to be more open minded," he said. "The region is also short of skilled workers.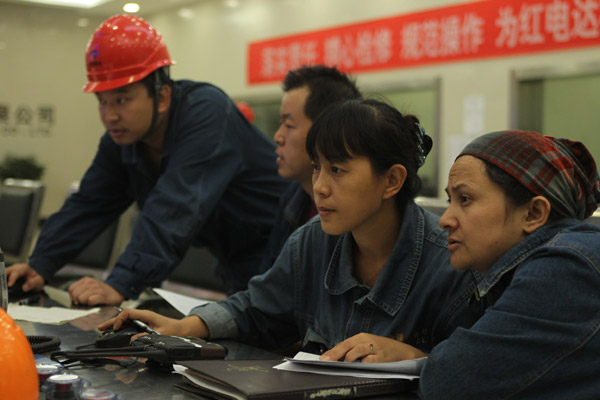 Staff workers at the Xinjiang Hongyanchi Power Co Ltd monitor data in a central control room. [Photo/China Daily]
"Safety is another issue we cannot ignore. But I am sure as long as we keep helping local people to overcome unemployment and to improve their living standards, Xinjiang will become more and more stable, which is what everyone wants."
Hu Kaijiang, president of Shenhua Group's Xinjiang company, said the "children" of companies owned by the central government should recognize the historic responsibility given them by "mother": They must help Xinjiang to become more able to ensure its own prosperity, to be a place where residents can find work and to ensure that members of various ethnic groups live and work together in peace.
Others in the energy industry likewise see promise in the region.
From 2006 to 2010, Shenhua Group, a State-owned mining and energy corporation in China that produces more coal than any other company in the world, spent 12.4 billion yuan in Xinjiang. In the next five years, it plans to invest more than 10 times as much, increasing the investment amount to 134 billion yuan.
Also in the next five years, Shenhua will hire workers for more than 50,000 jobs throughout Xinjiang and contribute 10 billon yuan in taxes to the region.
"There is no doubt that the next five years will be when Xinjiang achieves its fastest development, since the central government is paying more attention to it than ever," Hu said. "This is important for the security and stability of both Xinjiang and China.
"The truth is State-owned enterprises need Xinjiang's resources and market and Xinjiang needs such companies to help the region and improve the living standards of people."
The importance to the rest of the country of Xinjiang's coal reserves and power production will only increase in the coming years, as parts of eastern China come close to depleting their energy resources.
"There will be many State-owned enterprises investing in the same things, which will force them to compete," Hu said.
Baosteel Group, a State-owned corporation that produces more steel than any other Chinese company, is also planning to spend large amounts of money in the region.
"Between 2011 and 2015, Baosteel Group will invest 41.8 billion yuan in Xinjiang Bayi Iron & Steel Co Ltd to boost its annual production capacity to 15 million tons and sales revenue to 70 billion yuan by 2015," said Xu Lejiang, president of Baosteel.
Jiang Jiemin, chairman of PetroChina, an oil company that made the largest profit of any State-owned Chinese enterprise in 2010, said PetroChina will invest 300 billion yuan into Xinjiang in the next decade. That amount is equal to the company's total investment in Xinjiang during the past 30 years.
Chinese nuclear-power and construction businesses are also paying a lot of attention to the region. The China National Nuclear Corp has agreed to undertake 15 billion yuan worth of projects, including the construction of the first stage of a 20-megawatt wind power project in Hami, a prefecture in northern Xinjiang.
Asked about a nuclear project, company officials said they have no plans in that direction. After Japan's Fukushima Daiichi reactor was hit by a tidal wave and began to leak radiation this year, China's State Council ceased approving nuclear power projects and has been conducting safety inspections of the nuclear power plants that now exist in the country.
Xinhua contributed to the story.