With his back straight and hands at his sides, Jia Zhigang, from Binzhou in Shandong province, answered questions with perfectly executed bows, Japanese style.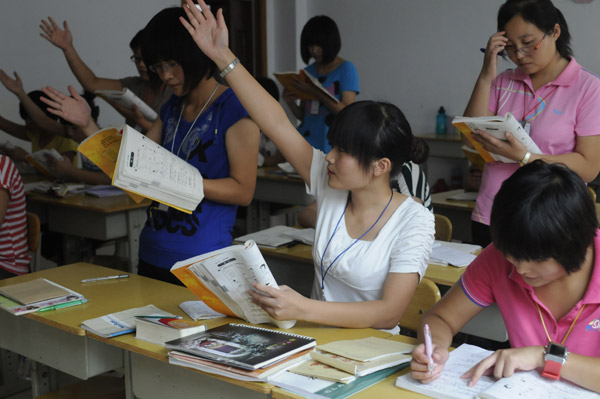 Job trainees in Shandong province are encouraged to put aside shyness and respond to their teachers, as they will be expected to react to work supervisors in Japan. Standing is also part of preparation for the jobs.[Photo/China Daily]
He has studied and learned the etiquette of Japan at a training school in Shandong over the last two months. Jia, 20, was interviewed by a construction company and is set to go to Japan where he will erect scaffolding for three years.
"I want to make some money for my family," he said with a shy smile. Jia's parents, both farmers, paid 40,000 yuan ($6,268) to a local job broker hoping that their only child could earn a good salary and gain valuable experience by working in Japan. The broker's fee is about twice the family's annual income.
Jia, and thousands like him, will officially be trainees. But the companies that take them on see them as a solution to a labor shortage in construction, food processing and electronics.
A legal loophole in Japan means that Japanese companies can hire Chinese workers relatively easily, though there are risks according to industry insiders and labor experts.
Meanwhile, Chinese job brokers and local governments are trying to recruit more young people to sign up. Enlistments dropped off sharply because of worries about radiation in Japan following the devastating March 11 earthquake. And salary increases in China and the appreciation of the yuan have made working abroad less attractive.
The number of trainees dispatched to Japan in the first seven months of this year declined about 4.8 percent from a year earlier, according to data from the commerce department in Shandong, China's leading source of overseas labor.
Legal loopholes
Japan, a country that is closed to foreign workers, started an international aid program in 1993 that ostensibly aims to help citizens of developing countries acquire technical expertise. In practice, the program provides a loophole for businesses short of labor to hire foreign workers.
China has since become Japan's most important source of imported labor. Tens of thousands of young people from rural China have gone to Japan through the Technical Intern Training Program.
The Japan International Training Cooperation Organization, which provides program support, reports on its website that 53,876 Chinese entered the country in 2009, accounting for 67 percent of all new foreign trainees that year. (The figures are the most recent available.)
With little legal protection, many of the trainees are exposed to substandard, sometimes deadly working conditions, according to Liao Xiaojian, a professor at the Academy of Overseas Chinese Studies of Jinan University in Guangzhou, who wrote a research paper on the problem.
Labor laws in China do not apply to the 5.67 million Chinese working abroad. That makes it more difficult for them to seek help in legal disputes concerning job brokers or incidents of fraud in the foreign country, especially in times of global economic troubles and politically volatile situations abroad.
Regulations on overseas labor brokers in China say that brokers cannot charge more than 12.5 percent of the total salary of the employment contract for their services. In practice, the regulation is often ignored.
Looking farther afield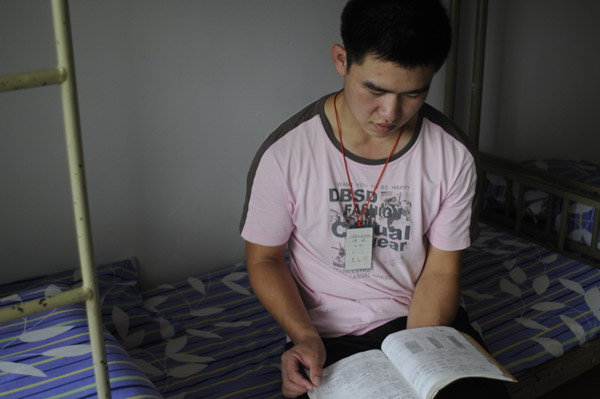 Jia Zhigang prepares for his classes in his dorm at a training school in Shandong. He finished middle school in 2007, and has learned accounting and how to operate an excavating machine. [Photo/China Daily]
Jiang Jie manages Shandong International United Cooperation Co, one of 159 registered job brokers in the province. He said the company has recruited only about 800 people this year. "Usually the average number is about 1,400 people."
The broker, which started its business in 1994, encountered tough times in 2008, when the global economy soured. "And just when it started to pick up this year, the earthquake hit."
Jiang remembers those days in March vividly. His office in the suburb of Jinan, Shandong's capital, was packed with worried parents waiting for information from their kids.
"There was no time to sleep," Jia said. "Luckily, there were no deaths among trainees from Shandong province."
But the magnitude-9 earthquake, the tsunami and meltdowns at a nuclear power plant hit his company's recruiting efforts.
"Two months after the earthquake, the number of people who came to participate in the training program was close to zero," Jia said. "Many were worried about radiation risks."
Now, more than five months on, some hiring companies have relaxed requirements for recruits and the numbers are growing, albeit slowly.
Jiang Chengjie, CEO of the Weihai Rongcheng International Economic and Technical Cooperation Co, said, "We now need to go recruit people from other provinces."
Some local brokers, who usually provide three candidates to Japanese clients for each job vacancy, can now submit only two.
To help the brokers, the Shandong commerce department publicizes the radiation levels in different areas of Japan via local newspapers, hoping locals will change their view toward working in Japan. "Besides, we require that our companies not send people to the most severely affected areas for work," said Zhang Peng, an official in its labor department.
Wages have become an issue, too. "The salary of foreign trainees hasn't changed much in the past decade," Zhang said. "A trainee can bring home about 200,000 yuan in savings after three years of work in the factory. The amount is still a lot to many rural families, but is much less significant for them than 10 years ago."
Physically demanding
In the training school of the Shandong International United Cooperation, more than 400 people in their 20s are having Japanese language lessons. The students stand throughout the session, for this class and for one on social and business etiquette.
It's a matter of preparation for the stringent physicals they must pass to become trainees in Japan.
"We ask the students to do so since most of the jobs will require them to remain standing up the whole time at work," said Chen Xu, a manager in charge of the students. "If they sit through the classes, they will have a hard time adjusting to their work after three months of doing nothing but learning Japanese."
In the school, students are not allowed to go off campus without their teacher's permission. Mobile phones and Internet use are not allowed. Men and women are in separate classes, and romantic relationships between students can bring fines.
Despite the fact that all of the recruits are in good health, deaths have occurred. Japanese government records show that 34 trainees died in 2008, which experts said is a high death rate for people ages 18 to early 30s. Many deaths involved strokes or heart failure, which worker rights groups attribute to the strain of excessive labor.
It was just over a year ago that labor inspectors in central Japan reported the first karoshi, death from overwork, among foreign trainees. The Kashima Labor Standards Inspection Office listed that cause of death for Jiang Xiaodong, a 31-year-old Chinese man, on July 2, 2010.
Like Jiang, many trainees work long hours in manual jobs and volunteer to work overtime to earn extra money, so they can take home more when they finish the three-year program. "Many labor disputes are related to overtime payments, as well as other problems," Zhang from the commerce department said.
Work more, save more
Wang Ning, a 23-year-old high school graduate from Laizhou, Shandong, is preparing to interview for a plastic molding job with a Japanese electronics manufacturer. She just spent a few hundred yuan for a new white shirt and black pants as well as a pair of high heels, and went to her teacher to ask if the outfit was formal enough for the interview.
"Of course I will work overtime," said Wang, an only child. "My parents paid so much for me to go abroad, and I want to bring home more than 200,000 yuan after three years. The more hours I work, the more money I can save."
Airplane tickets are very expensive, so family reunions during holidays will be skipped during Wang's years in Japan. She said the money she expects to save should be enough for her parents to open a grocery store at home, and for her to pursue higher education.
Changes and solutions
Under pressure by human rights groups and a series of court cases involving labor disputes, the Japanese government has begun to deal with labor abuse issues by changing some rules of the program.
Beginning July 1, 2010, minimum wage and other labor protections were applied to first-year trainees for the first time. The government also banned employers from confiscating trainees' passports.
In China, the State Council started drafting a regulation covering brokers of overseas labor in April 2009, but different ministries still need to iron out legal details and business standards.
"Whether the contracts between broker and individual worker should be considered a labor contract or a business contract is still unclear," said Jiang of Shandong International United Cooperation.
He and many other brokers hope the decision is for a business contract, so they will bear less responsibility in a labor dispute between Japanese employers and Chinese trainees.
"It's like we are matchmakers," Jiang said. "Matchmakers shouldn't be responsible for the disputes of couples when they get married."
But Zheng from the commerce department thinks that Chinese workers, who are mostly unfamiliar with foreign languages when they are sent abroad, are more vulnerable to abuse and should be protected. His department usually acts as a mediator and spends long hours holding negotiations in disputes between brokers and workers, he said.
Chang Kai, a professor of labor relations at Renmin University of China, has been lobbying Chinese legislators for a new labor law to protect overseas workers. "The act of sending workers overseas should be regarded as a labor relation between the broker and individuals," Chang said.
Legal professionals agreed that laborers dispatched overseas are more than a business commodity, and their basic social security and political rights should be protected.