Growing concern over safety of modern building exteriors after recent accidents, reports He Na in Beijing.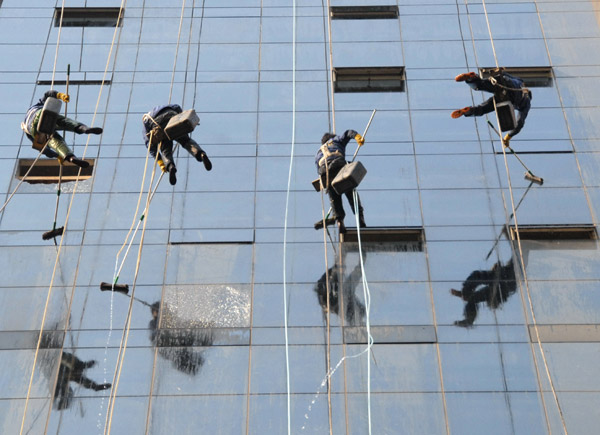 "Spider-men" clean the wall at an art museum in Guiyang, Guizhou province. Experts warn of the potential danger of such buildings, since glass curtain walls in several cities shattered in recent months. Poor glass quality and inadequate maintenance account for most such incidents.[Photo/Xinhua]
'Whenever you go out, stay away from buildings with glass curtain walls, or wear a helmet," Zhou Hongjun tells his friends. "They are time bombs in the air and nobody knows when the glass will crack."
Zhou, a professor at East China University of Political Science and Law, is serious. Deadly serious. There have been a number of cases in the past two months where curtain walls (building exteriors made of glass) have cracked or shattered, damaging property and causing injury.
The curtain walls - essentially a glass shell surrounding a building - are popular for their aesthetic beauty and modern design, but accidents have raised questions over their safety.
In Yiwu, Zhejiang province, a 20-meter-high glass ceiling in a garment market came crashing down on Aug 20, injuring several children, one seriously.
"I rushed to the central hall when I heard the sound of crashing glass," said Luo Hui, who owns a garment shop on the second floor.
"Several kids were crying, and there was blood and glass everywhere. A boy of about 10 was lying there, with flesh cut from his lower legs. I could even see the bones. He must have been in terrible pain."
In Hangzhou, Zhejiang, a 19-year-old from Shanxi province was hit by a shard of glass that fell from a commercial building on July 8. The glass nearly severed one of her legs below the knee. Surgeons completed the amputation.
"I saw for myself that a ceiling was stove in by shattered glass curtain wall fragments that fell from high up," said Lu Jinlong, assistant chief engineer at Shanghai Research Institute of Building Sciences.
Basic causes
High temperature is blamed for the cracking of safety glass in those cases, but experts said the fundamental cause of "glass rain" is the government's inattention to the safety of glass curtain walls.
In New York and Paris, buildings with glass curtain walls are found only in financial or central business districts. But in particularly affluent parts of Shanghai and Beijing, you can see them on mansions.
"The construction of many buildings with glass curtain walls takes only the charming exterior into account. It overlooks the fact that cities in China have dense populations," Zhou said. The more crowded the city, the greater the risk of personal injury.
The human factors involved in such incidents - poor workmanship, ill-advised choices, mismanagement - can be avoided, Lu said. But there are other, important causes. "The safety of the glass curtain wall is closely related to engineering design, material quality, installation skill and maintenance. Negligence of any of the details is likely to lead to accidents."
Experts say that poor glass quality and inadequate maintenance account for most of them.
Quality of glass
Glass can explode when it is stressed by high temperature or other cause, and the national technical code defines a self-cracking rate of 0.1 to 0.3 percent as normal. But Lu said that quite a few cracking cases were caused by excessive impurities in the glass, which led to uneven heating.
"Based on the technical code for glass curtain wall engineering, which was put into force in 2003, safety glass and dual-pane insulating glass are compulsory in tall buildings. However, the cost of safety glass is lower than double-insulating glass. Even though the double-layer one is safer than common safety glass, real estate developers choose common safety glass to save cost," said Xiang Hua, sales manager at Shanghai Kesheng Curtain Wall Engineering Co.
"A square meter of safety glass costs 80 to 100 yuan ($12.50 to $15.70), but the same size double-insulating glass at least doubles the price," Xiang said.
"The 2003 technical code was authoritative at that time, but technology has quite improved during the past eight years. It's time to adjust the domestic regulations and raise the safety level."
Staying 'healthy'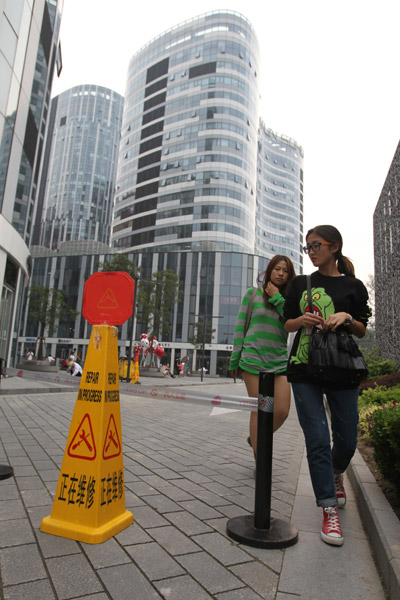 Pedestrians pass buildings with glass curtain walls in Sanlitun in Beijing. [Photo/China Daily]
Glass curtain walls, as external structures, have an average design life of 25 years. The service life of supporting parts, such as bolts and adhesives, is generally 10 to 15 years. They can become loose, rusty and unreliable.
Some glass curtain walls overseas still work well after 50 or 60 years, thanks to timely checkups and maintenance. But there is no maintenance industry for glass curtain walls in China.
"Just like people need to have physical checkups to stay healthy, glass curtain walls also need to be checked, maintained or replaced regularly to maximize service life," said Yu Hui, a professor in the School of Architecture & Fine Art at Dalian University of Technology.
That's common sense, but it is seldom done because it's expensive.
"Repair and maintenance are not a small sum," Yu said. "For some glass high up in the air, checking each square meter costs several hundred yuan."
China has no guidelines stating who should be responsible for the maintenance of these walls, so if there's an accident, victims find it hard to claim compensation.
Some cities have worked out their own regulations on the issue. Shanghai, for example, requires that glass curtain walls more than 8 years old be inspected every year. But because penalties are minimal, the regulation is widely ignored.
"China is in urgent need of cultivating a group of professional staff in the field," Xiang said.
"The management of glass curtain walls should learn from the way of management of elevators," Lu, the engineer, said. "We must clearly divide the responsibilities to establish a glass curtain walls maintenance system. It's unfair that innocent people pay the price for accidents."
Lagging regulations
The glass curtain wall was introduced into architecture in 1926 in Germany, and swept over the Western world in the 1970s.
The first building with glass-clad walls in China appeared in 1984. The style soon became popular for its modern, airy look and a new upsurge in construction of glass curtain walls was in the making in such first-tier cities as Beijing, Shanghai and Guangzhou.
China's first glass curtain walls were constructed in the 1980s and 1990s, using the style and technology from abroad, but China did not yet have a technical code for the domestic industry.
"Our first technical code for glass curtain walls was launched in 1996, which means almost 1,000 buildings with glass cladding had already been erected. They were constructed more than 15 years ago, so they pose the highest risk of danger," Lu said.
Shanghai, for instance, has at least 4,000 buildings of this kind, the most in China. About 900 of them are more than 15 years old.
"For the sake of safety, glass curtain walls need to be checked every five years," said Xiang, the sales manager. "For those over 15 years, a large-scale safety check is very necessary."
Installing a bursting disk, a thin film to prevent the dispersion of broken glass, and replacing simple glass with double-insulating glass "are good ways to effectively prevent glass cracking and shattering," he said.
Experts also called for more preventive measures, such as establishing or increasing green areas and other buffer zones, and requiring ceilings or awnings of dual-pane glass or stronger materials to protect pedestrians,
"In a bid to prevent similar 'glass rain' accidents, the government also needs to speed up the law-making pace to manage companies that work on glass curtain walls," Lu said.
"An insurance system is highly recommended to help solve the problems left by the city's rapid construction and expansion," he said. "Such a fund could also help victims of accidents involving glass curtain walls," he said.
Some drawbacks
Statistics from the China Architectural and Industrial Glass Association show that China constructs 70 million square meters of glass curtain walls each year, 75 percent of the world's production. Buildings in China have more than 200 million square meters of glass curtain walls, 85 percent of the world's total.
All that glass poses some risks or consequences unrelated to "glass rain".
Glass curtain walls act as huge mirrors that reflect sunshine and lights. Medical research suggests that excessive light exposure or improper spectral composition of light may cause headaches, eye problems, work fatigue, stress, decreased sexual function and increased anxiety. In addition, the glass walls can reflect traffic signals and produce illusions that can induce traffic accidents.
Energy consumption of buildings with glass curtain walls is four times greater than for ordinary buildings, said Liu Junyao, deputy director of Shenzhen Institute of Building Research. People inside glass curtain walls often feel cold in winter and hot in summer, leading to increased use of air conditioners.
"Not all people are in favor of glass curtain walls. I am one of them," said Jiang Yi, a professor in Tsinghua University's school of architecture. "Many developed countries have limited the use of glass curtain walls since the 1980s, but in China, especially in the second- and third-tier cities, glass curtain walls still have the greatest esteem in new buildings.
"I hope the energy crisis can speed up the process of China's limitation on their use. The entire society calls for energy saving and emission reduction. It's time to limit the large-scale installation of glass curtain walls in new public buildings."
However, glass is still considered an irreplaceable construction material, so it won't go away quickly.
"The government needs to speed up scientific research on more environmental safety glass," engineer Lu said.