Project will help protect bears in their habitat, Jiang Xueqing reports in Mianyang, Sichuan.
Before venturing into the forest, Yuan Zhiwei clicked on his GPS device. He, and two team members, recorded the surrounding habitat and marked out three 1-square-meter quadrants at random, then measured the diameter and height of the bamboo branches.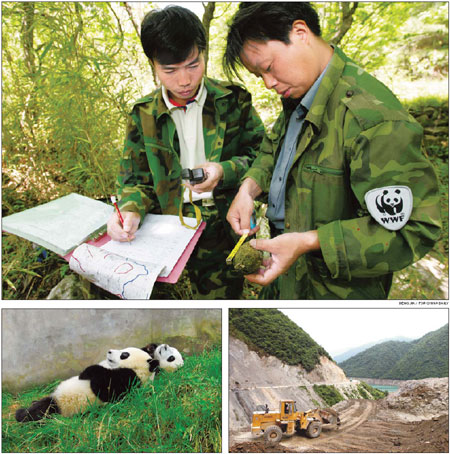 Clockwise from top: Two researchers measure dung of a giant panda in a nature reserve. Similar work will be done when China's fourth panda census begins, within two months. Scientists say that construction of roads and railways through panda habitat sets up barriers to the animals. It isolates family groups and provokes inbreeding, which threatens the entire species. Giant pandas enjoy themselves at a research center in Ya'an, Sichuan province. [Photo/ China Daily ]
The team were looking for any traces of giant pandas, such as footprints or teeth marks. They collected fresh dung for DNA tests.
Over 10 days in late June and early July, 70 forestry professionals like Yuan - a nature protection specialist - worked in 22 teams, studying the behavior of giant pandas at Wanglang Nature Reserve in Mianyang, Sichuan province. Researchers at the Chinese Academy of Sciences are currently analyzing the collected data.
The project is a trial run for a national census, due to start in September or October, on giant pandas.
"Actually, this kind of census won't be very accurate," said Chen Youping, director of the administration bureau of Wanglang National Nature Reserve in Southwest China. "People can only cover a small area on foot, after all. In the end, we'll only get a rough figure."
Still, the methods are the best available.
Bamboo as a measure
The previous census, conducted 1999-2003, found that China had 1,596 wild giant pandas - 1,206 in Sichuan province, 273 in Shaanxi and 117 in Gansu. Pandas under 18 months old were not counted.
Like the previous one, the new census will calculate pandas by measuring the length of undigested bamboo pieces left in the dung. The formula is based on the assumption that each panda has a different size bite.
Scientists will also take a supplementary measure to try to identify individuals. They will test DNA extracted from cells in mucous membranes that surround undigested bamboo fragments, protecting the panda's intestinal canal from the sharp bamboo.
That test is not reliable, however, because the DNA fragments extracted from dead cells could be too short to provide distinctive information, said Fan Zhiyong, a leading conservationist and director of the species program for the World Wildlife Fund in China.
According to a paper published in the journal Current Biology in 2006, DNA tests had found 66 pandas in Wanglang, while the national census conducted five years earlier found only 27.
"We feel that the actual number of pandas in Wanglang should be around 40," Chen said. Staff members at the reserve have found three baby pandas every year since the previous census.
"I hope to preserve a nice habitat where pandas feel comfortable and become highly active during the mating season," he said. "They might go to other nature reserves by climbing over the mountain. In this way, Wanglang is contributing to the stability of the entire species."
Road hazards
The once-in-a-decade census helps people identify new threats to pandas. For example, during the past 10 years, construction of highways, other roads and high-speed railways have chopped the habitat for pandas into pieces.
Unlike people, pandas usually try to avoid barriers. If a highway runs through a habitat, it is likely to separate dozens or hundreds of families, keeping pandas on both sides from connecting with each other.
As a result, pandas with similar genetic makeup will mate within each fragmented area. Eventually, inbreeding degeneration will cause the area's population to die out, threatening the whole species, Fan said.
To get to Wanglang, people have to take a ring road from Chengdu to Jiuzhai Valley National Park, which is known locally as Jiuzhaigou. The ring road goes between two habitats, Baishuijiang National Nature Reserve and Wujiao Nature Reserve.
Heavy traffic on the road has separated animals on both sides, said Fu Xiaobo, chairman of the labor union at the administration bureau of the Wanglang reserve.
On the east part of the ring road, construction workers are building a 4,910-meter-long tunnel on the border of Pingwu and Jiuzhaigou counties. When the tunnel is completed next May, it will speed up the drive from Mianyang to Jiuzhaigou by half an hour.
The tunnel also will bring more tourists to Wanglang, as its exit is only two kilometers from the nature reserve, Fu said. In his view, having more tourists does no good to the protection of nature.
"The better the tourism, the worse the protection," he said. "Some people suggest we should have a joint development of tourism and protection. It's not easy to do. Once tourism is developed, it will soon take priority over protection due to financial interests."
Tourism wins out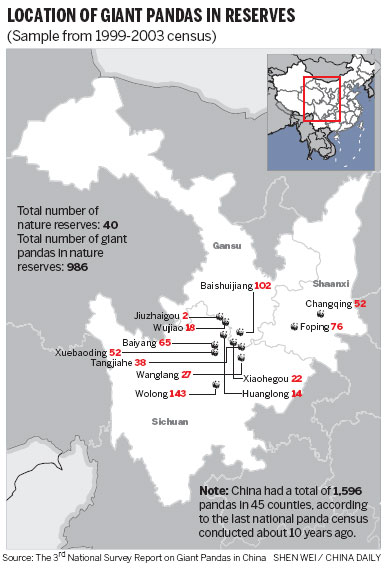 The previous census showed that only two pandas were left in Jiuzhai Valley National Park, a nature reserve founded in 1978 in the north of Sichuan to protect pandas. Experts blamed tourism for the disappearance of pandas from that reserve, which is targeting 2.1 million tourists this year.
Fan, of the World Wildlife Fund, recalled that a staff worker of Jiuzhaigou told him at a recent academic conference that nobody cares when he talks about panda protection in Jiuzhaigou.
"I totally understand him," Fan said. "Professionals like him are regarded as too low to have a say in the reserve. After all, who will take panda protection to be the ultimate goal for tourism development?"
'A huge growth'
Similar stories are told in some other nature reserves.
A 2.5-hour drive from Jiuzhaigou, the Huanglong reserve is striving to increase its visitors from 1.11 million last year to 1.6 million. The target is set by the government of the Aba Tibetan and Qiang autonomous prefecture in Sichuan. At the end of July, one of the best months for tourism in Huanglong, it received more than 10,000 visitors a day on average.
The two existing hotels, which sit close to the visitor center, have a total of 151 double rooms and seven suites. A five-star hotel with more than 200 beds is in the interior decoration stage and will open soon.
Railways, highways, tunnels and a new airport also are planned or under construction, which will make it more convenient to travel from major cities in Sichuan to Huanglong and other nearby nature reserves.
Now that transportation, accommodations and catering facilities are almost completed, Huanglong is expecting more tourists, said Zhao Shouchun, deputy director of administration at Huanglong National Park. He estimates the area will have 2.6 million visitors by the end of 2015. "Such a huge growth of visitors will put a lot of pressure on nature protection."
Zhao said that administrators of the scenic area will expand the capacity of the area by taking in other tourism sites, such as Danyunxia Gorge and Munigou Valley.
Conflicting interests
While tourism prospers, pandas in Huanglong are probably on the brink of extinction, Fan said. The nature reserve did not send anyone to Wanglang to take part in the pilot project for the new census.
The problems in some reserves reflect a deeper problem in China's administration system, experts said. As Fan put it, "If a place becomes a delicious piece of meat, everyone wants to take a bite."
Fan said that Jiuzhaigou has at least three doorplates hanging on its main entrance - one from the National Tourism Administration, one from the Jiuzhaigou Nature Reserve and another from the Jiuzhai Valley National Park. While different departments are running the reserve in different ways with different visions and goals, their ideas of management are bound to conflict with one another.
For nature reserves that want to protect pandas and develop tourism at the same time, experts suggested the administrators pick several pandas and put GPS tracking collars around their necks. After a panda is located, a staff worker can lead a small group, 10 visitors, on a hike of three to four hours to take a look for five minutes and then return.
By making clear rules on when and where to see which animals and by strictly limiting the number of tourists, the reserves will not only receive financial benefits but also minimize human disturbance of the animals.
"Protection of the nature and environment has a great impact on the ecological security of China," Fan said. "The central government should take the responsibility to make long-term plans for protection, rather than leaving the job to local governments, which only care about achievements within three to five years.
"We have to decide which part of China's land resources are left to our generation, which to our children, which to animals and plants. Otherwise," Fan said, "everyone could sacrifice the interests of later generations and other creatures in the name of the government and the people."