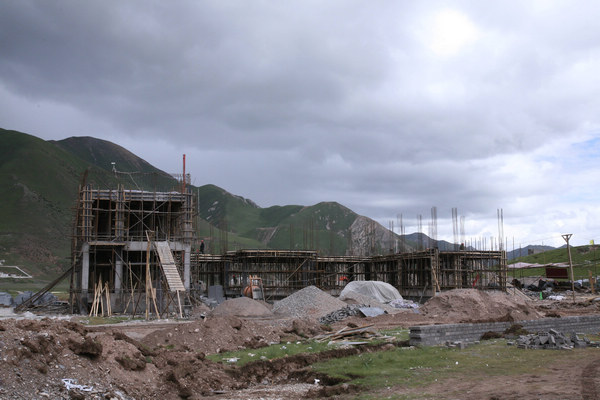 One of two health centers for women and children built in earthquake-stricken Yushu, Qinghai province, with the aid of the Red Cross Society. [Photo / Xinhua]
'Please give us time'
"How could the Red Cross set such a bar for searching individual donations? About 95 percent of the donations are below 100,000 yuan," said Cheng Gang, president of the China Foundation Center.
He also criticized the society for offering too little information about how donations are spent.
"Now people can look on the platform for how much a person donated and when, but what's the meaning of it? The public cares most about to which projects their money has gone, what the details of the projects are, and whether their benefits have been evaluated."
To similar challenges brought by other experts, the society responded in its statement, "We will expand the scope of inquiries, make the items of inquiry more specific, and keep the public truly informed about how their money is spent and about the latest progress of our projects. During the process, please give us more time."
Cheng suggested that the Red Cross set a timetable and tell the public clearly what progress to expect each month. Statistics on the platform also need to be updated daily.
"The society should adopt a more open and tolerant attitude by inviting all capable organizations, such as the Big Four accounting firms and large international IT companies, to join the information-releasing project and find a solution together," he said. "In this way, the society still has a chance to rebuild its credibility."
Big picture, details
In China, public foundations and other charities have long been criticized as murky. Nine out of 10 people are unsatisfied with their information disclosure, according to a survey conducted by the China Charity & Donation Information Center. The survey collected responses from 988 people and 65 charity organizations.
"More than half of the respondents donate on a regular basis, but 90 percent said they have never heard any feedback from the charity organizations," reads the report, dated December 2010.
About 79 percent of donors want to know the organization's operational activities, and 73 percent want financial information. The public has a strong interest in getting a more complete picture of charities, the report concluded. They also want to know how donations are used and what results have been achieved.
"Today's charity industry is like the country's market economy in the 1990s. Practitioners are testing each step before taking it, and therefore imperfection exists," said Liu Youping, deputy director of the center.
Liu emphasized the costs and technology required for information disclosure. For example, the donations made to the Red Cross after the Wenchuan earthquake required 3 million data entries, and the Yushu earthquake donations more than 300,000.
"Information disclosure is an easy job for an organization with dozens of data entries, but it becomes quite complicated for one with millions of them."